Why Berkshire Grey
The Integrity, Ingenuity and
Experience to Deliver Real Value
for Customers Right Now

Why Berkshire Grey
The Integrity, Ingenuity and
Experience to Deliver Real Value
for Customers Right Now

Why Berkshire Grey
The Integrity, Ingenuity and
Experience to Deliver Real Value
for Customers Right Now
---
Complete Solutions for Omnichannel
Fulfillment and Logistics
Real solutions with intelligent robotic systems that automate tasks never before performed by machines in commercial settings
The heart of every solution is fast, reliable robotic each picking capable of handling hundreds of thousands of items
Designed, built and deployed by a team of innovators who are accountable and get stuff done
Ready now and built for speed to handle the broadest assortment of products on the market
Used by Fortune 50 customers to reduce picking costs in break pack and eCommerce operations by 70- 80%
Relied upon by retail and logistics customers to improve throughput by 25% to 35%
Scalable, accurate and versatile to deliver mission critical performance and customer ROI today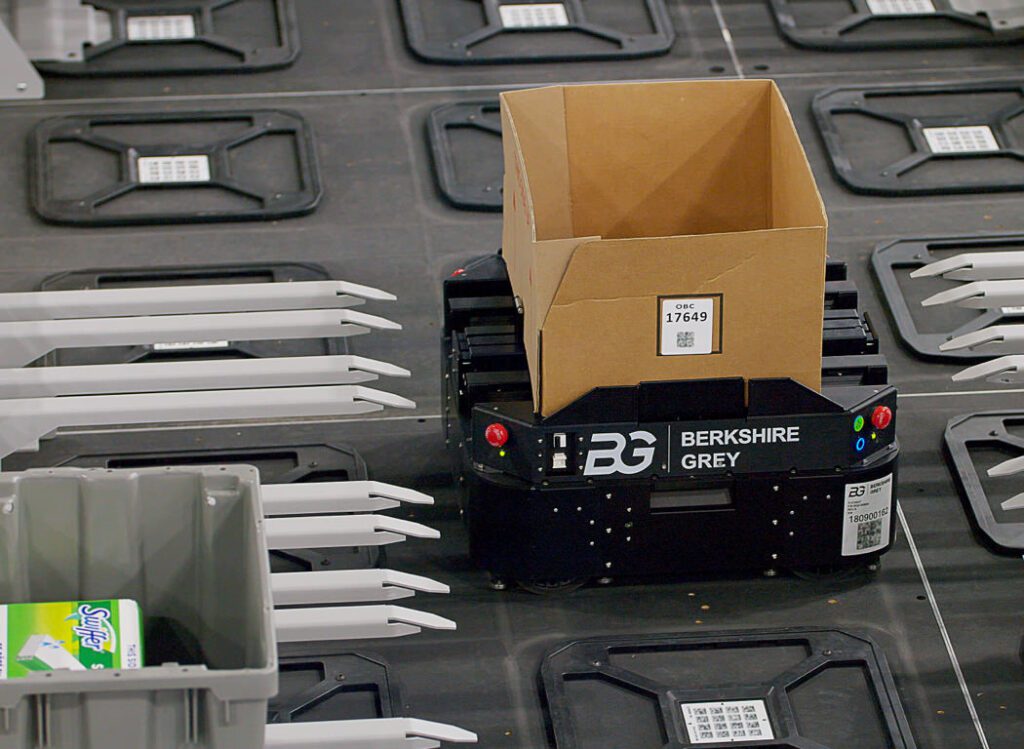 Robotic Automation to Radically Change the Essential Way You Do Business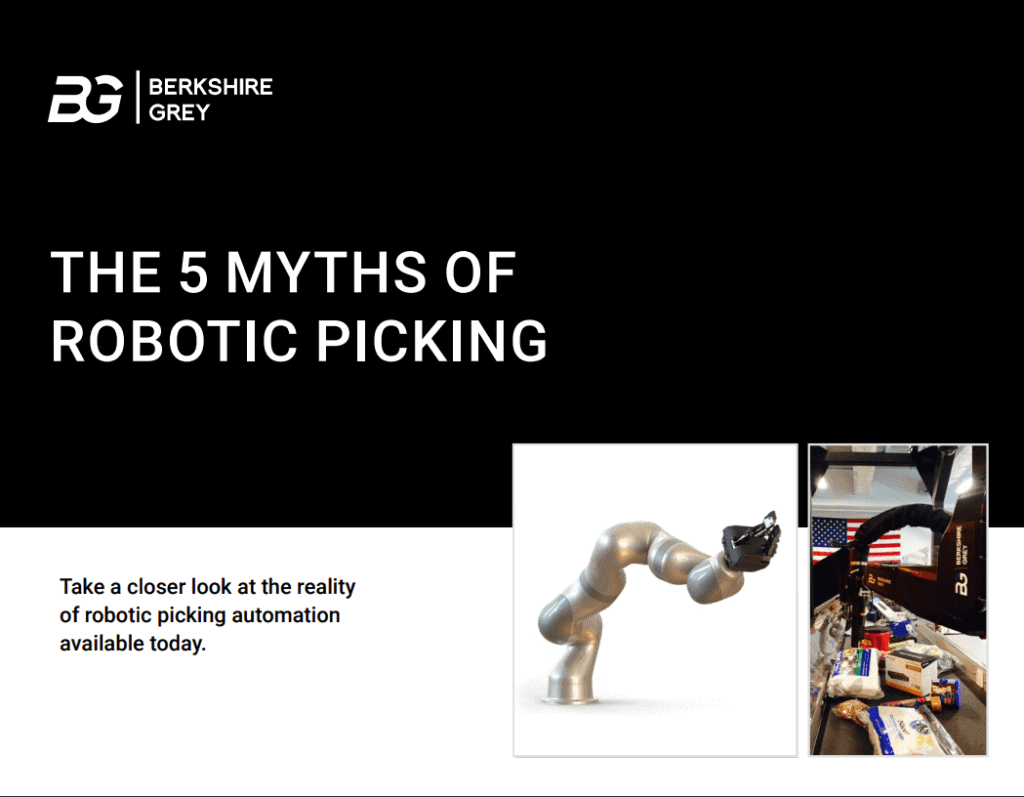 5 Myths of
Robotic Picking
Separate the myths from the realities of robotic automation systems available now.
---
Debunk the myths associated with robotic picking automation.

Learn what you really need to know about grippers.

Understand why pick rates might not be what they seem and what is realistic in a live distribution center.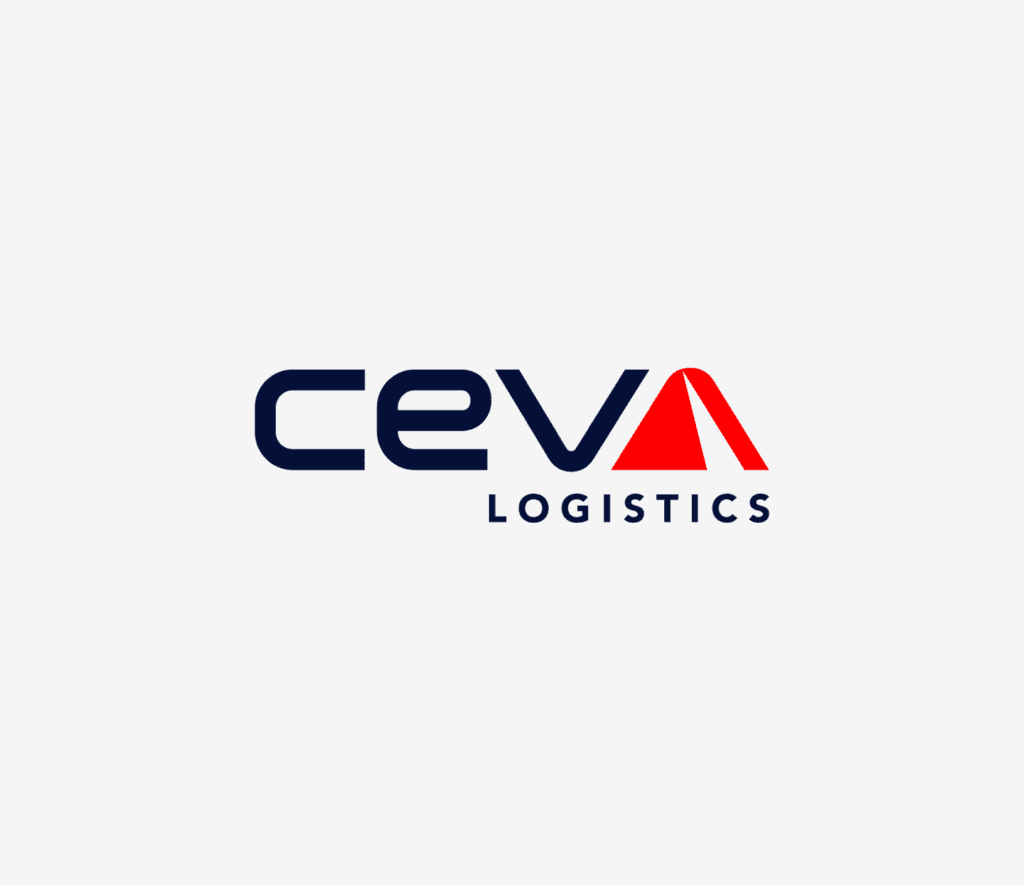 "CEVA is committed to continuous improvement and innovation across its fulfillment, transportation and supply chain operations. By partnering with Berkshire Grey and investing in its intelligent robotic automation systems, we can better operate our fulfillment facilities 24 hours per day to manage the excess volume, as well as scale our operations when needed."
Dominik Dittrich
CEVA's Executive Vice President of Contract Logistics, North America
---

Picking With Purpose
---
The Picking With Purpose™ program is our commitment to feed and nourish vulnerable populations by using our intelligent robotic pick and sort systems to reimagine the distribution of surplus food. Partnering with other socially responsible companies to source food, we can work with non-profits to speed the delivery of essential items to hungry families.
---

The Engine of Change
Customer-focused and Dogged in Our Pursuit for Ever Greater Precision and Speed to Move You Forward.
Intelligent robotic systems automate tasks never before performed by machines in commercial settings to improve efficiency, raise quality, lower prices, and get goods to new places more rapidly.

Move Your Career Forward
Join Us
We are a focused team. We bring a diverse set of experience and expertise in the fields of engineering, robotics, and artificial intelligence to building innovative yet practical and scalable solutions. Ultimately, we work at Berkshire Grey because we thrive on solving hard challenges that deliver value for our customers.
---
Get Started
with Berkshire Grey
Contact the BG Fulfillment Automation Sales Engineering Team to Learn How to:
Reduce operations expense by up to 70%.
Lessen your dependency on labor.
Bolster facility throughput by up to 25% to 50% with automation.
Get a customized ROI analysis of your specific environment and business.
Call +1 (833) 848-9900
or connect using our form.