Berkshire Grey Press
Berkshire Grey Named to Fast Company's Annual List of the World's Most Innovative Companies for 2022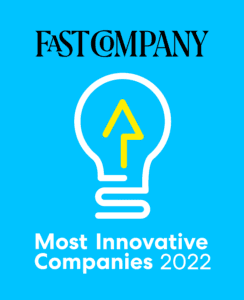 AI-enabled robotics leader Berkshire Grey among top-ranked in the Logistics category for helping companies navigate the supply-chain crisis
---
BEDFORD, Mass., March 8, 2022 — Berkshire Grey, Inc. (Nasdaq: BGRY), a leader in AI-enabled robotic solutions that automate supply chain processes, today announced it has been named to Fast Company's prestigious annual list of the World's Most Innovative Companies for 2022.
This year's list of the World's 50 Most Innovative Companies honors businesses that are making the biggest impact on their industries and culture as a whole—ultimately thriving in today's ever-changing world. These companies are creating the future today with some of the most inspiring accomplishments of the 21st century.
Berkshire Grey was recognized by Fast Company for its leadership in providing AI-enabled robotic systems that help Fortune 100 retailers, eCommerce providers, package handling companies and third-party logistics companies automate and transform their logistics and warehouse operations to meet soaring consumer expectations for on-demand order fulfillment.
"The world's most innovative companies play an essential role in addressing the most pressing issues facing society, whether they're fighting climate change by spurring decarbonization efforts, ameliorating the strain on supply chains, or helping us reconnect with one another over shared passions," said Fast Company Deputy Editor David Lidsky.
This marks the second year that Berkshire Grey has been named to Fast Company's Most Innovative Companies list.
"It's an honor to be recognized by Fast Company as one of the top companies solving supply chain and logistics challenges for world-leading organizations," said Steve Johnson, COO of Berkshire Grey. "Supply chain leaders are under more pressure than ever to find new solutions that increase efficiency and order processing throughput. We are committed to delivering innovative AI-enabled robotics solutions that help our customers keep up with evolving customer demands and create long-term competitive advantage."
---
About Berkshire Grey
Berkshire Grey, Inc. (Nasdaq: BGRY) helps customers radically change the essential way they do business by delivering game-changing technology that combines AI and robotics to automate fulfillment, supply chain, and logistics operations. Berkshire Grey solutions are a fundamental engine of change that transform pick, pack, move, store, organize, and sort operations to deliver competitive advantage for enterprises serving today's connected consumers. Berkshire Grey customers include Global 100 retailers and logistics service providers. More information is available at www.berkshiregrey.com.
Berkshire Grey and the Berkshire Grey logo are registered trademarks of Berkshire Grey. Other trademarks referenced are the property of their respective owners.
---
About Fast Company
Fast Company is the only media brand fully dedicated to the vital intersection of business, innovation, and design, engaging the most influential leaders, companies, and thinkers on the future of business. Headquartered in New York City, Fast Company is published by Mansueto Ventures LLC, along with our sister publication Inc., and can be found online at www.fastcompany.com.
Get Started
with Berkshire Grey
Contact the BG Fulfillment Automation Sales Engineering Team to Learn How to:
Reduce operations expense by up to 70%.
Lessen your dependency on labor.
Bolster facility throughput by up to 25% to 50% with automation.
Get a customized ROI analysis of your specific environment and business.
Call +1 (833) 848-9900
or connect using our form.