Products
Mobile Robotic Fulfillment
Comprehensive Solutions Enable Faster, Higher Throughput, and Streamlines
Aisle-Ready Store Replenishment for eCommerce and Retail Fulfillment
Products
Mobile Robotic Fulfillment
Comprehensive Solutions Enable Faster, Higher Throughput, and Streamlines
Aisle-Ready Store Replenishment for eCommerce and Retail Fulfillment
BG FLEX
™

Mobile Robotic Platform Can Modernize Your eCommerce Fulfillment Operations with Speed, Agility, and Flexibility.
The rise of consumer expectations for curbside pickup, buy-online-pickup-in-store (BOPIS), and same or next day delivery has forced fulfillment centers to transform their operations. Berkshire Grey's next generation mobile robotic platform is the comprehensive solution that fulfillment leaders need to deliver higher throughput and lower costs.
Mobile Robotics Can Transform Any Facility into a High Throughput Fulfillment System with the BG FLEX
™

Mobile Robotic Platform
Berkshire Grey's mobile robotic platform is transforming distribution operations. The platform consists of dynamically controlled fleets of mobile robots, automated induction and discharge stations, flexible high-density buffer, and AI-enabled orchestration software with simulation. 
Increase Your Sortation Eligible SKU Coverage with Mobile Robotics
Berkshire Grey purpose-built mobile robotic systems handle greater SKU coverage than traditional conveyor and other mobile robot solutions. Because the mobile robots include gentle vertical pickup and placement at induct and discharge stations, the system is well-suited for products and packages that other systems struggle with such as:
BG FLEX
™

Mobile Robotic Platform Transforms Fulfillment Operations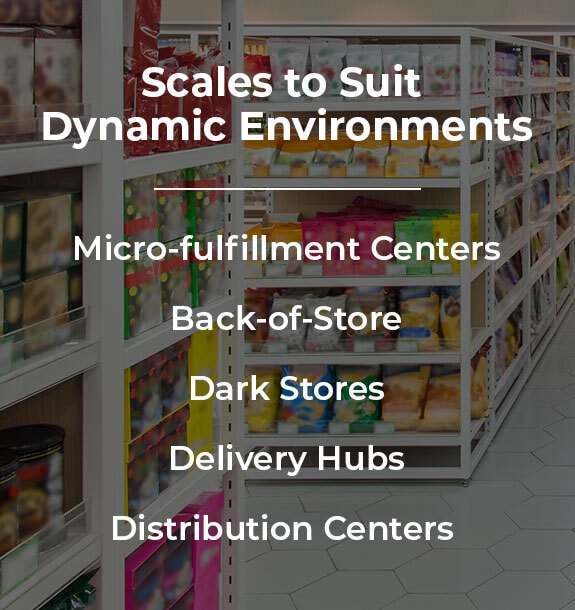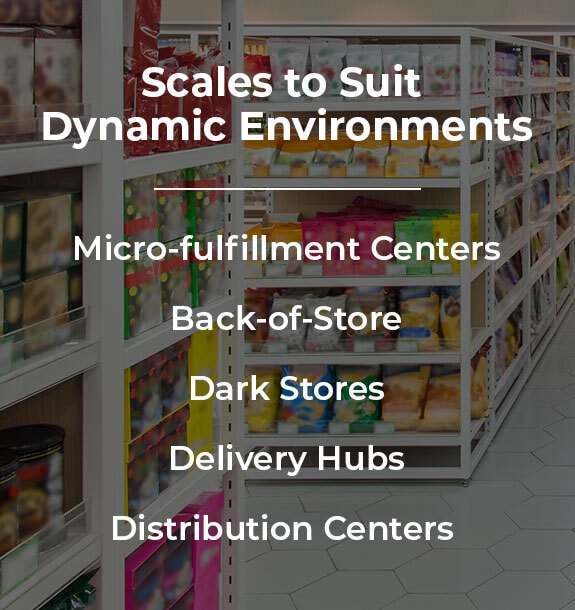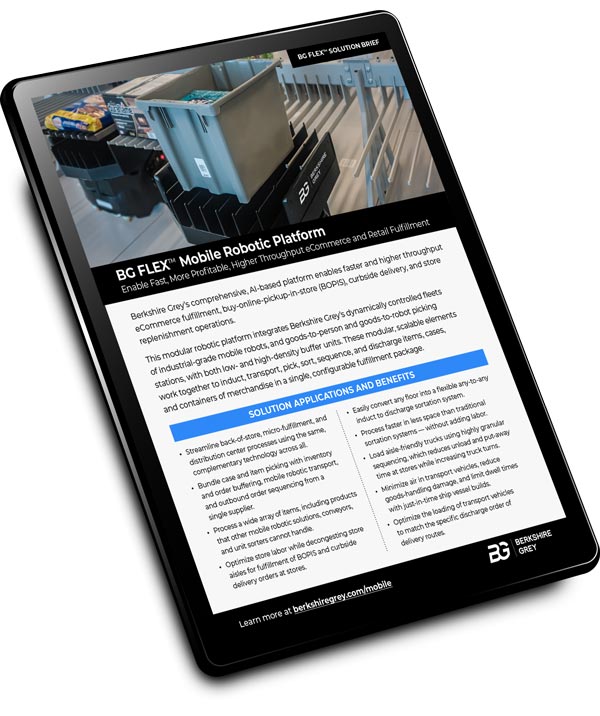 BG FLEX
™

Mobile Robotic Platform Reinvents Warehouse Automation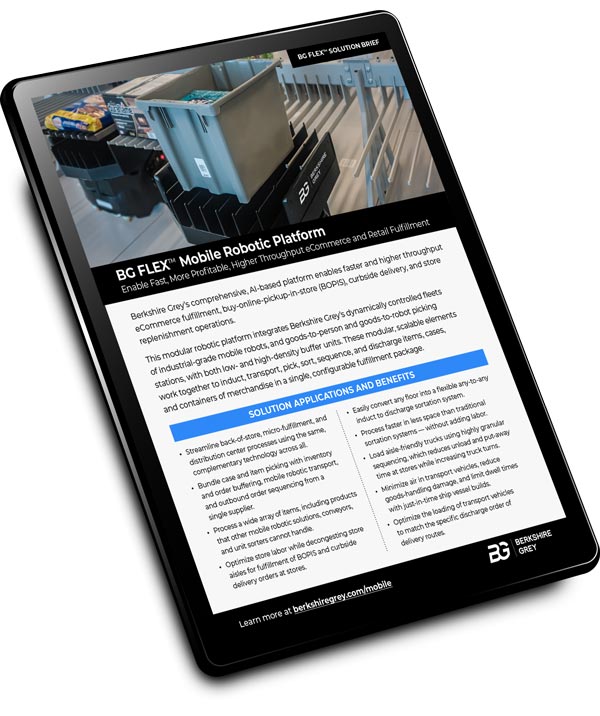 Orchestration Software Improves Performance via AI and Machine Learning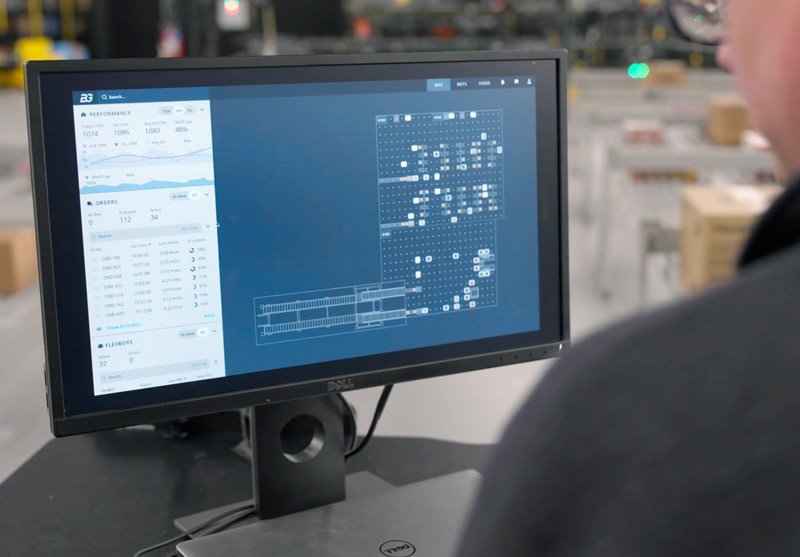 Berkshire Grey's orchestration software is capable of real-time coordination of thousands of mobile robots simultaneously in a single facility. This coordination enables the robots to operate as an intelligent synchronized fleet that performs the millions of dynamic travel pathways required to sequence hundreds of thousands of outbound items and orders. A robust set of APIs integrate the Berkshire Grey mobile robotic platform with enterprise software and hardware from other suppliers.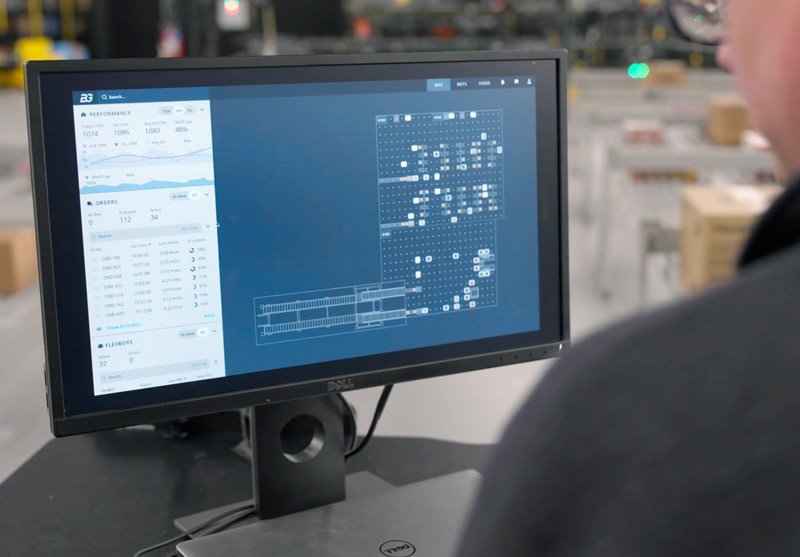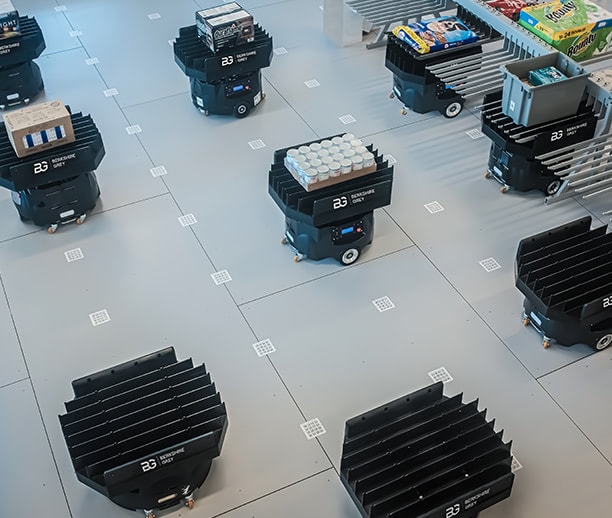 Mobile Robots Work Together as a Coordinated Fleet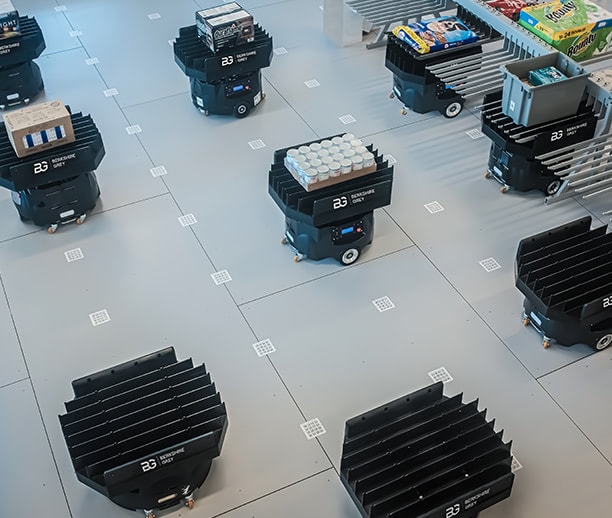 Berkshire Grey's FlexBot® mobile robots are purpose built to operate in dynamically controlled fleets that are synchronized for robust sorting, picking, fulfilling, and sequencing. FlexBot AMRs are outfitted with innovative payload carrying decks to accommodate handling products as small as one pound and as large as 60 pounds. FlexBot robots are not generic AMRs. BG FlexBot AMRs are fast, rugged, and reliable.
Automatic Induct & Discharge Stations Handle the Broadest Assortment of Products, Cases, and Containers
The BG FLEX™ Mobile Robotic Platform includes critical infrastructure components, including automatic induct and discharge stations storage.  Induct and discharge stations called FlexFeeds are controlled by the software to 'feed' items, cases, and containers into and out of configured processing floors where the mobile robots carry products and containers to perform sortation and order fulfillment to prescribed strategies. 
High Density Buffer Supports Sortation and Fulfillment within Optimal System Footprints
High density buffer is an integrated component of the platform that provides temporary holding for items, packages, and cases when necessary to accommodate sophisticated fulfillment processing and dynamic sort and sequence runs in an optimal footprint. FlexBots interact with the high density buffer system via standard FlexFeeds that can induct and discharge both totes and cases.  The modularity of the system allows for integrating with other systems such as AS/RS and palletizers from other suppliers. 
Integrated Goods-to-Person Pick Stations Enable Fast, Efficient Order Fulfillment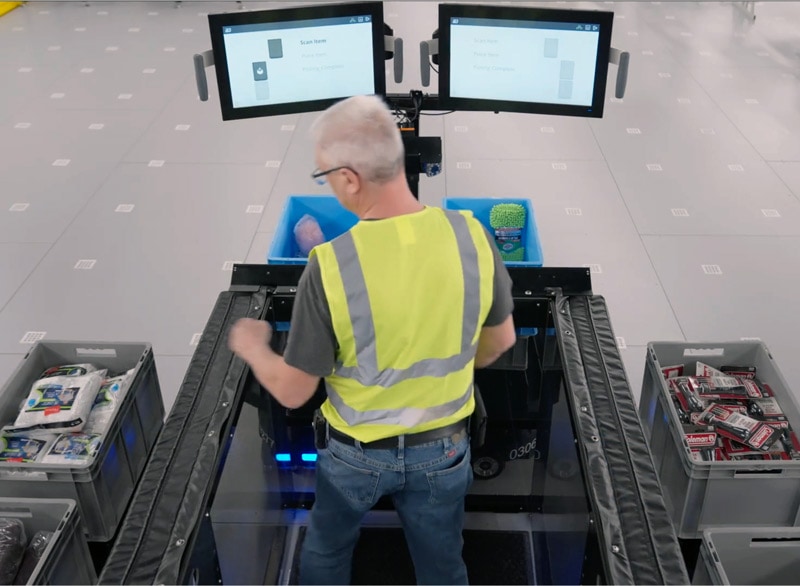 Inventory and order containers are automatically served from buffer areas to goods-to-person pick stations to fulfill orders.  Order containers can be totes, reusable containers, or shipping boxes. The stations are designed to support fast picking in an ergonomically sound and safe manner for operators and the user interface is intuitive.  Operators are typically working at production levels within a few hours of initial training.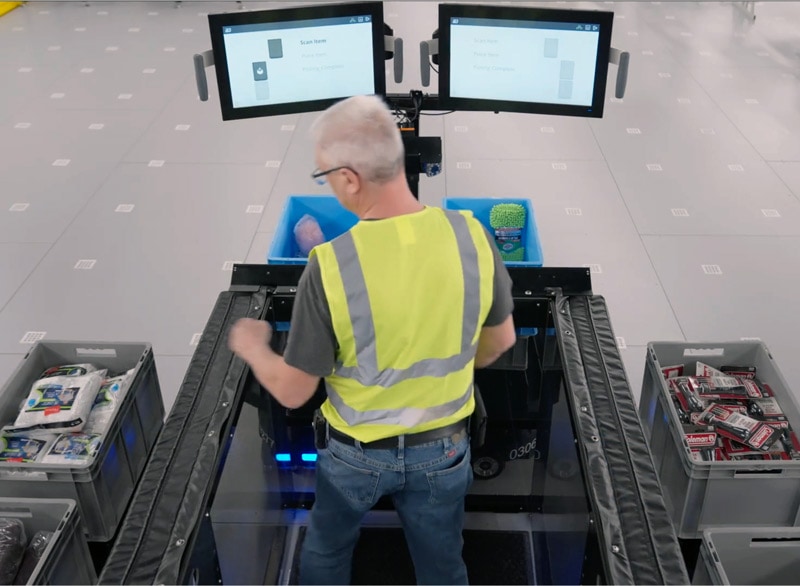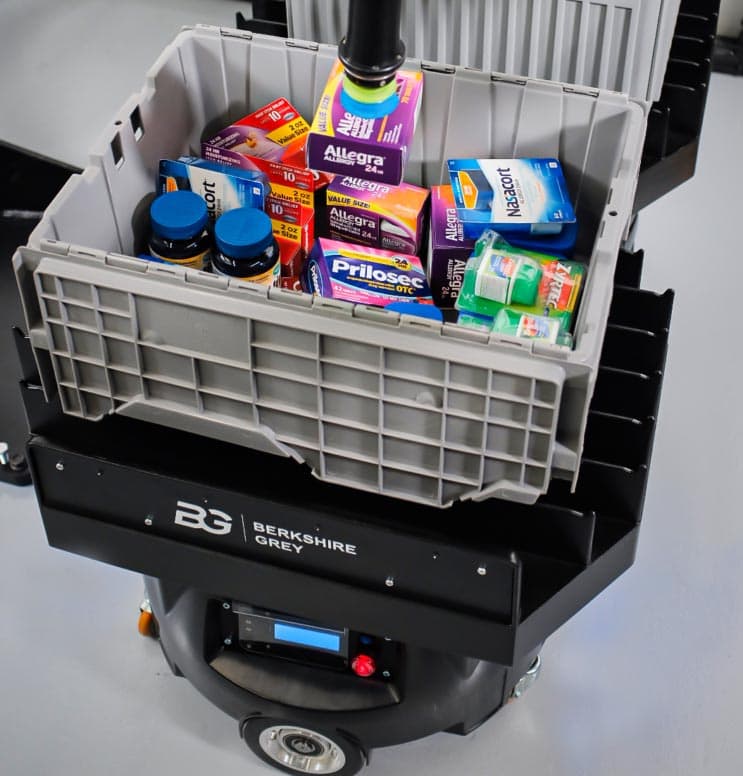 Overcome Labor Availability Challenges with Integrated Robotic Pick Stations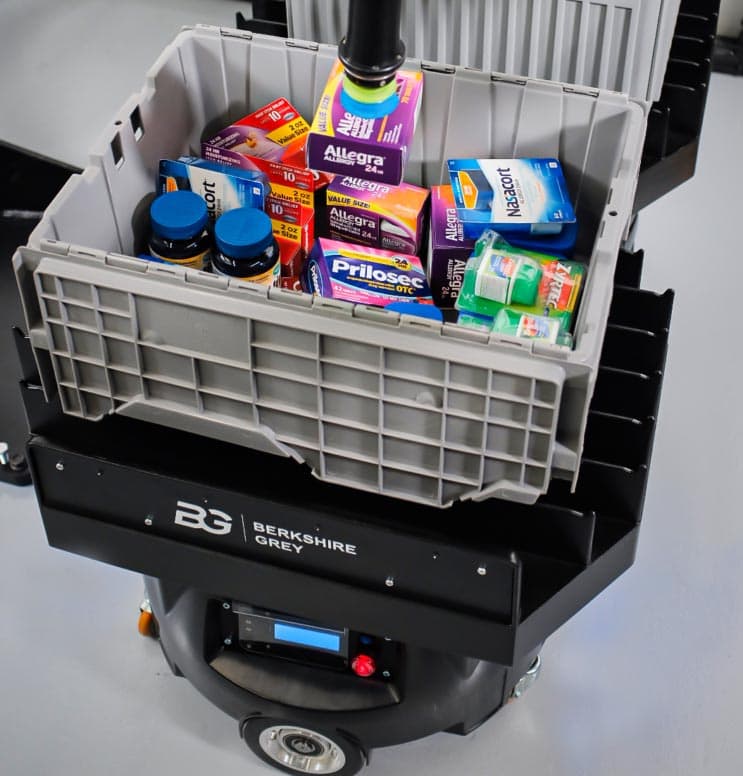 Robotic item and each picking can be integrated with mobile robots to enable world-class fulfillment operations that overcome labor availability challenges and handle some of the most common tasks including:
Get Started
with Berkshire Grey
Contact the BG Fulfillment Automation Sales Engineering Team to Learn How to:
Reduce operations expense by up to 70%.
Lessen your dependency on labor.
Bolster facility throughput by up to 25% to 50% with automation.
Get a customized ROI analysis of your specific environment and business.