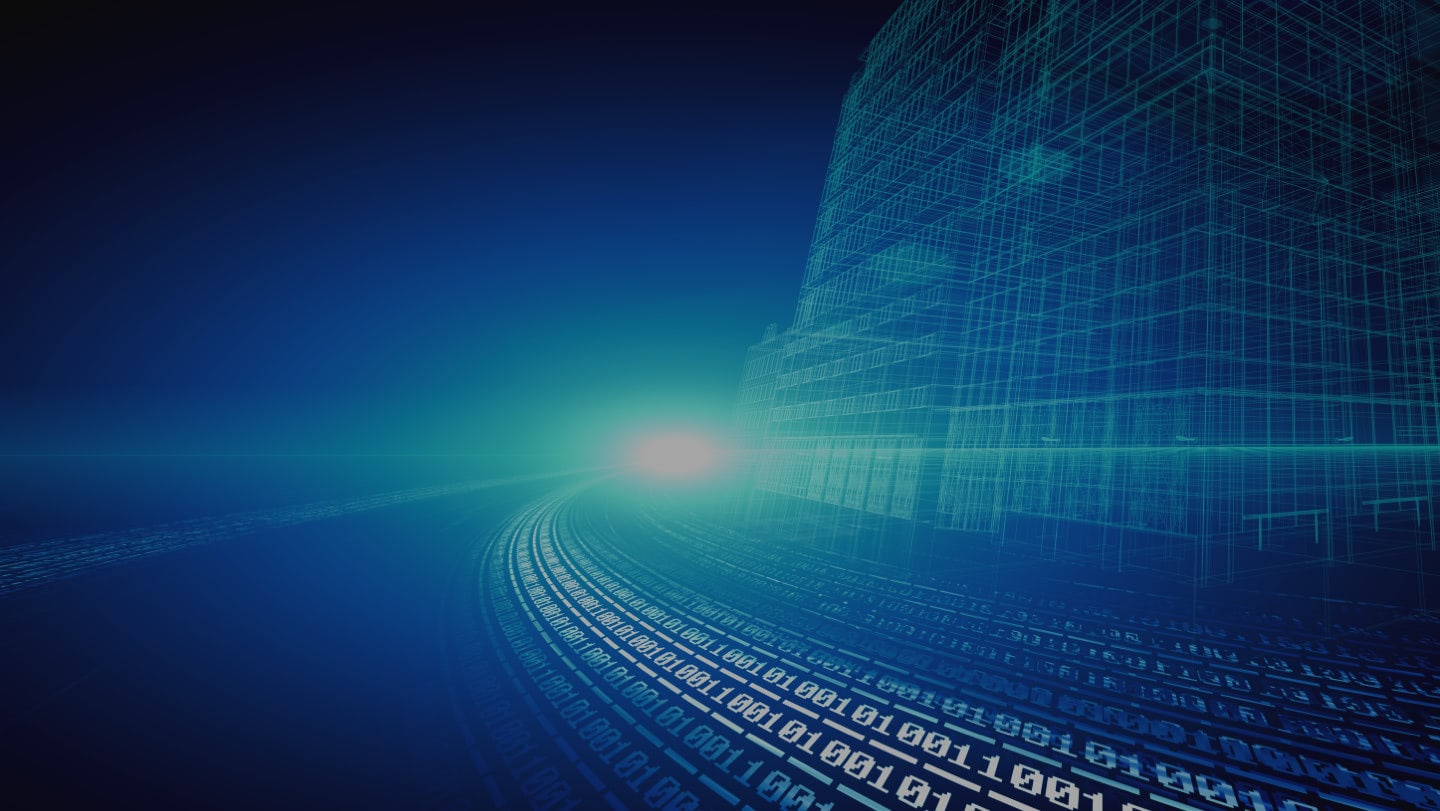 Berkshire Grey Blog
Digital-First Grocery: Micro-Fulfillment vs. Central Fulfillment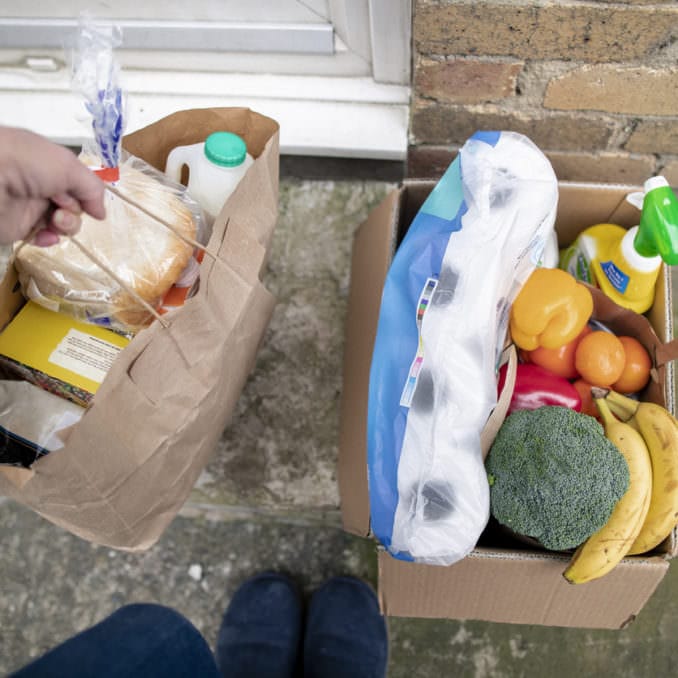 By Pete Allen, GM, Food & Beverage Business Unit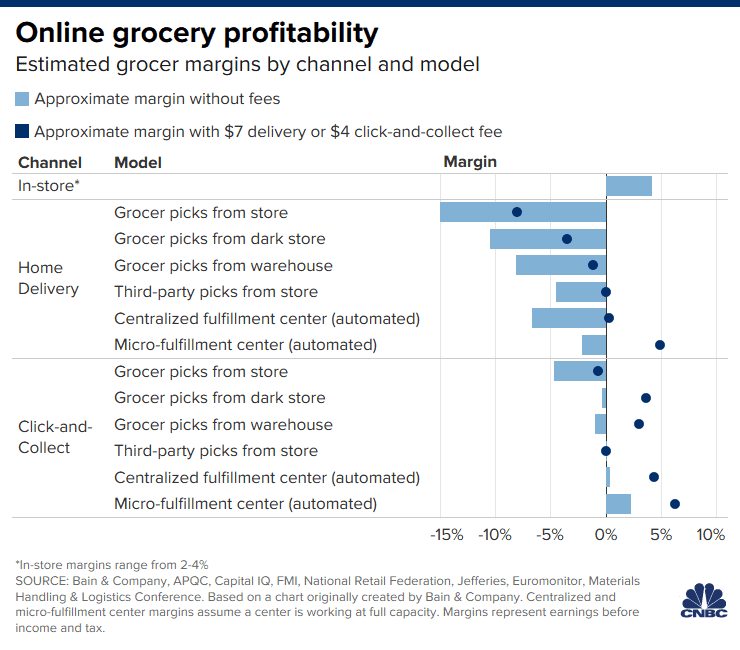 Industry leaders must consider current and future consumer shopping habits to develop the best business model to meet existing demand and raise future margins.
Grocery operations leaders already contend with razor-thin margins, which are only being exacerbated by competition from the likes of Amazon, Walmart, and Target to meet increasing consumer demand for online ordering, curbside pickup, and contactless delivery.
While this rising customer demand is increasing topline revenue, the expectation of same-day order fulfillment and delivery is decimating margins, with industry estimates putting losses anywhere from $7 (for curbside pickup) to $13 (for deliveries) per order. With those estimates top of mind, grocery leaders are looking to new approaches for successful order fulfillment.
Industry research (see below) shows that moving from a manual labor model to either automated centralized fulfillment centers (CFCs) or micro-fulfillmentcenters(MFCs) can reduce labor costs, improving margins and moving them out of negative territory. Let's take a look at the options.
CFCS VS. MFCS
Some large grocery players are already using CFCs to support direct-to-consumer orders across the geographic area of multiple brick-and-mortar stores. Although the large physical footprint requires significant upfront investment, it allows for the consolidation of storage and processing at scale. CFCs tend to be located outside of metropolitan areas, limiting the opportunity to meet demand for customer self-pickup and requiring the vast majority of individual orders to be delivered. Unless they happen to be located in the heart of a densely populated area, CFCs are an extremely costly approach for fulfilling direct-to-consumer orders. That being said, CFCs can introduce a grocer to a geographic market it has not previously served and store replenishment is still a major requirement for store-based grocers.
Alternatively, MFCs are designed to support the direct-to-consumer orders for a single store location. These right-sized fulfillment operations can be affixed to or collocated within existing stores. MFCs support a smaller geographical radius and are in closer proximity to consumers, making pickup options more attractive and reducing delivery time and costs. Collocation can repurpose unused space within a store and capitalizes on existing inventory replenishment processes, reducing network transportation costs. Add automation and robotics to the MFC model, and grocers could slash operational expenses and pivot to a profitable direct-to-consumer order fulfillment model.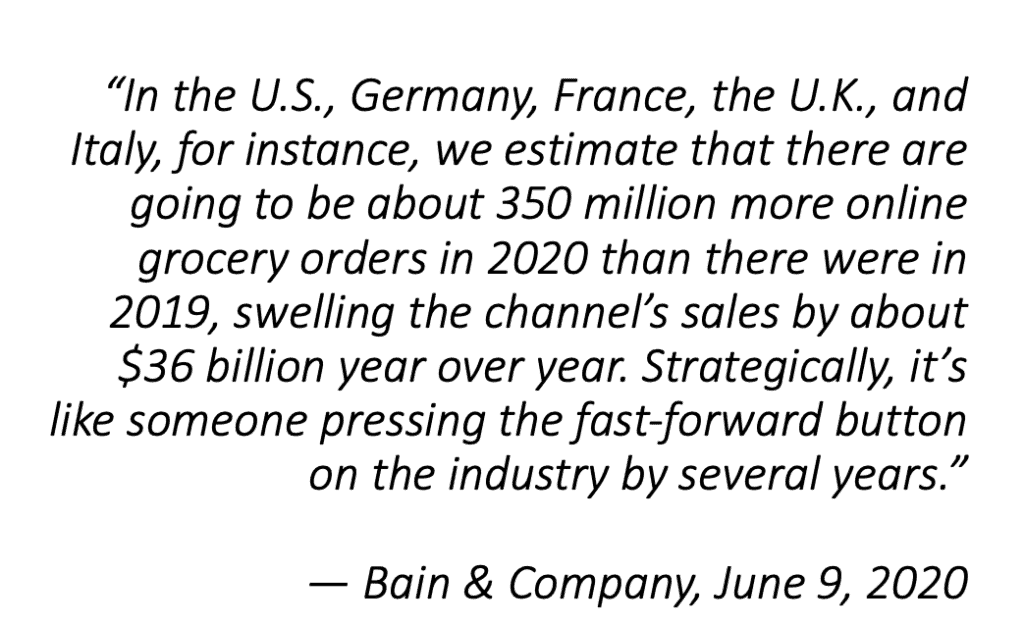 As more consumers are creating permanent online shopping habits for everyday items, industry leaders must build better business models to meet the existing demand and to handle the expected increased demand in the future. MFCs are the clear choice for operators with existing facilities in urban and suburban areas: when coupled with automation these facilities provide the scalability, fulfillment speed, and margin improvement that grocers need to grow and thrive.
Consider Three Critical Components
Berkshire Grey has been helping customers automate fulfillment throughout the pandemic — whether it's allowing customers to rapidly scale their operations to meet 2X demand without adding shifts or accelerating store replenishment of goods on shelves. Listening to our customers, we have several observations to share.
Think short-term and long-term. Profitability is a moving target, and grocery is still seeing spikes in demand. Increases in digital shopping, curbside pickup, and delivery options are more costly to fulfill than traditional in-store shopping, but retailers that remove friction for consumers will grow market share. So, while processes that rely on labor can deliver these new shopping options for consumers in the short term, longer term you will need to embrace new technologies to deliver these options profitably. If you're not out there actively piloting automation-enabled micro-fulfillment approaches now, you're not going to know the effects it could have on your business model, particularly profitability. Because CFCs represent significant upfront investment in capital and space, it is quicker and easier to pilot an MFC to support digital-first grocery offerings.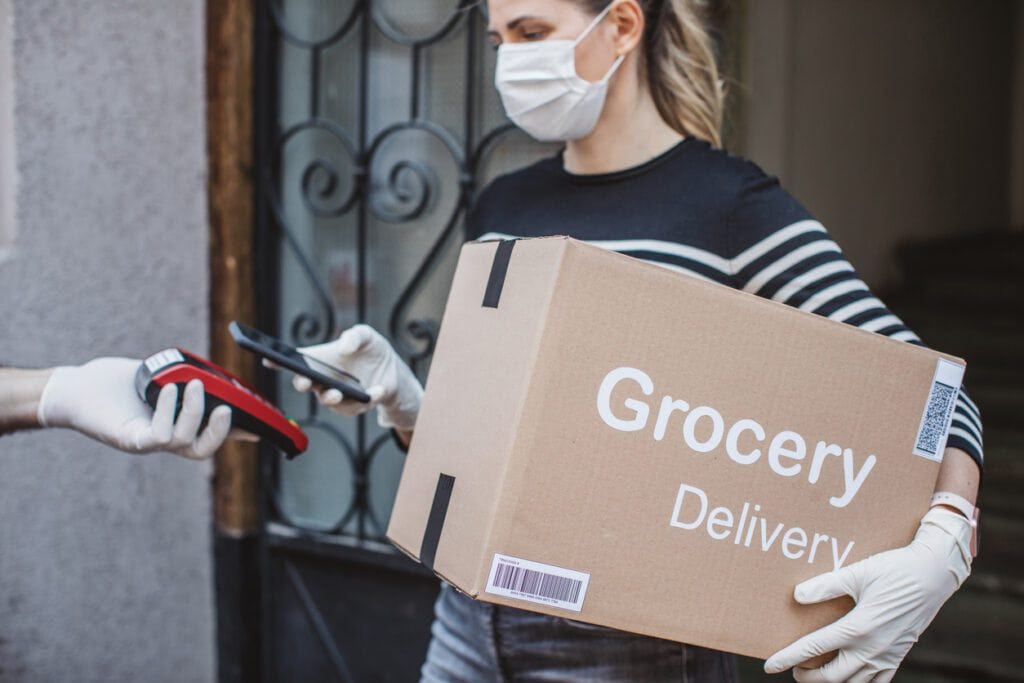 Robotics as a Service (RaaS) is a trend starting to take hold as a way for operators to implement robotic solutions with less upfront capital investment. This creates new opportunities for companies that previously shied away from advanced automation to deploy robotics in their facilities. The flexible pricing model offered with RaaS can help replace bigger capital expenses with more accessible operating costs — making robotics a more affordable, realistic solution for some companies.
Think big picture. If you're considering a CFC approach to support digital grocery shopping/ordering/fulfillment, be aware of possible cannibalization. In a CFC model, you're delivering all your groceries from one central location directly to the customers, bypassing the store. Store foot traffic goes down and consumers who prefer pick-up to delivery will look for competitors offering more local options. Also, because stores are not part of the process, potential increases in basket size aren't there. You're potentially pulling business out of your own stores.
With an MFC, the local footprint is already there. You can continue to drive traffic to the store while you're driving fulfillment fromthe store. An MFC collocated with a store offers the greatest flexibility in terms of shopping/ordering/delivery options for consumers and lowers delivery costs by putting the "ship from" location close to the community where deliveries are made. Additionally, you can balance your existing store-based workforce between traditional store operations and the co-located MFC. You are improving service for customers while keeping your employees engaged.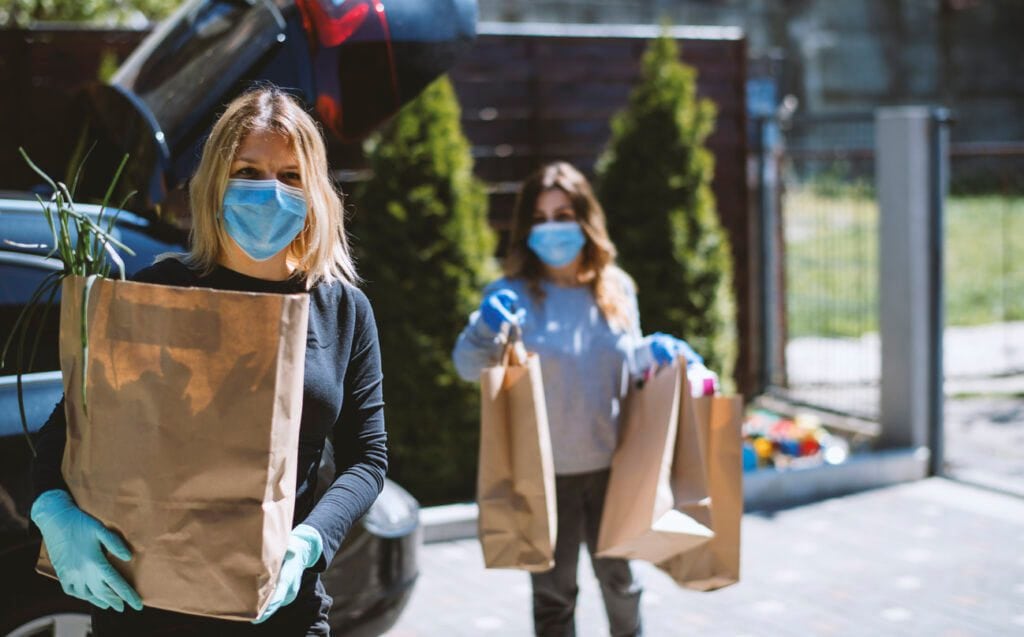 Think process. Grocers frequently think that their fulfillment processes have already been optimized to the extreme — meanwhile, people are the key mechanism for picking products out of totes to fulfill orders. As consumers demand more fulfillment options, grocers are forced to add more labor unless they reimagine how they can do this work. By applying AI-powered robotics to picking, packing, and break-pack operations for eCommerce, Berkshire Grey customers have improved labor efficiency by up to 70% while increasing operational throughput by up to 50%.
Further, AI-powered, easily reprogrammable mobile-robot squads can cost-effectively reroute and optimize processes currently bound by connected conveyance methods, and/or reduce the steps that human pickers need to pull from storage or inventory. There are options to augment manual processes with robotic technology in facilities not ready for a larger-scale transformation. But consumers aren't likely to go back to embracing a one-size-fits-all approach for groceries. The new normal of a truly omnichannel shopping experience means grocers will need to find the technology and solutions that make omnichannel fulfillment at least as profitable as traditional store operations.
Robotic Automation to Radically Change the Essential Way You Do Business
Get Started
with Berkshire Grey
Contact the BG Fulfillment Automation Sales Engineering Team to Learn How to:
Reduce operations expense by up to 70%.
Lessen your dependency on labor.
Bolster facility throughput by up to 25% to 50% with automation.
Get a customized ROI analysis of your specific environment and business.
Call +1 (833) 848-9900
or connect using our form.