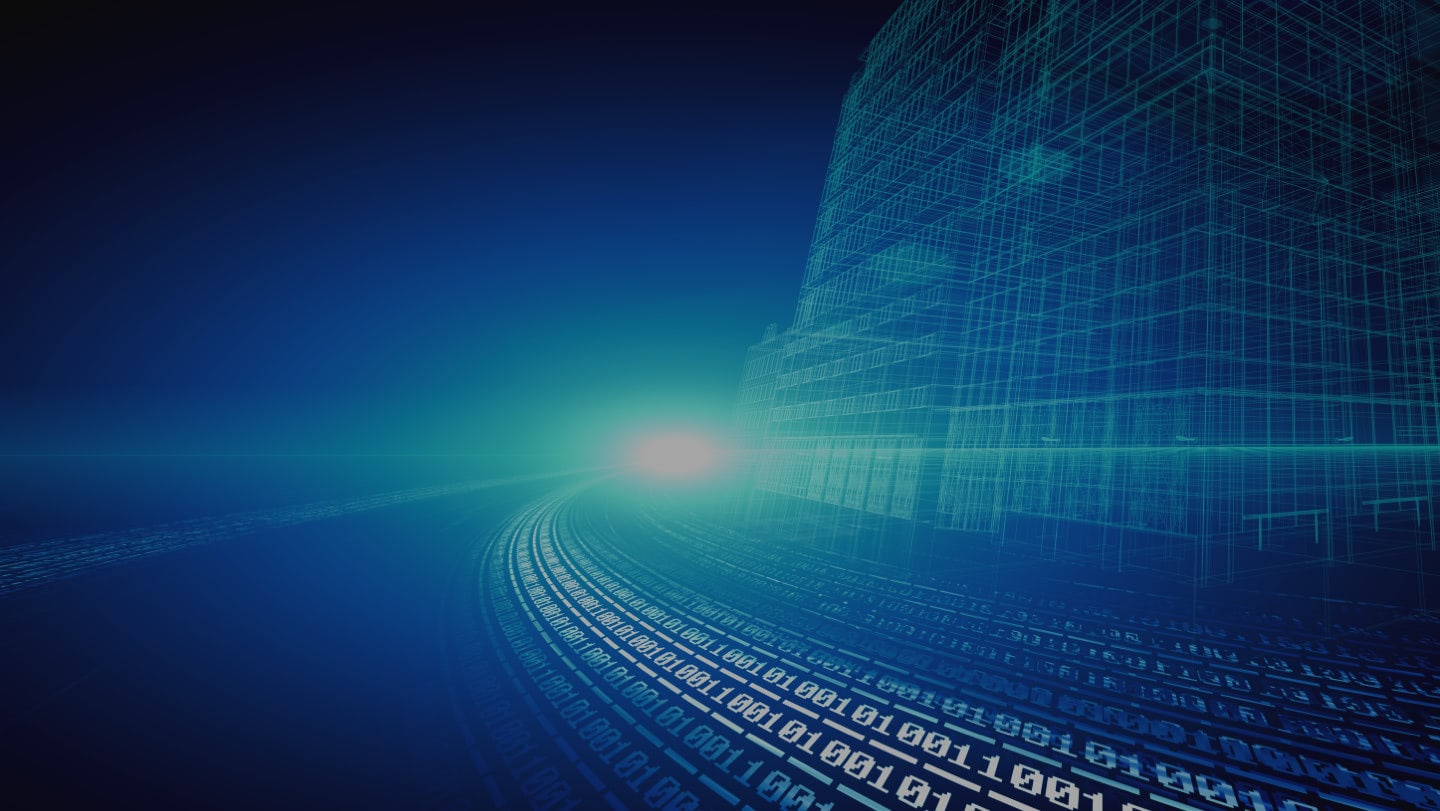 Berkshire Grey Blog
Five Ways Robotics as a Service Will Help You Outpace the Competition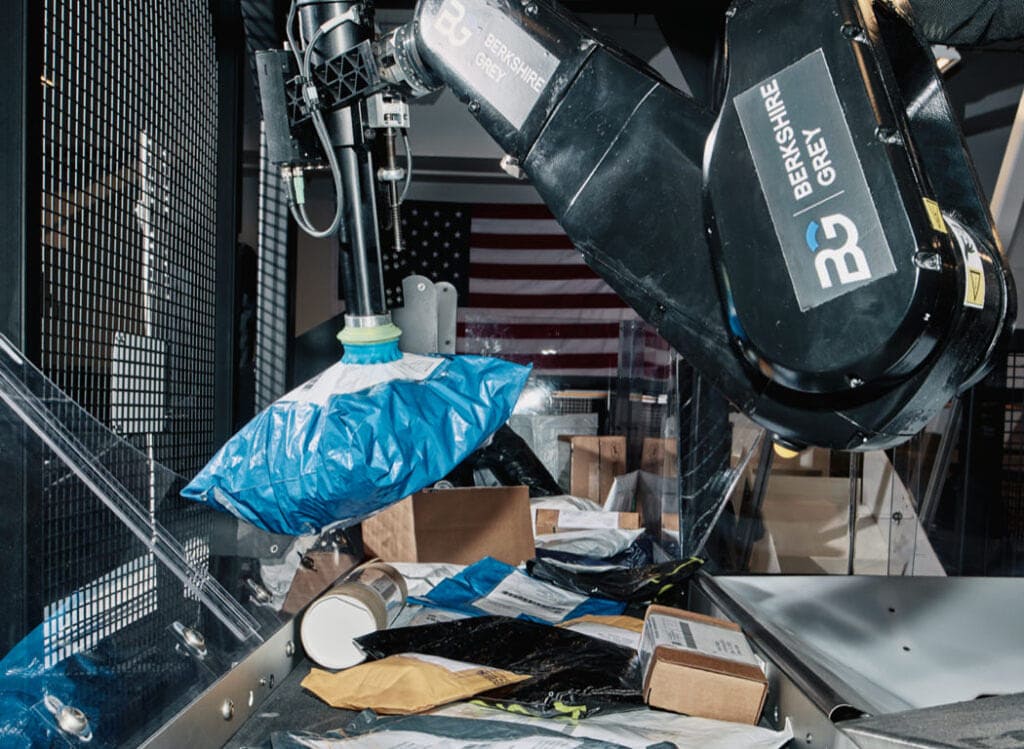 By Jessica Moran, SVP and GM, 3PL and Parcel & Packages Logistics
With RaaS, businesses can accelerate the adoption of flexible robotic automation that scales to meet customer demand without upfront capital.
Distribution centers across industries are under immense pressure to be faster, more efficient, and more flexible than ever before. Consumer expectations continue to rise, eCommerce volume has skyrocketed, and labor is in short supply. That's why robotic automation is imperative for distribution centers that are looking to increase facility throughput, lessen dependency on labor, and optimize their supply chains.
Robotics as a Service (RaaS) offers a flexible pricing model to enable fast adoption of robotic automation systems with less capital outlay. RaaS reduces risks for businesses that are looking to implement next-generation robotic and AI solutions and to leverage the support of technical experts that ensure the solution is quickly deployed and always optimized.
Interest in RaaS continues to grow because it represents an alternative for businesses that want to gain a competitive advantage in today's environment and establish an infrastructure that can support future growth. RaaS solutions can easily scale as businesses grow. With RaaS from Berkshire Grey, your distribution center can take advantage of the system, software, and managed services provided by a team of experts that implement and continue to optimize your solution. The RaaS model enables businesses to allocate next-generation robotic automation to their operating budget rather than a capital expenditure.
For companies that would prefer not to buy equipment outright — RaaS offers a means to get up and running for a quarterly fee, while Berkshire Grey handles the ongoing optimization, management, and maintenance.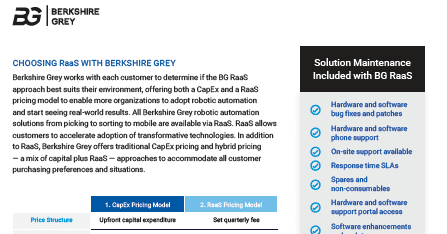 Paper:
Robotics as a Service (RaaS) Explained
Here are five reasons to consider RaaS now.
1. Speed of deployment gets a boost.
Berkshire Grey's RaaS model is designed to help distribution centers start seeing results quickly. The procurement process can be faster without having to commit the capital upfront, which paves a quicker path to labor savings, productivity gains, and other ROI improvements. To get that jumpstart, we do a comprehensive front-end analysis of the environment, complete full designs of the optimal robotic automation solution, and provide a breakdown of how robotic automation will improve throughput and increase efficiencies.
2. The latest software advancements are regularly scheduled and consistently applied.
We continually improve our AI and machine-learning algorithms that optimize the performance of our integrated robotics solutions, and those improvements are passed on to RaaS customers automatically on a timely basis. As with any Berkshire Grey solution, we hit key metrics quickly and drive long-term success.
3. Flexible resources can be scaled based on demand.
The COVID-19 pandemic upended traditional capacity planning. Retail, logistics, and eCommerce companies are still managing through fluctuating demand across their distribution centers. Our systems are modular — they're designed to be expanded when business conditions require more throughput, so customers don't have to worry that they're solving an immediate tactical need at the expense of comprehensive, strategic goals.
4. Onsite support and maintenance optimizes ongoing improvements.
The RaaS fee includes support and maintenance. Berkshire Grey owns and manages the equipment — which means software enhancements, upgrades, and patches are on us. Hardware audits are too. Spares and non-consumables are also included as part of the RaaS offering. RaaS customers reap the benefits of onsite, proactive support services. The model makes it easier for businesses to keep up-to-date systems at their sites, while protecting capital investments.
5. RaaS offers a predictable pricing structure.
Traditional purchasing models require an upfront capital expenditure. With RaaS, customers commit to a quarterly fee over a period of time. Pricing is predictable, and there are no extra usage or maintenance fees. This lowers upfront costs, which enables more companies to invest in end-to-end, transformative robotic automation.
Berkshire Grey offers RaaS packages for our complete catalog of robotic automation solutions, including single robotic pick cells as well as integrated pick, pack, sort, and mobile systems. If you are looking for robotic automation for your distribution center but you are lacking the technical expertise to ensure success or if capital outlay is hindering your shift, consider whether RaaS might be the right deployment approach for your environment.
Robotic Automation to Radically Change the Essential Way You Do Business
Get Started
with Berkshire Grey
Contact the BG Fulfillment Automation Sales Engineering Team to Learn How to:
Reduce operations expense by up to 70%.
Lessen your dependency on labor.
Bolster facility throughput by up to 25% to 50% with automation.
Get a customized ROI analysis of your specific environment and business.
Call +1 (833) 848-9900
or connect using our form.