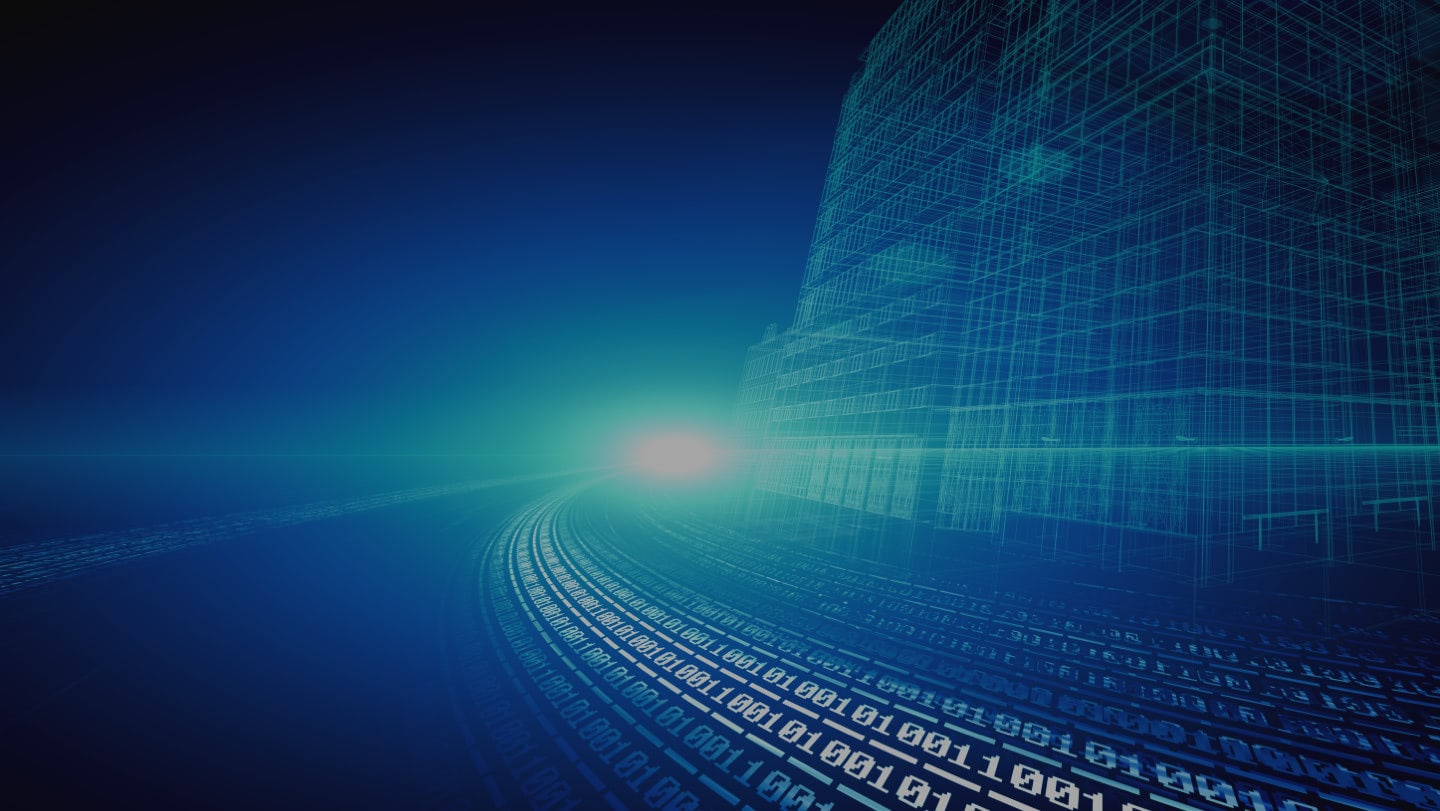 Berkshire Grey Blog
Four Signs It's Time to Rethink Your eCommerce Fulfillment Operations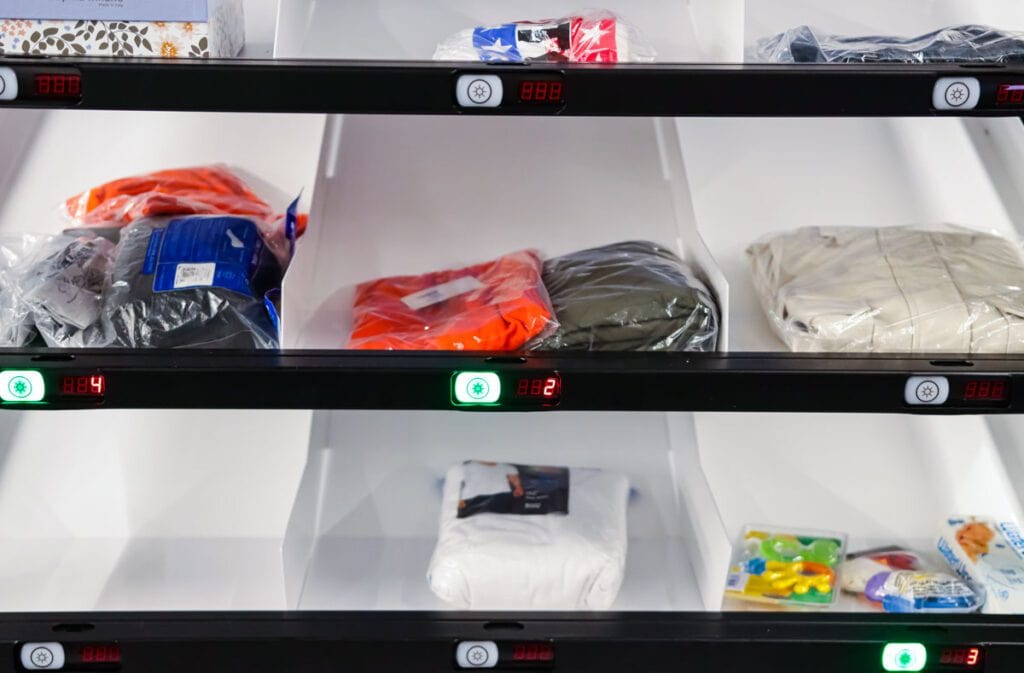 By Peter Van Alstine, SVP & GM, Retail Business Unit
The surge in eCommerce is putting a strain on order fulfillment and exacerbating labor challenges. A robotic put wall could be the key to increasing productivity with minimal disruption to existing warehouse operations.
Shoppers turned online when the pandemic shuttered physical stores. As eCommerce sales rose, so did consumer expectations. Shoppers today are accustomed to rapid order turnaround and multiple delivery and pickup options, but not every retailer is proving they can keep up with the sustained demand.
For many traditional retailers, eCommerce companies, and 3PLs, the surge in eCommerce has put a strain on labor and exposed bottlenecks in order fulfillment processes. Here are four reasons to rethink your eCommerce fulfillment operations to stay competitive in the new retail reality.
1. eCommerce keeps climbing.
Consumers spent $861 billion online with U.S. merchants in 2020, an increase of 44% compared to 2019, according to data from Digital Commerce 360. That's the highest annual U.S. eCommerce growth in two decades, the research firm estimates. And there's no sign of online shopping leveling off: U.S. retail eCommerce sales are expected to climb another 18% in 2021, according to Insider Intelligence.
2. eCommerce fulfillment is labor-intensive, and labor is scarce.
The online sales explosion is great for revenue, but not necessarily for profitability. Getting online orders out the door requires a lot of labor, particularly because shoppers often buy just one item online at a time. Picking, sorting, and packing are largely manual processes compared to traditional retail distribution operations.
Labor availability is a pressing problem. The Bureau of Labor Statistics reported 10.9 million job openings at the end of July, and the retail industry is feeling the pressure. In the past, retailers have addressed upticks in eCommerce volume by hiring more labor. But now, faced with an order surge of epic proportions, retailers are struggling to find enough people to hire. Retention, too, remains a problem in high-turnover warehouse roles.
3. Increase fulfillment throughput without disrupting operations.
Pre-pandemic, it was typical for distribution centers to be set up with the 80/20 rule: 80% of the systems and space served store replenishment processes, and 20% handled eCommerce order fulfillment. These days, the split might be closer to 50/50, and most warehouses weren't designed for that kind of eCommerce volume. The result is a critical bottleneck at the picking and sorting stages of order fulfillment. Manual put walls are widely used to support eCommerce order fulfillment, but they were not designed to process enough orders to keep up with demand today or in the future.
While many companies might recognize the need to introduce automation into their processes now, the idea of slowing or stopping operations is a deal breaker. But robotic put walls available today feature modular designs that won't disrupt existing processes.
4. Selective automation can boost employee productivity.
Robotic put walls are designed to speed up order processing and optimize labor. When a put-wall worker takes picked products and loads them into a robotic shuttle for scanning and delivery to the appropriate cubbies, that frees the worker from the time-consuming process of figuring out which order a product is destined for, then walking to a cubby for sorting. That makes the sorting labor much more efficient: With a robotic put wall, workers can sort orders up to three times faster than with manual-only processes.
Plus, the benefits aren't limited to sorting efficiency. There are upstream gains as well. Automated put walls can process more orders at once, which means manual pickers can be picking products for more orders as they traverse the warehouse aisles. The ability to pick for more open orders can yield a more than 30% improvement in upstream picking productivity.
Adding an automated put wall doesn't require rearchitecting operations. Retailers can maintain their existing processes while eliminating a key bottleneck with a Robotic Shuttle Put Wall (RSPW). The modular design lets retailers plug new technology into the most pressing trouble spots — without extensive construction — and expand deployments at their own pace.
Retailers, eCommerce companies, and 3PLs can fulfill more eCommerce orders with the people and the buildings that they have today and be confident that an RSPW investment will be compatible with future robotics deployments.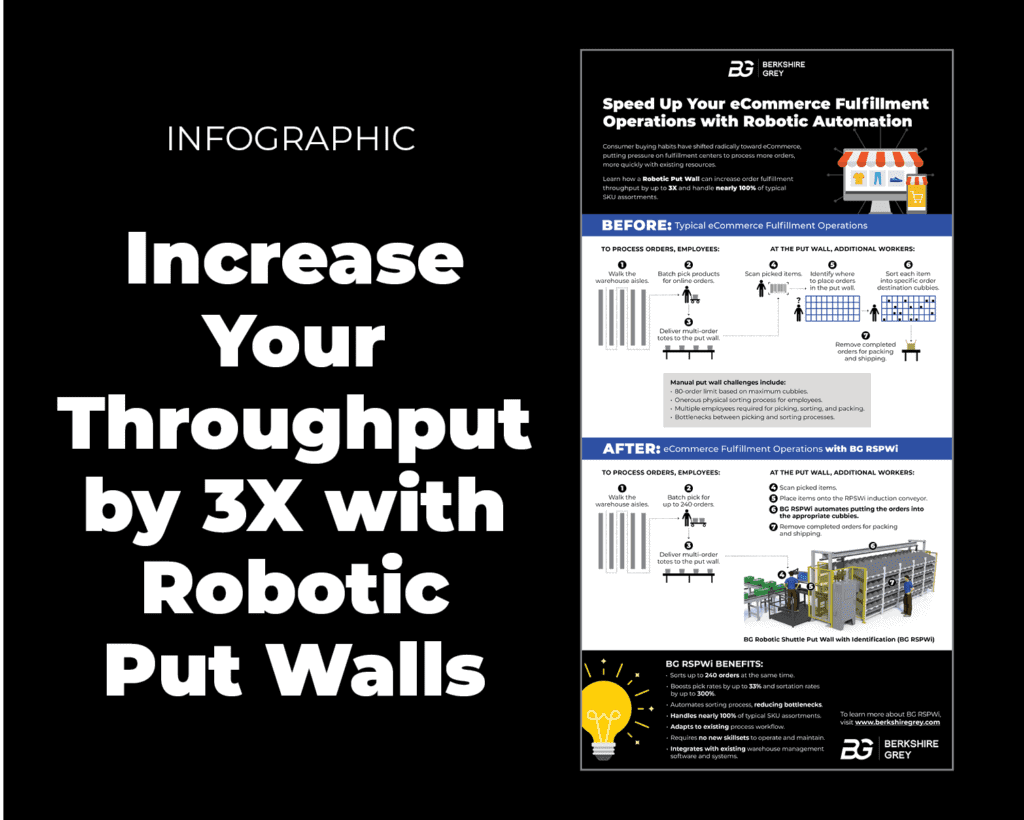 Infographic:
Speed Up Your eCommerce Fulfillment Operations with Robotic Automation
Robotic Automation to Radically Change the Essential Way You Do Business
Get Started
with Berkshire Grey
Contact the BG Fulfillment Automation Sales Engineering Team to Learn How to:
Reduce operations expense by up to 70%.
Lessen your dependency on labor.
Bolster facility throughput by up to 25% to 50% with automation.
Get a customized ROI analysis of your specific environment and business.
Call +1 (833) 848-9900
or connect using our form.