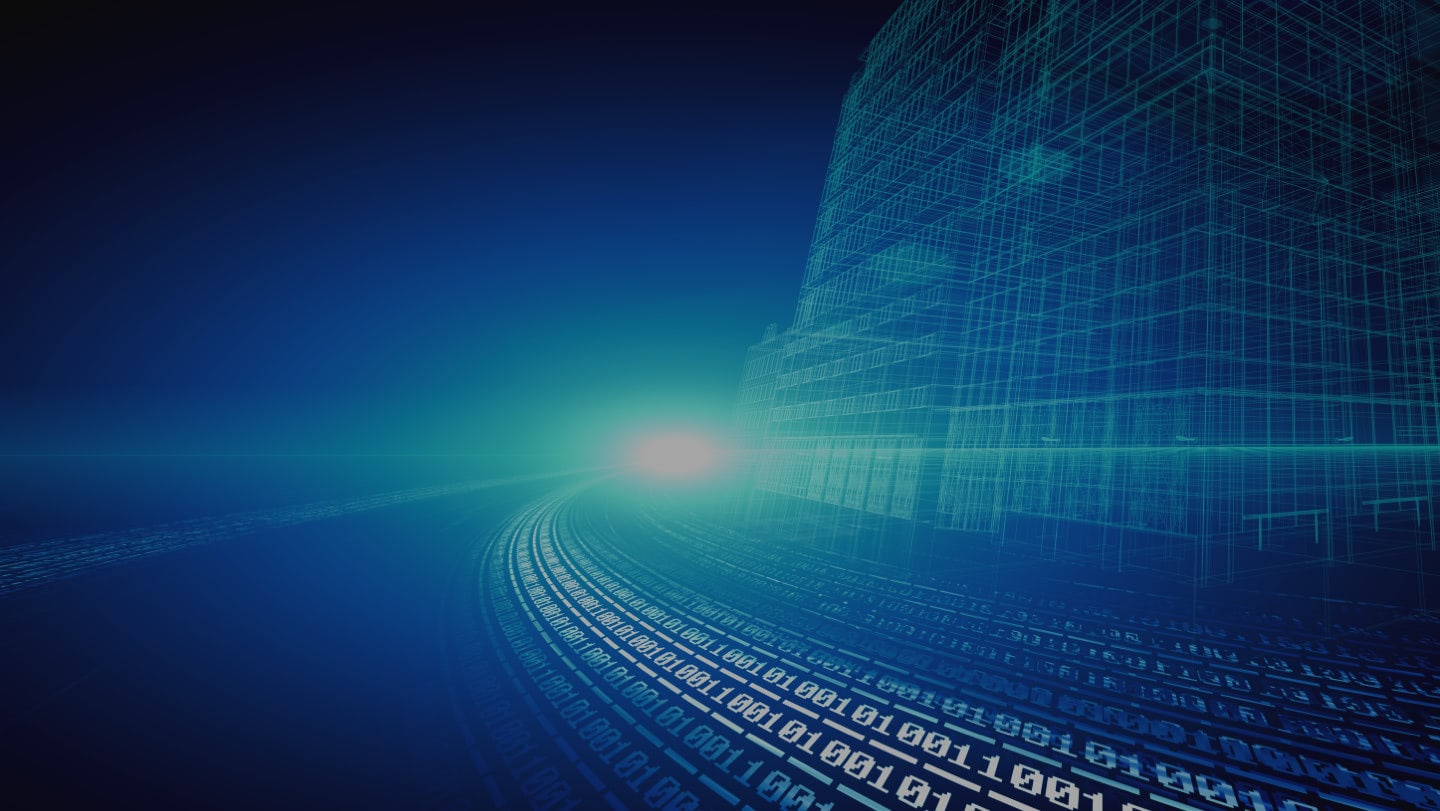 Berkshire Grey Blog
How Intelligent Enterprise Robots Will Transform Your Supply Chain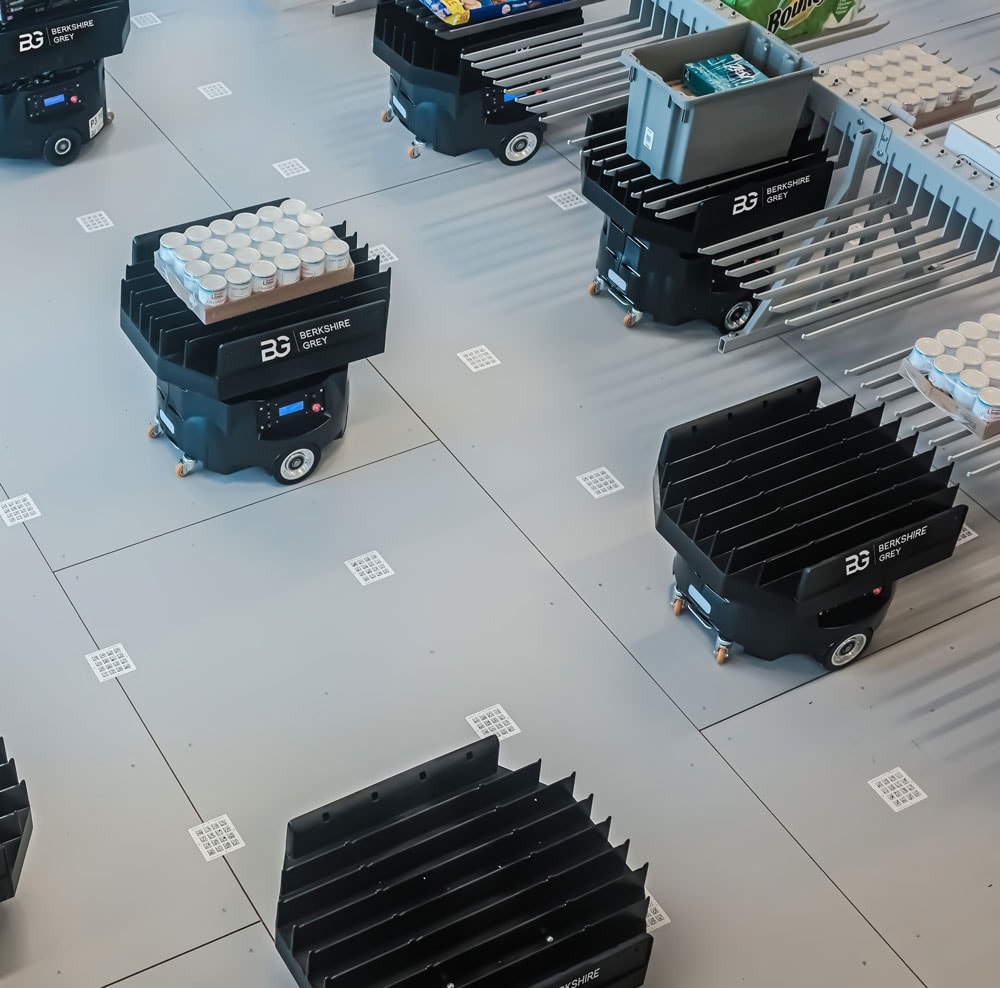 By Sri Solur, CPO and GM, Mobile Robotics
Powered by orchestration software, Berkshire Grey's robotic picking and mobility solutions bring machine-to-machine interactions to enterprise businesses at scale.
We live in amazing times. Just 10 years ago, we witnessed the growth of social media, amplifying people-to-people connections and launching the social cloud. Then five years ago, we saw the rise of people-to-machine connections with virtual and augmented reality and the rise of autonomous vehicles. Now we are in the world of machine-to-machine interactions with thousands of bots bringing millions of data points together, utilizing increased sensory perception and intelligence with end-to-end automation across fulfillment environments. This is driving extraordinary, transformational change across industries.
This week at Berkshire Grey we introduced Intelligent enterprise robotic picking and advanced mobility solutions which incorporate a new generation of mobile robots. Our robotic picking systems and mobile robots work together seamlessly to pick, sort, buffer, store, and discharge more SKUs through distribution centers, MFCs, and back-of-store to deliver real transformation. Working with experts here that have experience with industrial-grade products focused on uptime and reliability, what we've done is bring the best of B2C product development to the B2B world — delivering industrial robotic products that solve the fulfillment problems many businesses struggle with today.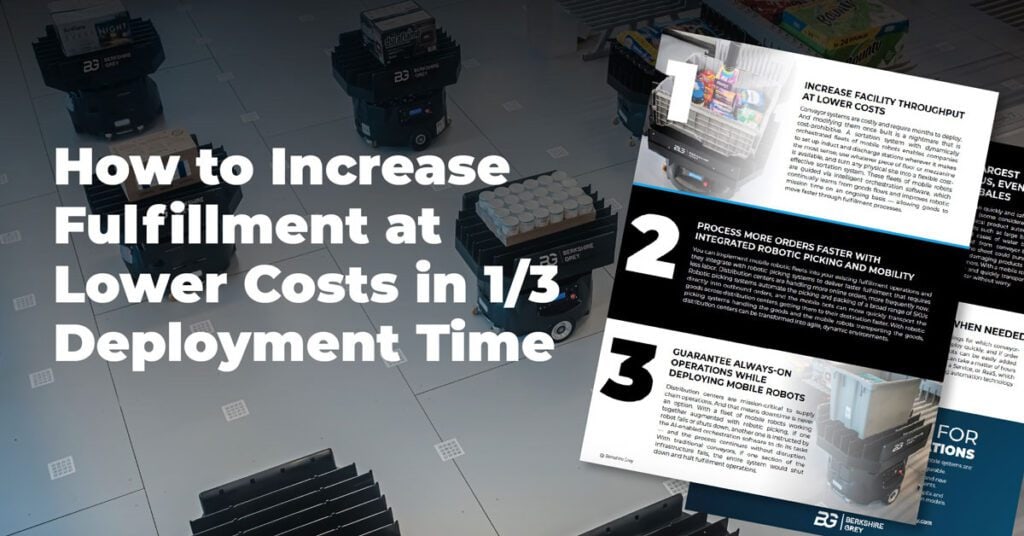 Paper:
5 Reasons You Need Robotic Picking and Mobility
Our Product Development Philosophy
Having worked with leading experts at the intersection of hardware, software, cloud, and applications, we've witnessed the extraordinary results that can come from a consumer product development cycle at its best, with high-volume manufacturing delivering tangible value to millions of consumers worldwide. Now during this amazing, transformational time, our team builds products at the intersection of artificial intelligence, sensory perception, and cloud operations — all leading to next-gen enterprise robotic automation at scale.
By rigorously applying the principles of chaos engineering to hardware and software, our enterprise robotic systems can maintain throughput under all conditions they could endure in today's distribution centers. We've done our diligence to intentionally introduce the products to unknown conditions that could cause performance to degrade or even fail.
Over and over, our product development team asks: what are the maximum degradations with which our products can still deliver the software services and hardware performance? What can we do to push that further? This fault insertion approach lets engineers induce a failure to understand under what conditions and when, for instance, a battery would overheat, melt, or explode. We call this part of the process the "Wheel of Misfortune" where you put your product through the wringer and gather the information needed to create a better product for customers.
We built these intelligent enterprise products with three core pillars in mind:
Easy to deploy, easy to use
We have delivered industrial-grade products that also deliver consumer-like ease of use. These products:
Carry more diverse and complex payloads.
Have greater durability.
Are built modularly for ease of maintenance.
You don't need a robotics engineer to manage these enterprise robotic systems; any warehouse manager can operate these systems. We've consumerized the interfaces for exactly that reason — ease of use for our customers. That's why we developed intuitive interfaces with easy visualization and interaction. The reduced training time decreases ramp up from months to weeks, enabling significantly faster overall deployment.
Breakthrough throughput
Increasing throughput at this level refers to the ability to not only have fast mobile robots that can handle greater SKU coverage both at the unit and case level — but it also refers to the intelligence provided through our orchestration software. The AI-enabled software continuously learns from the flow of goods to improve mission times on an ongoing basis. And this allows more goods to move faster and more efficiently through the system.
Lower operational costs
Need more capacity? Adding more conveyors will cost too much and take too long. With our intelligent enterprise robots, you can lower operational costs with a combination of:
Robust designs with no single point of failure; value engineering practices (that lower the cost of the product without impacting functionality).
Quick turn deployment.
Virtual dynamic reconfiguration.
The ability to increase throughput through AI-driven learning orchestration.
Why Intelligent Enterprise Robotics Now
Berkshire Grey saw the real problems retail, eCommerce, grocery, and logistics companies faced with order fulfillment processes across supply chains. The pandemic caused a tsunami of more orders that customers wanted delivered in shorter amounts of time. We knew eCommerce fulfillment had to evolve.
To address the challenges our customers and many companies must manage, we delivered a holistic set of intelligent enterprise robotic solutions including new mobility offerings for sortation with buffer that work in existing or new fulfillment environments. Our next-gen mobile solutions are built on coordinated fleets of robots working together — managed by intelligent orchestration software — which are deployed rapidly to deliver real results, fast.
We've designed our solutions with customers in mind:
We understand the difficulties that increased eCommerce demand, which include increased SKU variability, as well as smaller and more frequent orders that significantly strained supply chain operations.
We created a platform that alleviates such difficulties by transforming the way those supply chain operations work, focusing on lower cost, faster installation, ease of use, dynamic functionality, and scalable and self-augmenting throughput, with the clarity and confidence that comes from accurate simulation.
We ensure that the work we do delivers products of the highest quality, tested against real-world conditions and ready to face the unexpected.
My team is introducing innovations across industries through this holistic approach to building better hardware coupled with intelligent orchestration software. We are disrupting ourselves and pushing the limits outside of our comfort zone. That's how we can confidently deliver enterprise-grade, resilient products to our customers. And now it's time to disrupt traditional supply chain operations with Intelligent Enterprise Robotics, enabling machine-to-machine interactions at scale to automate the fulfillment of eCommerce orders, replenishment for retail stores and groceries, and parcel processing for customers.
Robotic Automation to Radically Change the Essential Way You Do Business
Get Started
with Berkshire Grey
Contact the BG Fulfillment Automation Sales Engineering Team to Learn How to:
Reduce operations expense by up to 70%.
Lessen your dependency on labor.
Bolster facility throughput by up to 25% to 50% with automation.
Get a customized ROI analysis of your specific environment and business.
Call +1 (833) 848-9900
or connect using our form.