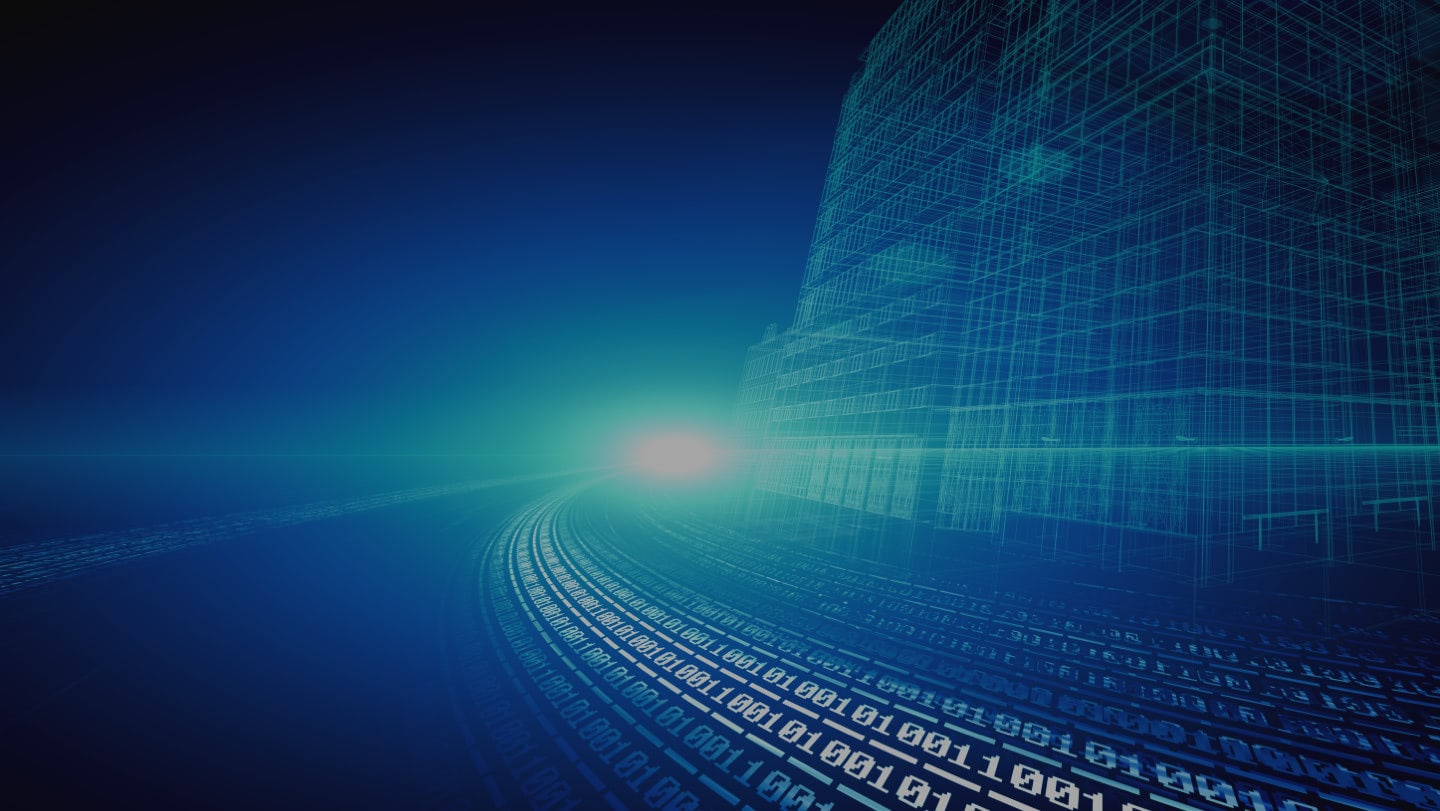 Berkshire Grey Blog
Prospects for Peak: Labor Issues and Supply-Chain Slowdowns Persist as Spending Expectations Climb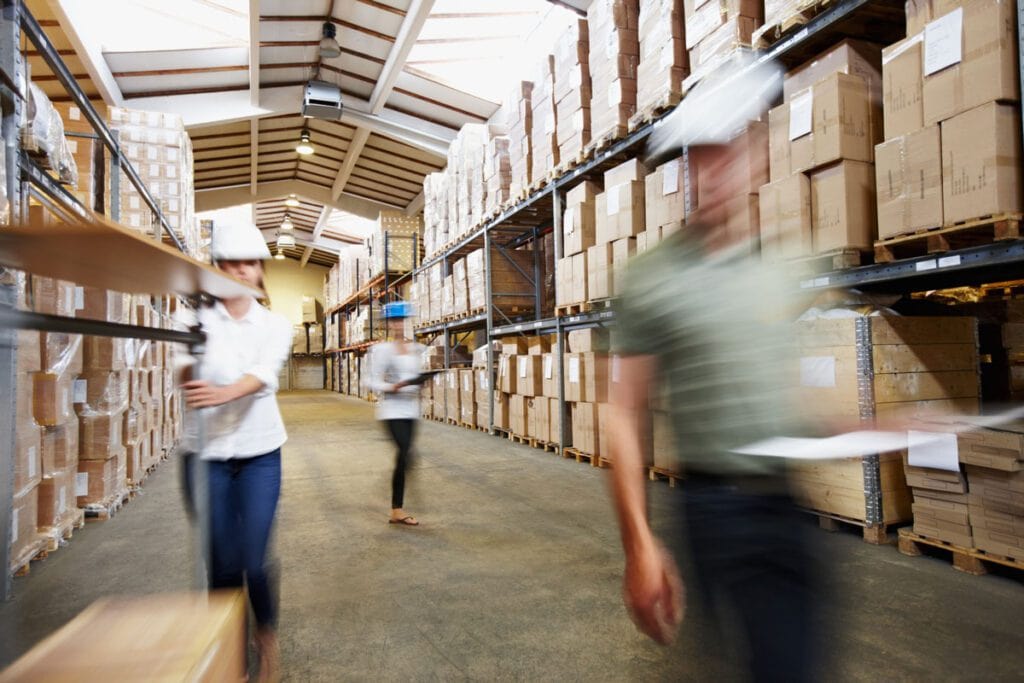 By Peter Van Alstine, SVP & GM, Retail Business Unit
To capitalize on strong holiday sales, retailers need to continue executing on supply chain transformation projects without disrupting operations.
Peak season always brings a mix of angst and opportunity. This year, tensions are running higher than usual as the retail industry grapples with hiring issues and production problems across the supply chain.
Stories about scarce labor, material shortages, and factory shutdowns are making headlines nearly every day. Factory shutdowns overseas are impacting shoe production for Nike, and soaring freight costs are hampering companies like Costco.
Retailers are used to seasonal surges. They stock up, bulk up, hire up, and go all-out to meet demand and satisfy customers. It's the defining season for the industry. Everyone knows it's coming, and everyone prepares. Plus, retailers have been weathering the impact of COVID-19 for more than a year, so they've gotten adept at dealing with fast-climbing eCommerce volumes and consumer expectations for multiple fulfillment options and short delivery windows.
Still, the stakes are high.
eCommerce Continues to Climb
Holiday retail sales are likely to increase between 7% and 9% in 2021, according to Deloitte's annual holiday retail forecast. That translates to holiday sales totaling $1.28 to $1.3 trillion during the November to January timeframe, according to Deloitte's retail and distribution practice.
Specific to eCommerce, Deloitte is forecasting 11-15% growth, year-over-year, in eCommerce sales, which are projected to reach between $210 billion and $218 billion this holiday season.
To capitalize on strong holiday sales, companies need to stay focused on their efforts to streamline operations. Supply chain transformations are well underway at leading retailers, and the efficiencies they've gained have helped to offset the impact of the biggest ongoing challenge: attracting and retaining staff.
Customer Expectations and Labor Scarcity Challenge Fulfillment Operations
Despite boosting wages and offering a slew of perks, including sign-on and retention bonuses, retailers can't find enough people.
Cloud-based talent specialist iCIMS, in its latest workforce report, finds that retailers face a widening gap between job openings and job applications. In the retail industry, there's been a 44% decline in applications per opening since the start of the year, compared to a 19% decline across other industries. And the time to fill positions is lengthening: It now takes 40 days to fill a retail position, an increase of more than 21% since April, iCIMS reports.
Labor isn't the only challenge. Omnichannel expectations are high among consumers. They want shopping alternatives, speedy delivery, curbside pickup options, and more.
Retailers have long had to balance dueling priorities when it comes to peak season. They need to continue to plan and execute major technology enabled solutions that will position them to streamline operations and increase profitability. At the same time, they don't want to interfere with the biggest shopping season of the year.
Now more than ever that balance is critical. No one wants to lose momentum on transformational supply chain automation projects, yet no one can afford to disrupt internal operations when external supply-chain factors beyond their control are already making it hard to do business. Advanced automation can help companies transform their store replenishment and eCommerce fulfillment operations *and* deal with labor shortages. The key is choosing projects strategically so that retailers can improve efficiency — freeing labor to focus on higher level activities — in a short time frame.
Robotic Automation is the Answer
At Berkshire Grey, we can help you identify advanced automation and robotics projects that will yield short-term gains and fit into a long-range roadmap for expanding automation capabilities. Some of the benefits of partnering with us include:
Modularity: Our systems are designed for modular deployments, and they're designed to integrate with traditional warehouse automation systems. A robotic shuttle put wall, for example, can speed sortation throughput threefold, and it slips right into existing fulfillment spaces and processes.
Flexible purchasing options: Our robotics-as-a-service offerings are designed to ease capital expenditures. Rather than buying equipment outright, RaaS offers a means to get up and running, for a fixed monthly fee.
Continuous improvement: We can help you develop a business case for robotic automation, build a timeline for getting underway, and deliver results. But it doesn't end there. With our analytics capabilities, we continue to look for ways to fine-tune systems and improve performance even after our technology is deployed.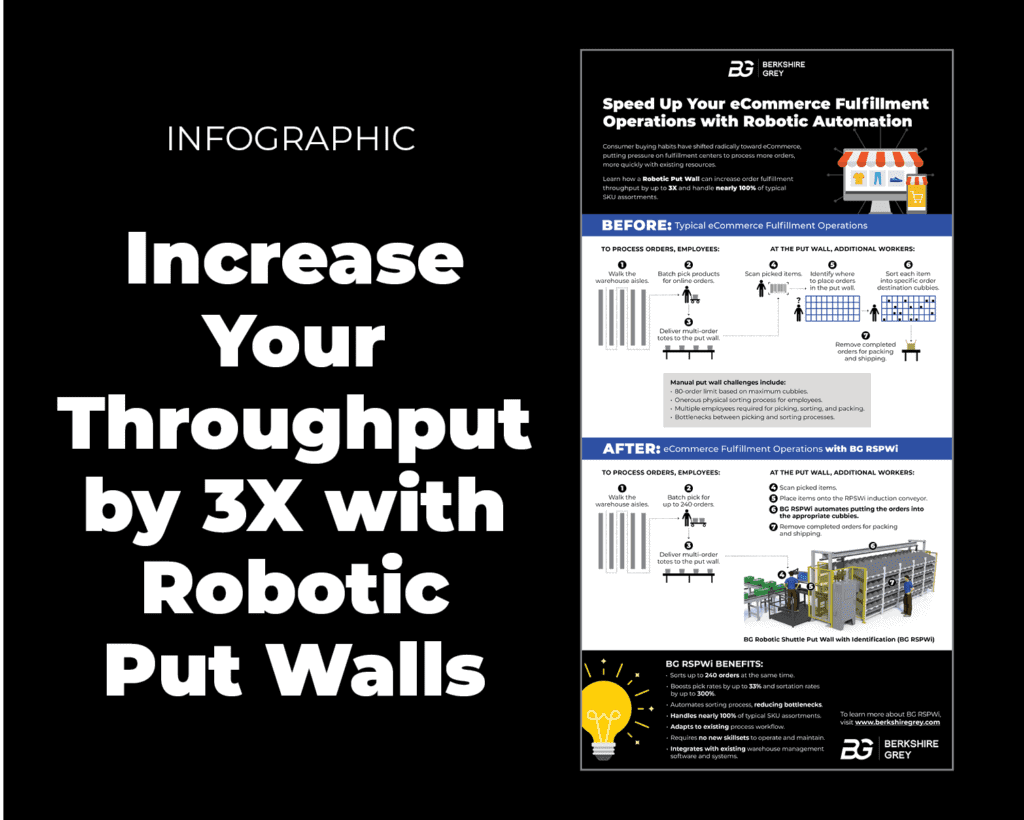 Infographic:
Speed Up Your eCommerce Fulfillment Operations with Robotic Automation
Robotic Automation to Radically Change the Essential Way You Do Business
Get Started
with Berkshire Grey
Contact the BG Fulfillment Automation Sales Engineering Team to Learn How to:
Reduce operations expense by up to 70%.
Lessen your dependency on labor.
Bolster facility throughput by up to 25% to 50% with automation.
Get a customized ROI analysis of your specific environment and business.
Call +1 (833) 848-9900
or connect using our form.