Berkshire Grey Press
---
Berkshire Grey Garners "most Innovative Solutions" Award for Robotic Picking and Fulfillment Systems.
Lexington, Mass. – June 19, 2019
Today, Berkshire Grey announced that it is the recipient of ABB Robotics' "Most Innovative Solutions" Award. The prestigious award was announced at ABB Robotics' 2019 Americas Value Provider Conference in Auburn Hills, Michigan.
Sami Atiya, President of ABB's Robotics & Discrete Automation business, presented the award in recognition of Berkshire Grey's portfolio of solutions built around robotic item-level picking and placing for retail, eCommerce, and omni-channel order fulfillment. Many of Berkshire Grey's customer deployed solutions incorporate ABB commercial industrial robots. Those robots are augmented with Berkshire Grey's AI-enabled software, outfitted with Berkshire Grey's gripping, sensing, and vision technology, and surrounded by engineered infrastructure to create complete solutions that deliver customer value.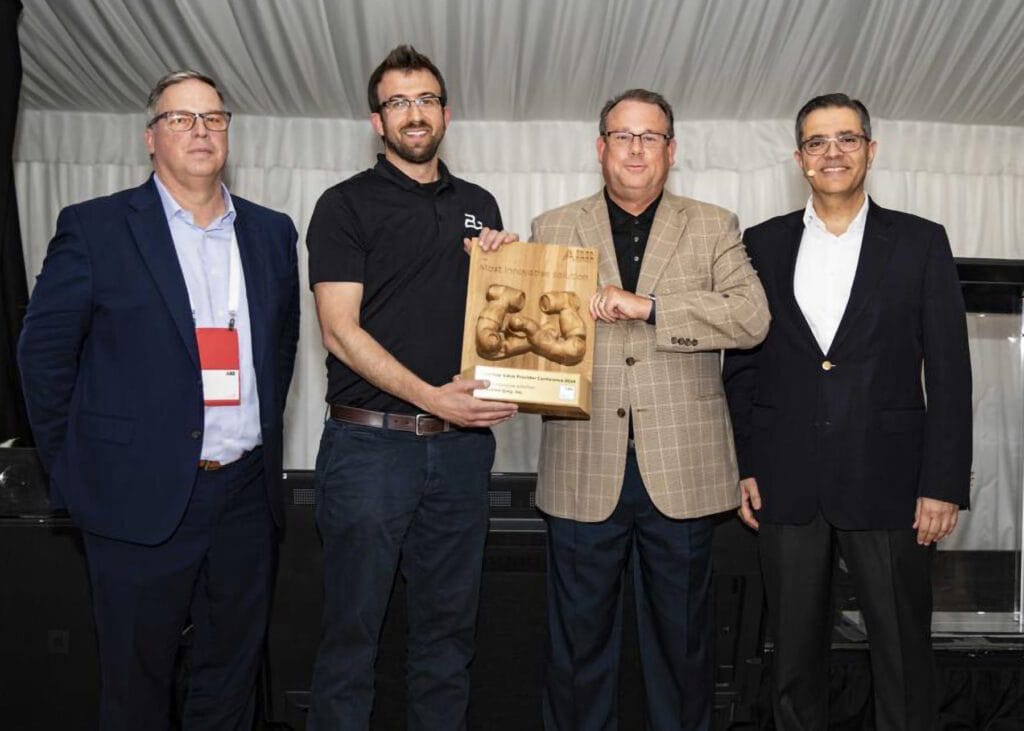 "We at ABB Robotics applaud Berkshire Grey for their innovative use of industrial robotics and are pleased to recognize their accomplishments with our 2019 Most Innovative Solutions Award," said Joe Chudy, US General Manager, ABB Robotics. "Retail distribution, eCommerce fulfillment, and logistics operations are ripe for robotic automation, and the solutions Berkshire Grey has created to solve the order picking challenges in these domains are at the forefront of this exciting new wave of robotic applications."
Berkshire Grey's solutions automatically pick, pack and sort individual items, inner packs, cases, and parcels for eCommerce and store replenishment orders. The technology achieves higher accuracy and throughput speeds than traditional approaches. Berkshire Grey systems handle the broadest assortment of products, packaging and parcels; all while continuously improving performance through autonomous learning.
"We are pleased to accept this award for innovation from ABB," says Berkshire Grey's Vice President of Operations, Kevin Ahearn. "Our solution designs are robotic manipulator agnostic, but our technical teams often choose ABB arms for their precision and reliability. Our customers demand scalable, robust systems that must be fast, flexible, and accurate. ABB commercial industrial robots, driven by our software, help us pick real products at enterprise speed and scale in real production environments to meet customer demands."
Berkshire Grey's customers are deploying intelligent robotic systems that automate tasks never before performed by machines in commercial settings. Through leading-edge technologies in artificial intelligence, computer vision, machine learning, novel sensing, and robotics, Berkshire Grey systems are revolutionizing pick, pack and sort operations for omni-channel, eCommerce, retail replenishment, and logistics.
ABOUT BERKSHIRE GREY.
RADICALLY ESSENTIAL. FUNDAMENTALLY FORWARD.
Berkshire Grey is helping customers radically change the essential way they do business with game-changing technology that combines AI and robotics to automate omni-channel fulfillment. Berkshire Grey solutions are a fundamental engine of change that transform pick, pack and sort operations to deliver competitive advantage for enterprises serving today's connected consumers. Berkshire Grey customers include Global 100 retailers and logistics service providers. More information is available at www.berkshiregrey.com.
---
Get Started with Berkshire Grey
Contact the BG Fulfillment Automation Sales Engineering Team to Learn How to:
Reduce operations expense by up to 70%.

Lessen your dependency on labor.

Bolster facility throughput by 25% to 50%

with automation.

Get a customized ROI analysis of your specific environment and business.