Berkshire Grey Press
Robotics Innovator Berkshire Grey Announces Picking With Purpose Program To Provide Food To 4000 Families This Thanksgiving
As millions of people struggle with COVID-19 challenges, Berkshire Grey joins forces with City Harvest and The Greater Boston Food Bank to bring Thanksgiving staples to people in need
New York, NY/Boston, Mass. – November 19, 2020
Non-profit food rescue organizations City Harvest and The Greater Boston Food Bank (GBFB) have joined forces with industrial automation pioneer Berkshire Grey to bring much-needed food to thousands of families this Thanksgiving. The partnership will help feed thousands of New York and New England families through special packages of Thanksgiving foods such as potatoes, beans and stuffing that are in high demand.
As part of this effort, Berkshire Grey is donating 40,000 pounds of food.  In addition, Berkshire Grey's patented robotic picking, packing, and sortation technology will efficiently select and rapidly package the shelf-stable food into ready-for-distribution boxes.
Since its creation in 1982, City Harvest has been at the vanguard of non-profit food organizations in finding innovative ways to help feed the growing number of New Yorkers who are struggling to put meals on their tables. The Greater Boston Food Bank (GBFB) is the largest hunger-relief organization in New England serving all 190 communities in Eastern Massachusetts through 600 dedicated member agencies and direct service programs. Berkshire Grey is the leader in AI-powered robotic picking technology for industrial automation. Together the three organizations are piloting the use of technology as part of a new effort, "Picking With Purpose™ (PWP),"announced today by Berkshire Grey.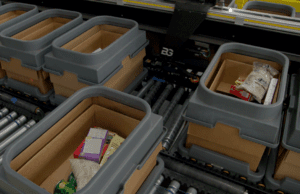 "At a time of unprecedented and increasing need in the city, we need to do everything we can to get more food to more people," said Jilly Stephens, CEO of City Harvest. "Berkshire Grey's innovative technology as well as their generous donation of food enables us to provide Thanksgiving meals to more than 12,000 people, ensuring thousands of New York families have a truly Happy Thanksgiving."
Demand for food has surged during the COVID era. According to Feeding America, "Due to the coronavirus pandemic, 54.3 million people may face hunger in the U.S. during 2020—including more than 18 million children." Social services providers across the board have been experimenting with different distribution tactics to meet these new levels of need.
"We are experiencing the greatest hunger crisis since the Great Depression with a food insecurity increase in Massachusetts of 59%—the highest of any other state in the country," said Catherine D'Amato, GBFB President and CEO. "This new partnership with Berkshire Grey and their technology is a promising innovation and will fill a critical need this holiday season, and beyond."
"The robotic system used to pick and sort food for the Picking With Purpose program is the same technology that our global retail and fulfillment customers are using to speed delivery of essential items to customers during the pandemic. Our employees have rallied around using our technology to ensure vulnerable people have access to the food items they need," said Tom Wagner, founder and CEO of Berkshire Grey. "With additional support and donations from corporate partners, we hope to make the surplus food distribution supply chain more efficient for many more years to come."
Picking With Purpose: How it Works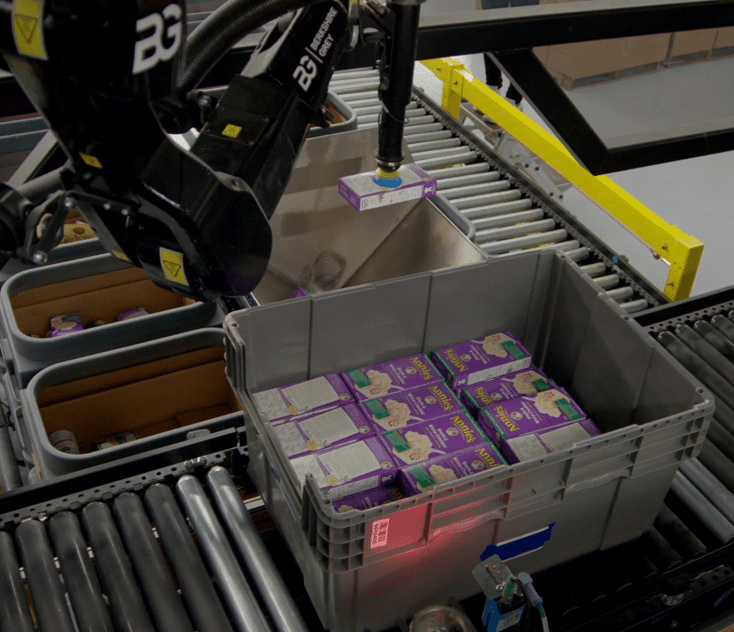 The Picking With Purposeprocess allows food banks to pack more shelf-stable food in less time. It also enables volunteers and other staff to devote their time to sorting and repacking fresh produce that must be done by hand. Berkshire Grey's robotic picking technology provides a novel way to pick and place staple food items into family-ready boxes.
The steps mimic—on a smaller scale—what goes on inside distribution centers for large retailers, grocery chains, and packing and logistics providers. Food donations are brought into a Berkshire Grey commercial order filling system where the items are robotically picked and packed into individual family meal boxes. When the system completes a meal box, it automatically sends the box to a staging area preparatory for loading onto trucks for distribution to families in need. The operation relies on a handful of Berkshire Grey volunteers to support the automation in the picking and boxing of the approximately 40,000 pounds of food.
Berkshire Grey President and COO Steve Johnson said, "Hunger and food insecurity are global issues that our employees are particularly passionate about. They'll be helping by donating their time, skills and enthusiasm under an employee volunteer initiative that's part of the PWP program."
The Picking With Purpose program will rely on partnerships with other socially responsible companies—grocery retailers, food vendors, manufacturers and delivery services—to source and distribute the needed goods. At the center of the program is a diverse network of nonprofit food organizations that identify specific food requests for people in need, collect the items and transform surplus items into sustenance care packages.
Berkshire Grey plans to continue with City Harvest and The Greater Boston Food Bank while expanding into other foodbanks/cities and charities. The goal is also to extend the program outside of food as necessary—for example, to provide critical goods such as water and diapers in the event of disasters and other unplanned catastrophic events.
Become a Part of Picking With Purpose
Food donors, potential sponsors, and other food-rescue organizations interested in joining the Picking With Purpose Program should inquire at www.pickingwithpurpose.com.
About City Harvest
City Harvest is New York's first and largest food rescue organization, helping to feed millions of New Yorkers who struggle to put meals on their tables. This year, we will rescue 109 million pounds of fresh, nutritious food and deliver it—free of charge—to more than 400 food pantries, soup kitchens, community partners and our own Mobile Markets across the five boroughs. We work alongside our community partners to boost community capacity, expand nutrition education, and strengthen local food systems. For more than 35 years, City Harvest has always been there to feed our city—one day, one meal, one New Yorker at a time. To learn more, please visit cityharvest.org.
About The Greater Boston Food Bank
The Greater Boston Food Bank (GBFB) is the largest hunger-relief organization in New England and among the largest food banks in the country. In response to the economic impact of the COVID-19 pandemic, GBFB distributed the equivalent of nearly 82 million meals in 2020 through its network of 600 dedicated food distribution partners and programs in the 190 cities and towns across Eastern Massachusetts. A member of Feeding America, the nation's food bank network, GBFB's mission is to end hunger here and it is committed to providing at least three healthy meals a day to everyone in need. For more information, visit us at GBFB.org, follow us on Facebook, Twitter (@gr8bosfoodbank) and Instagram, or call us at 617.427.5200.
About Berkshire Grey
RADICALLY ESSENTIAL. FUNDAMENTALLY FORWARD.
Berkshire Grey helps customers radically change the essential way they do business by delivering game-changing technology that combines AI and robotics to automate omnichannel fulfillment. Berkshire Grey solutions are a fundamental engine of change that transform pick, pack, and sort operations to deliver competitive advantage for enterprises serving today's connected consumers. Berkshire Grey customers include Global 100 retailers and logistics service providers. Customers have optimized picking labor costs, overcome worker shortage constraints, and seen improvements in throughput ranging from 25% to 50%. More information is available at www.berkshiregrey.com.
Berkshire Grey and the Berkshire Grey logo are registered trademarks of Berkshire Grey and Picking With Purpose is a trademark of Berkshire Grey. Other trademarks referenced are the property of their respective owners.
Get Started
with Berkshire Grey
Contact the BG Fulfillment Automation Sales Engineering Team to Learn How to:
Reduce operations expense by up to 70%.
Lessen your dependency on labor.
Bolster facility throughput by up to 25% to 50% with automation.
Get a customized ROI analysis of your specific environment and business.
Call +1 (833) 848-9900
or connect using our form.