---
Mobile Robotics
Accelerate Fulfillment with Intelligent Enterprise Robotic Picking and Advanced Mobility Solutions
Mobile Robotics
Accelerate Fulfillment with Intelligent Enterprise Robotic
Picking and Advanced Mobility Solutions
Mobile Robotics
Accelerate Fulfillment with Intelligent Enterprise Robotic
Picking and Advanced Mobility Solutions
---
Increase SKU Coverage and Shorten Delivery Times
With AI-Powered Robotic Picking and Mobility
The rise of consumer expectations for curbside pickup, buy online pickup in store, and same or next-day delivery has forced fulfillment centers to transform their operations. Berkshire Grey's next generation of robotic picking combined with mobile solutions allows fulfillment leaders to meet and exceed industry expectations by delivering higher throughput, lowering overall costs in 1/3 of the typical deployment time.
Transform Any Facility into a High Throughput
Fulfillment System with Minimal Disruption
With the mobile approach, there is very little bolted-down infrastructure, so any floor can be turned into a dynamic sortation system with induct and discharge locations placed anywhere that makes sense in just about any physical layout. The floor does not need to be rectangle. Throughput can be increased by simply adding more mobile bots in the existing system footprint to keep pace with order growth and volatility. Facilities can deploy Berkshire Grey mobile robots in brownfield and greenfield fulfillment centers – significantly faster than conventional systems.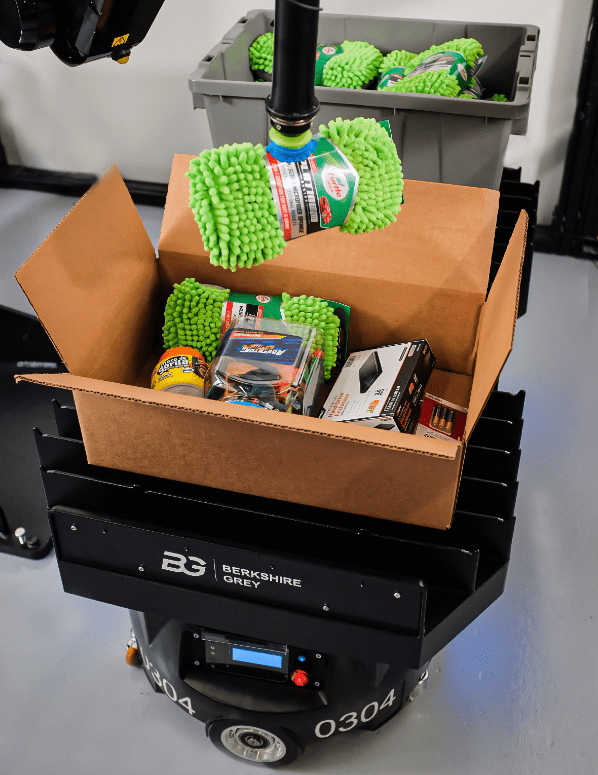 WATCH: Can Your Conveyor Do That?
Increase Your Sortation Eligible SKU Coverage
Berkshire Grey purpose-built mobile robotic systems handle greater SKU coverage than traditional conveyor and other types of unit sorters. Because the mobile robots include gentle vertical pickup and placement at induct and discharge stations, the system is well-suited for products and packages that other systems struggle with such as:
Heavy items up to 60 pounds (27.2 kg.)
Non-conveyables
Shrink-wrapped packages
Glass items
Other objects that are problematic when using slides for induct and discharge.
Overcome Labor Availability Challenges with Integrated Robotic Pick Stations
Robotic item and each picking can be integrated with mobile robots to enable world-class fulfillment operations that overcome labor availability challenges and handle some of the most common tasks including:
Picking orders from totes to re-usable containers for store replenishment.
Picking from totes for downstream order processing.
Assembling customer packages for eCommerce delivery and buy-online-pickup-in-store orders.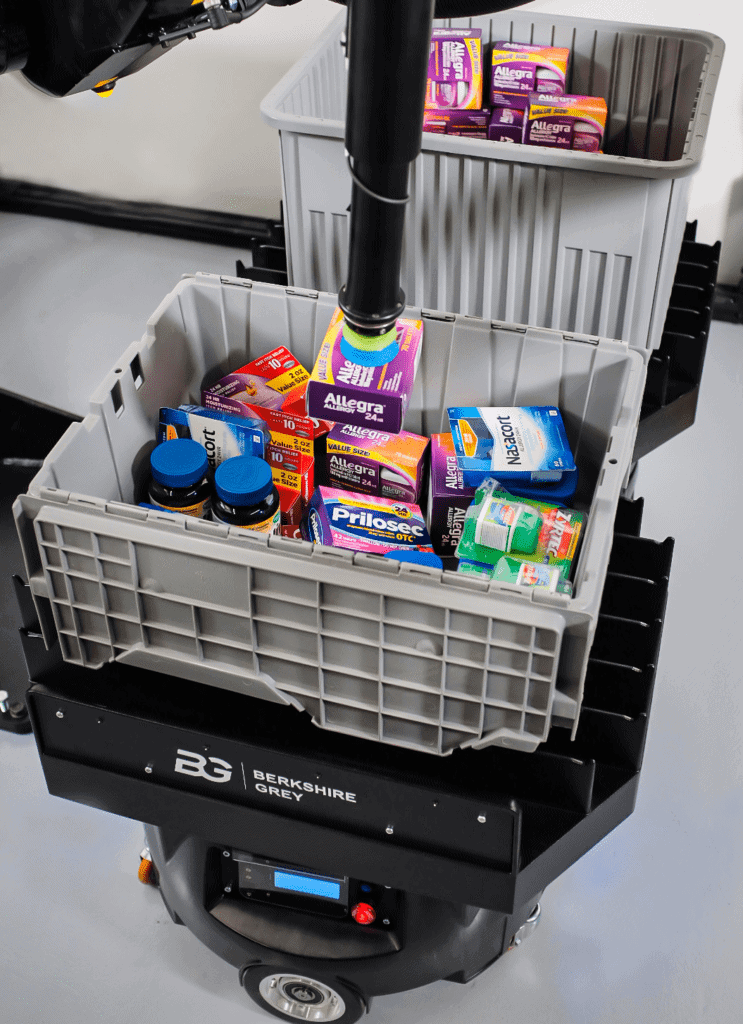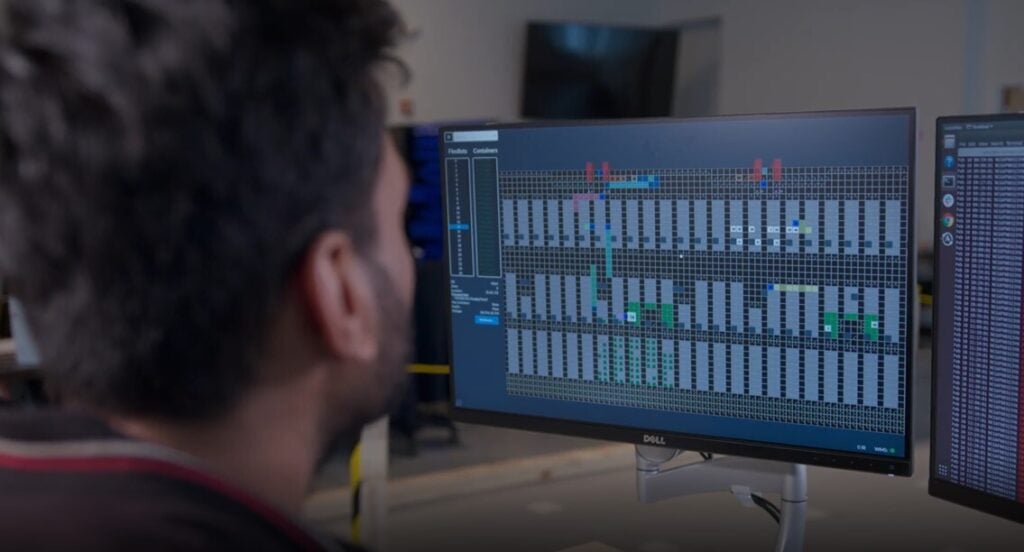 Maximize Flexibility and Performance with Orchestrated Fleets of Mobile Robots
AI-based orchestration software delivers real-time coordination of tens to thousands of mobile robots in a single facility. This coordination enables the robots to operate as an intelligent synchronized fleet that performs the millions of dynamic sort pathways required to fulfill hundreds of thousands of outbound items. The orchestration ensures the efficient flow of goods through any fulfillment operation and the system learns to perform faster and better over time.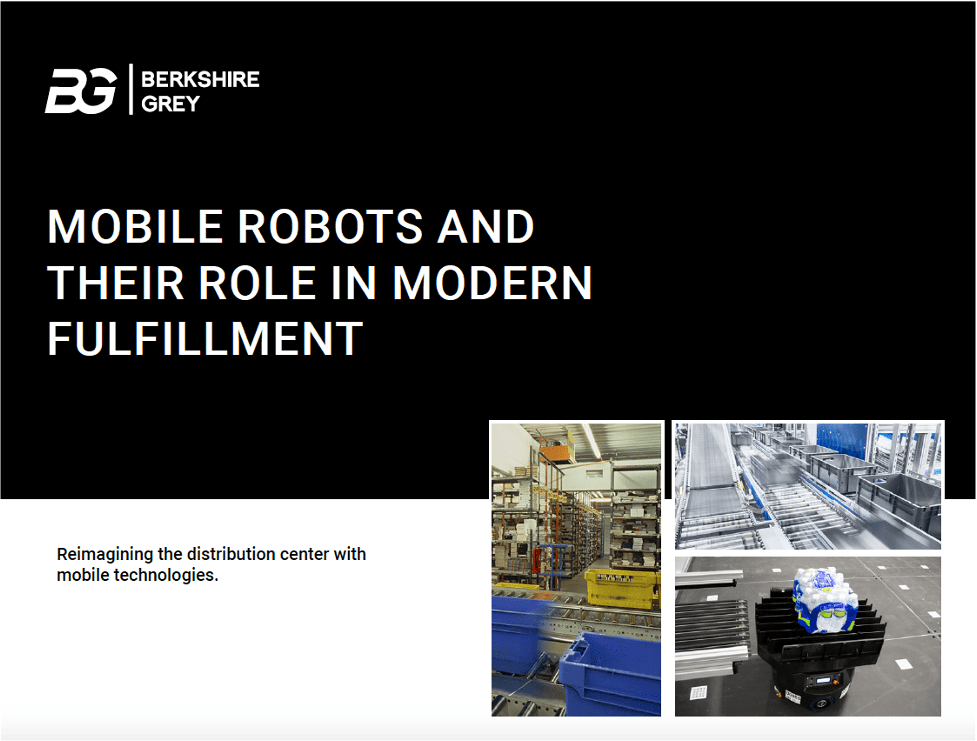 Mobile Robots and Their Role in Modern Fulfillment
Learn more about how autonomous mobile robots are the cost-effective and flexible solution for eCommerce fulfillment.
---
Cost-effectively maximize the capacity of existing systems with autonomous mobile robots.

Identify the opportunity to use mobile robots to reduce time-to-order windows.

Determine the best automated mobile robotics strategy for your distribution center.
---
Get Started with Berkshire Grey
Contact the BG Fulfillment Automation Sales Engineering Team to Learn How to:
Reduce operations expense by up to 70%.

Lessen your dependency on labor.

Bolster facility throughput by 25% to 50%

with automation.

Get a customized ROI analysis of your specific environment and business.