Robotic Picking
The Heart of Every Solution, Our Robots Feature a Mix of Proprietary, Patented and Patent Pending Technology
Robotic Picking
The Heart of Every Solution, Our Robots
Feature a Mix of Proprietary, Patented
and Patent Pending Technology
Robotic Picking
The Heart of Every Solution, Our Robots
Feature a Mix of Proprietary, Patented
and Patent Pending Technology
---
Real Robots Ready to Pick, Pack, and Sort
the Broadest Assortment of Your Products
Robotic Arms & Pick Cells
The heart of every pick, pack, and sort solution that lets you reimagine work is a robotic pick cell. Berkshire Grey's piece picking robots feature industrial robotic arms with smooth and natural 6-DOF optimized motions for maximum efficiency. Our robots make fluid and dynamic movements in contrast to the "rote" motions of other industrial robots. To achieve this level of natural motion complexity, we pair the robots with proprietary engineered hardware and rewrite the lowest level software drivers on the robots. We've conducted extensive kinematic reachability analysis, which allows us to select the smallest and fastest possible robot to reach the full workspace contained within our pick cells. This is not something standard robot integrators do, so their robots are typically oversized or underpowered and consequently much slower.
WATCH: BG robots make fluid and dynamic movements while delivering speed and performance.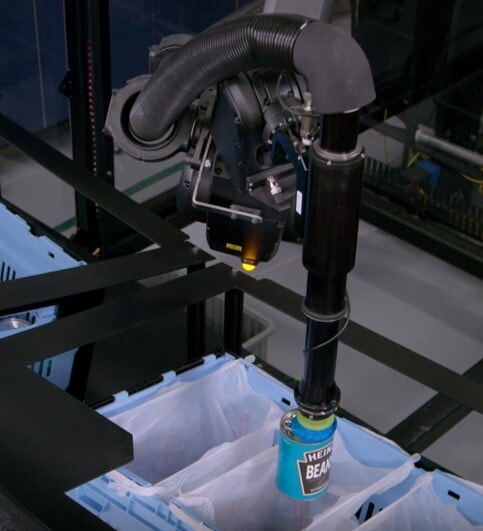 SpectrumGripper TM & Commercial End Effectors
There is no such thing as a universal robotic gripper. But, Berkshire Grey's SpectrumGripper technology is as close as you can get on the market today. Products previously thought unpickable are easily handled by our gripping technology. From bags to boxes, poly to cloth, rigid to pourous, our gripping technology works seamlessly with most packaging and non-packaging. Additionally pick cell can be outfitted with either our proprietary novel SpectrumGripper gripping modalities, or traditional end effector technologies should those prove more appropriate for your particular items and products. Regardless of the end effectors used, we employ a battery of integrated sensors to generate SKU-specific grip force ensuring maximum product quality and handling safety
Robotic Picking From Clutter
A benefit to Berkshire Grey's holistic approach to planning, robotic manipulation, vision technology, novel gripping and sensing is our ability to pick swiftly and accurately from clutter. Our solutions are highly capable of picking from structured environments, but often times the real-world, such as batch picking to down line sortation, is complex and cluttered. In addition to this holistic approach, our systems learn over time thus applying artificial intelligence to SKU-specific identification and handling. This is reflected in grip force, robot motion profiles, swing velocities, accelerations and placement tolerances that enable our solutions to pick, move, and place the broadest variety of your products in ways that match your operational processes.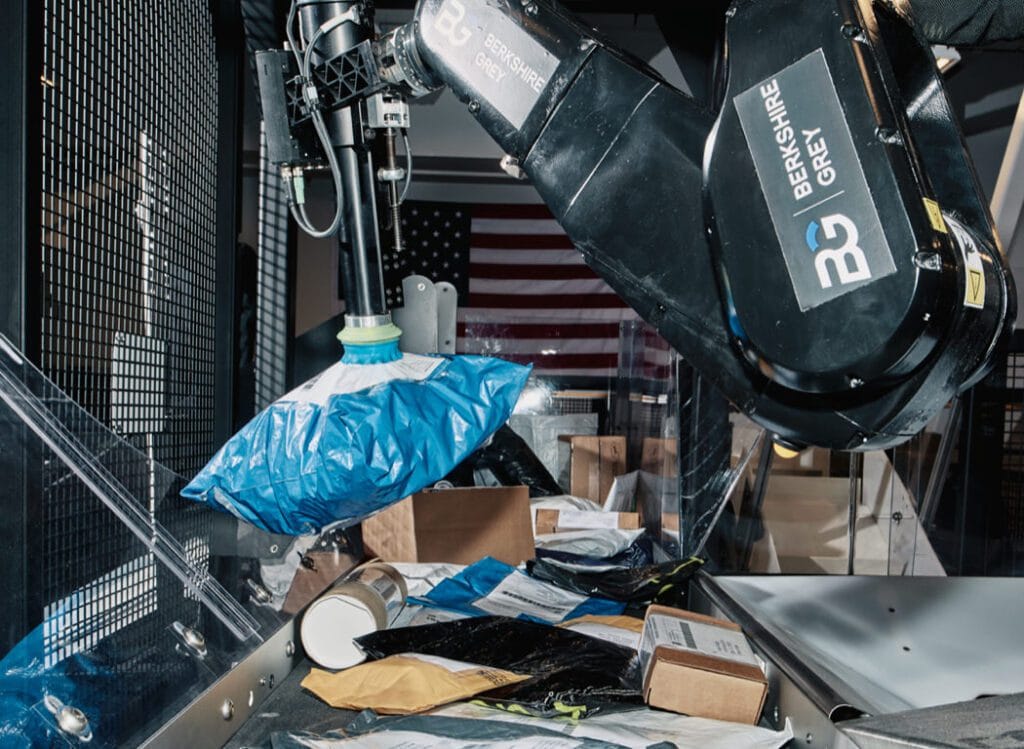 WATCH: Efficient robotic picking can transform distribution center operations by reducing costs and increasing overall throughput
A Portfolio of Robotic Picking Solutions
Berkshire Grey offers a complete set of robotic picking, packing, induction, and sorting solutions built around the market's most robust autonomous robot picking:
Robotic Pick Cells convert goods-to-person stations into goods-to-robot stations
Robotic Pick and Pack stations pick and pack directly into eCommerce packages and other outbound containers
Robotic Induction Stations pick and place items and cases onto traditional unit sorters
Robotic Product Sortation systems rapidly pick and sort items to multiple outbound orders simultaneously
---
Get Started
with Berkshire Grey
Contact the BG Fulfillment Automation Sales Engineering Team to Learn How to:
Reduce operations expense by up to 70%.
Lessen your dependency on labor.
Bolster facility throughput by up to 25% to 50% with automation.
Get a customized ROI analysis of your specific environment and business.
Call +1 (833) 848-9900
or connect using our form.