What is eCommerce Fulfillment?
As an ever-increasing number of consumers turn to online shopping for their day-to-day needs, effective eCommerce fulfillment solutions are only becoming more crucial to a business's success. Ecommerce fulfillment encapsulates every step from the moment a customer places an order online to last-mile delivery.
Creating and maintaining an effective order fulfillment system is a challenge for small and large businesses alike and requires the perfect synchronization of all fulfillment operations. That's where Berkshire Grey can help with fast, accurate, and cost-effective solutions that automate eCommerce fulfillment while lowering operational costs and speeding up delivery. High-quality eCommerce fulfillment results in happier customers and bottom-line growth.
There are three basic elements of the eCommerce fulfillment process:
Receiving and inventory management
Returns processing
Why eCommerce Fulfillment is Crucial for Businesses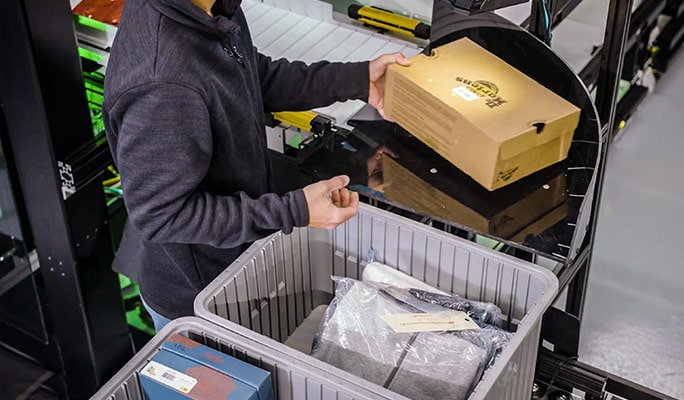 Whenever a customer places an online order, it triggers the beginning of a complex series of individual services and workflows. Orders must be recorded, inventories queried, and products picked, sorted, packed, and shipped. Managing this web of operations is crucial for any business, large or small.
Timely, accurate eCommerce fulfillment is just as important as sales–and in fact, can grow sales and bottom-line growth by delivering on customer expectations. You can have the best product in the world, but if it doesn't reach your customers effectively, the success of your business will be stifled. Developing a holistic approach to your eCommerce fulfillment strategy will boost profits and business longevity.
We could go on for pages about why eCommerce fulfillment is crucial for business, but it comes down to key areas: customer experience and increased efficiency.
These days, customers have high expectations for online retailers: fast, often two-day shipping; transparency in the shopping process; and a seamless experience from the moment they click "order" to the minute their highly-anticipated package arrives at their door. A strong eCommerce fulfillment process allows companies to meet and even exceed these expectations, resulting in a delighted customer who will likely drive additional revenue through repeat business and word-of-mouth promotion. Effective fulfillment systems that guarantee accurate, timely fulfillment help you stand out from the competition, satisfy your customers and attract new ones.
eCommerce fulfillment strategies also help businesses improve efficiencies and decrease costs. Amidst ongoing supply chain challenges, labor shortages, and increased costs all around, savvy online retailers will look to improve processes while cutting costs. With a more efficient approach to eCommerce order fulfillment, companies can invest in other areas of their business with confidence, knowing that a critical part of their business strategy is being executed to a high standard with even higher profit margins.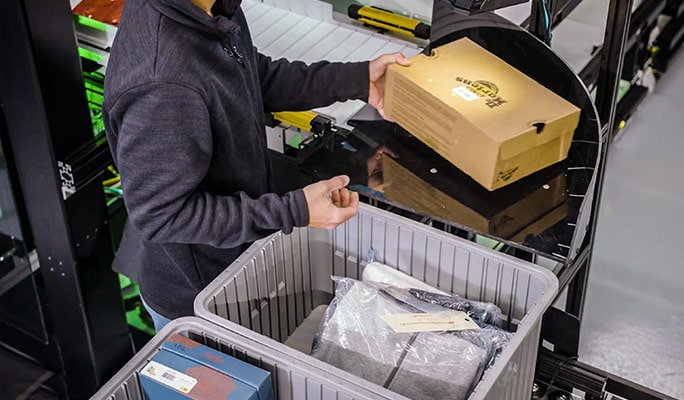 The Berkshire Grey Solution
Berkshire Grey helps companies reimagine their order fulfillment strategies in warehouses, distribution centers, micro-fulfillment, and back-of-store environments. Companies can increase throughput, improve customer service, and optimize labor with robotic automation. Berkshire Grey's AI-enabled robotic automation delivers speed and scalability that boosts margins and helps our customers succeed.
Berkshire Grey offers a suite of robotic solutions that support eCommerce fulfillment challenges, from order assembly to package sortation, delivery, and returns management.
Increased SKU coverage with reduced labor costs
Berkshire Grey's Robotic Pick & Pack (BG RPP) stations decouple picking from ASRS and micro-fulfillment solutions to pick and pack eCommerce items directly into customer packages. This reduces process touches, allowing for optimal package sizes, and lowering shipping costs. BG RPP improves productivity, accuracy, and throughput while eliminating processing "touches" by robotically picking and packing items directly to customer packages. With BG RPP, eCommerce fulfillment becomes agile, precise, and accurate, all with reduced labor costs.
Automated sortation systems
Berkshire Grey offers multiple automated solutions for sortation that improve outcomes without adding labor. Berkshire Grey's Robotic Induction Stations (BG RIS) pick and place items to traditional sortation systems, improving traditional sorter utilization and order throughput by 25% to 50% without increasing labor. Berkshire Grey's Robotic Product Sortation (BG RPS) systems currently pick tens of millions of items round-the-clock for major retailers, automating break pack store replenishment and large eCommerce order selection. BG RPS automatically picks and sorts items, eaches, inner packs, and less-than-case quantities from totes into designated containers for larger profile orders. Berkshire Grey's Robotic Product Sortation with Identification (BG RPSi) system sorts and consolidates small packages into bags and containers, enabling efficient network handling and zone skipping without adding labor. Berkshire Grey's Mobile Robotic Sortation (BG MRS) systems use orchestrated fleets of mobile robots to enable dynamic any-to-any induct to discharge sortation to deliver faster fulfillment that requires less labor.
Faster eCommerce fulfillment
Berkshire Grey's Robotic Put Walls (BG RPW) integrate with existing eCommerce fulfillment processes to sort customer orders 3X faster than manual approaches while improving upstream batch inventory picking throughput by up to 33%. BG RPW also handles nearly 100% of typical SKU assortments, order profiles, and packages autonomously.
The Benefits of Using Berkshire Grey's Automated eCommerce Fulfillment Solutions
Increased efficiencies and throughput
By leveraging scalable, AI-enabled automation solutions, Berkshire Grey can increase throughput up to 25 to 50% to handle any volume of eCommerce orders. Berkshire Grey achieves this through a combination of optimized and tailored picking, packing, sorting, and return logistics solutions.
Automated eCommerce fulfillment solutions reduce dependency on human labor, saving money and time. Many companies are facing labor scarcity challenges, so AI-enabled robotic solutions help to optimize existing labor and scale fulfillment without requiring additional labor. In fact, Berkshire Grey's automated eCommerce fulfillment systems are so intuitive that extensive training is not required for robotic product sortation systems.
Improve your customers' experience by optimizing return logistics through Berkshire Grey's touchless returns receipts, autonomously pre-sorted returned packages, and ultra-fast restocking system.
Accelerated order processing
By converting goods-to-person packing stations to goods-to-robot, Berkshire Grey can eliminate inefficient touches and place picked items directly into customer packages for order fulfillment — all at high speed.
Why Businesses Choose Berkshire Grey
Berkshire Grey is the leading provider of enterprise-grade AI-powered robotic solutions that span the entire supply chain and deliver industry-leading performance in complex, real-world environments.
Berkshire Grey services a variety of companies and industries, including eCommerce, retail, grocery, convenience, 3PL, package handling, and logistics, with a broad range of solutions to fit every need and scenario.
Develop your business by partnering with Berkshire Grey's world-class team of robotics and supply chain experts that install, test, optimize, and maintain your supply chain solutions.
Get Started
with Berkshire Grey
Contact the BG Fulfillment Automation Sales Engineering Team to Learn How to:
Reduce operations expense by up to 70%.
Lessen your dependency on labor.
Bolster facility throughput by up to 25% to 50% with automation.
Get a customized ROI analysis of your specific environment and business.