What Does Order Fulfillment Mean?
Order fulfillment is the process that encapsulates everything from the sale of a product to the final delivery to the customer. It's one of the most important processes to manage for any business and relies on countless supply chain functions to work in sync to deliver a product to a customer efficiently. Today, order fulfillment happens in countless different channels, including growing eCommerce models like curbside express and click and collect. As a result, optimizing order fulfillment is paramount for companies across various sectors – including grocery, retail, 3PL, convenience, eCommerce, and countless others.
Effective order fulfillment solutions are critical for enterprises to thrive in today's competitive business landscape. Small businesses and enterprise-scale companies alike struggle to develop, execute, and maintain smart order fulfillment systems. In addition to incredible levels of competition, supply chains are being stressed by the increasing costs of labor, shortages, and other challenges.
Given these factors, many forward-thinking enterprises are increasingly turning to automation and external partners like Berkshire Grey to help their order fulfillment practices.
Order fulfillment includes—but is not limited to—some of these common steps:
Types of Order Fulfillment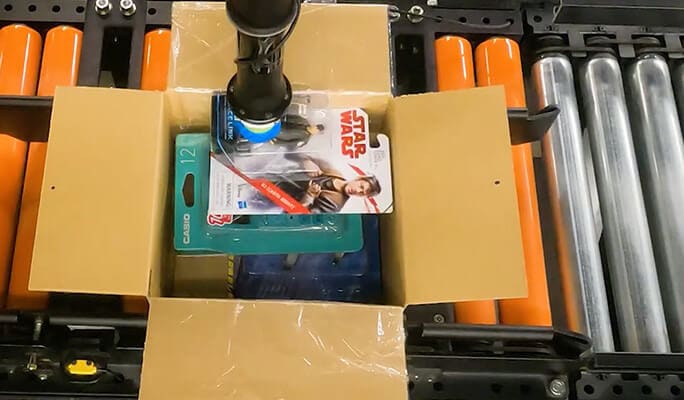 One of the most crucial elements of your business is securing timely, accurate order fulfillment. Businesses can be poised to gain repeat customers, make more sales, and even reduce shipping costs through effective order fulfillment solutions.
There are a variety of different strategies and approaches to order fulfillment. However, almost all of them can fit within the three strategies outline below.
Internal order fulfillment
In this type of order fulfillment, a business or enterprise handles all parts of the fulfillment process in-house. This means that inventory is stored, managed, picked, and shipped all from a location directly managed by the business. The advantage of this is that it's possible to control and customize all aspects of the order fulfillment process. However, it can be more challenging and expensive to scale. In addition, in-house order fulfillment can be a significant undertaking to manage.
Third-party order fulfillment
An increasingly popular option for order fulfillment is to work through a third-party logistics provider (3PL). Within this order fulfillment model, a 3PL receives and processes a business's orders, effectively outsourcing a vast majority of the order fulfillment process, including the storage of inventory. This can be a good option for companies looking for a plug-and-play order fulfillment system that doesn't require them to commit personnel to manage their fulfillment process.
Hybrid order fulfillment
Suppose a business uses a mix of the two order fulfillment systems outlined above or other alternatives like dropshipping. In that case, they are likely working within a hybrid order fulfillment model. Today, many companies use this approach to order fulfillment to optimize their processes and costs. By using a hybrid approach, it's possible to manage some processes internally where it makes financial sense and outsource steps that might be prohibitively expensive to manage in-house.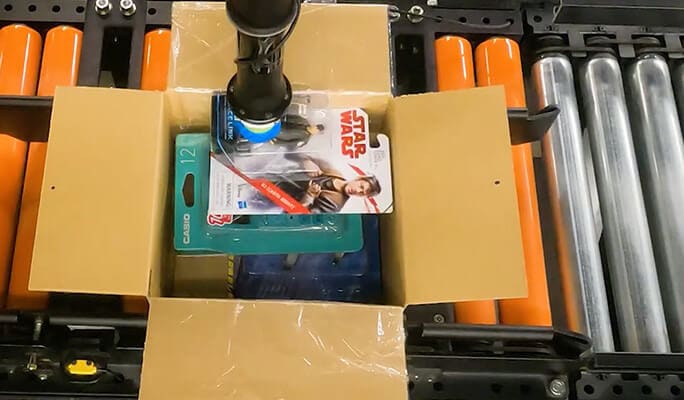 The Berkshire Grey Solution
Berkshire Grey offers a comprehensive solution portfolio built to be modular and customizable for every business.
Convert current fulfillment strategies
Better optimize labor and improve accuracy across all aspects of operations with Berkshire Grey's automation solutions. Systems like Berkshire Grey's Robotic Pick Cells (BG RPC), directly interface with pre-existing ASRS, micro fulfillment, and conveyor-based solutions, which reduces the initial investment required alongside future production costs.
Berkshire Grey's Robotic Pick & Pack (BG RPP) stations separate picking from micro fulfillment and ASRS solutions to more optimally pick and pack items directly into shipping packages. The process reduces process touches and removes intermediate steps from the supply chain, allows for more optimal package sizes, and lowers shipping costs.
Upgrade your current fulfillment processes through Berkshire Grey's Robotic Put Walls (BG RPW), which can integrate seamlessly into existing systems. With AI-enabled technology, businesses can sort customer orders up to 3X faster than traditional methods. Likewise, it improves upstream batch inventory picking throughput by up to 33% by handling nearly 100% of all typical SKU assortments, packages, and order profiles – all autonomously.
Benefits of Berkshire Grey's AI-Enabled Order Fulfillment Solutions
Accelerate order processing
Converting goods-to-person stations into goods-to-robot stations allows a company to eliminate some of the more inefficient touchpoints in their fulfillment operations. Not only does this reduce the need for labor, but it also increases throughput by working faster than traditional systems.
As your business grows, it can be challenging to scale your order fulfillment to match your growth. High-stress periods like peak season only add to this. By utilizing Berkshire Grey's automation solutions, you can scale your fulfillment operations faster than searching for, hiring, and training additional labor.
Why Client Choose Berkshire Grey
Modular systems for every industry
Berkshire Grey's robotic automation systems can be modified to seamlessly integrate with traditional conveyor-based systems in various industries, including eCommerce, retail, grocery, convenience, and 3PL.
Our industry-leading experts have decades of experience and understand the realities of modern supply chains. Our team can provide revolutionary robotics solutions with proven performance no matter what industry you operate in. Whatever your needs, we can support and scale with your business as it grows.
Pioneering transformative, AI-enabled robotic systems to help businesses succeed is what Berkshire Grey does best. All of Berkshire Grey's robotic automation solutions are designed to increase their efficiency and accuracy as they work.
Get Started
with Berkshire Grey
Contact the BG Fulfillment Automation Sales Engineering Team to Learn How to:
Reduce operations expense by up to 70%.
Lessen your dependency on labor.
Bolster facility throughput by up to 25% to 50% with automation.
Get a customized ROI analysis of your specific environment and business.