Parcel sorting, also known as mail sorting, refers to the methods the postal systems and shipment carriers use to determine where and how to route mail and parcels for deliveries. In the past, mail sorting was once accomplished manually by hand. Now, the process is largely automated through specialized machines.
Businesses can reduce their shipping costs and increase the speed of their order fulfillment by presorting parcels before they are handed over to the shipper. This can be done by optimizing parcel sizes, as well as sorting parcels to leverage zone shipping.
Earning discounts by more efficiently sorting parcels can save companies money at a time when shipping costs are at some of their highest. Additionally, companies might use parcel sorting to handle incoming mail, such as orders, correspondence, and even paychecks.
Automating Parcel Sorting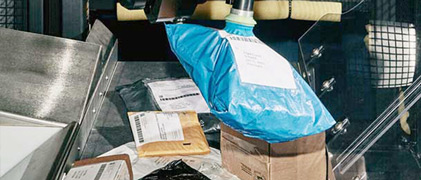 Dynamic package sortation is the answer to parcel sorting, able to autonomously sort packages at rapid speeds and cut costs from several angles, including shipping, labor, and production. Robotic automation serves as the solution to speeding along with package and handling logistics.
In fact, automating parcel sorting can help enhance sorter utilization by up to 50%, reducing shipping costs by up to 20%. The right intelligent robotic sorting solution can enable cost-effective shipment of orders and pre-sort packages with minimal manual intervention.
With this technology in your operations, you can pick and induct cases, packages, and individual items into a sortation system to improve sorter utilization. You'll also eliminate label facing issues, with technology able to automatically identify the barcodes on packages without manual intervention or manipulation.
Finally, automation means you can sort parcels by zone to achieve freight discounts from mail carriers by leveraging zone skipping with smart robotic solutions. Parcel sorting allows companies to manage higher volumes of small packages and exceed consumer delivery expectations, potentially gaining return customers and promoting of the business.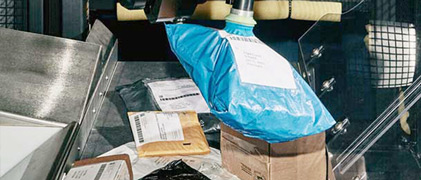 The Berkshire Grey Solution
When you partner with Berkshire Grey for parcel sorting solutions, you open up the opportunity to implement processes that can deliver higher speeds than your current operations. The result is to increase facility throughput and fulfillment by up to 2X – without adding any labor.
Optimize sorting without adding labor through Berkshire Grey's Robotic Package Sortation with Identification (BG RPSi) systems. BG RPSi systems are designed to sort and consolidate small packages into containers and larger bags, enabling efficient zone skipping and network handling.
Improve accuracy and optimize labor
Part of Berkshire Grey's comprehensive solution portfolio includes Berkshire Grey's Robotic Pick Cells (BG RPC), which directly interface with existing micro fulfillment, ASRS, and conveyor-based solutions as well as Berkshire Grey's Mobile Robotic Platform (BG FLEX™) system. The result is optimizing labor and improving accuracy by converting certain goods-to-person operations into goods-to-robot operations.
Benefits of Berkshire Grey's Automated Parcel Sorting Solutions
Partnering with Berkshire Grey means you can rely less on human labor and start utilizing automation in a world that's relying more on it every day. Compete opportunistically with enterprises that utilize omnichannel fulfillment, pick and pack fulfillment, curbside express, and other hybrid eCommerce models to optimize their brand awareness and improve customer service.
Using Berkshire Grey's robotic sortation methods, businesses can speed up customer deliveries better than ever before. With higher volumes of smaller packages, parcel sorting solutions come at a time when speedy, accurate delivery is a must.
Integrating Berkshire Grey's robotic solutions with existing technologies means your current operations will see improvement without having to be replaced entirely. Often a roadblock for companies trying to start implementing automation, Berkshire Grey aspires to be the most accessible robotics software available on the market.
No matter how big or small your operation, Berkshire Grey can provide sorting solutions that sort thousands of individual small packages and parcels.
Why Choose Berkshire Grey?
Customizable, scalable automation
A common pain point for clients is the idea that automation must be incorporated in an all-or-nothing fashion. In fact, some enterprises are put off by the idea of robotically automating their warehouse for fear of the weighty upfront investment. By offering Robotics-as-a-Service (RaaS) pricing models as well as a fully modular solution portfolio, Berkshire Grey is able to make cutting edge automation systems more accessible than ever.
Team of supply chain experts
Berkshire Grey's team of supply chain experts aims to support you and your operations every step of the way. Collectively, our team of industry veterans has a combined 1000+ years of experience and can provide an unmatched depth of understanding when it comes to any leg of the supply chain.
A common concern among companies is automation solutions' ability to look spectacular in the demo just to not live up to expectations in real-world environments. Berkshire Grey's team focuses on preventing this type of situation and has proven performance in complex, real-world environments to back it up.
Get Started
with Berkshire Grey
Contact the BG Fulfillment Automation Sales Engineering Team to Learn How to:
Reduce operations expense by up to 70%.
Lessen your dependency on labor.
Bolster facility throughput by up to 25% to 50% with automation.
Get a customized ROI analysis of your specific environment and business.