Understanding Pick and Pack Fulfillment
What is pick and pack fulfillment? In a warehouse, distribution center, or manufacturing facility environment, pick and pack fulfillment is the entire process that happens after an order has been placed, typically from an online store.
The term 'pick and pack' refers to a specific type of order fulfillment that's used most often by retail and eCommerce enterprises. Typically, these companies will receive small orders, sometimes from across the globe, which require international shipping. The process of picking and packing also helps to limit freight charges as well as other costs.
There are challenges to pick and pack fulfillment, many of which are addressed by automation systems. Before automation, operators faced the difficulty of trying to streamline order picker movement throughout the warehouse to fill the greatest number of orders in as short a time as possible.
Now, with many pick and pack fulfillment operations automated, product movement can be as efficient as possible, and robotics can take on repetitive, time-consuming, and otherwise costly tasks. Automation is the best way to optimize pick and pack strategies no matter the order volume and warehouse size.
How Does Pick and Pack Fulfillment Work?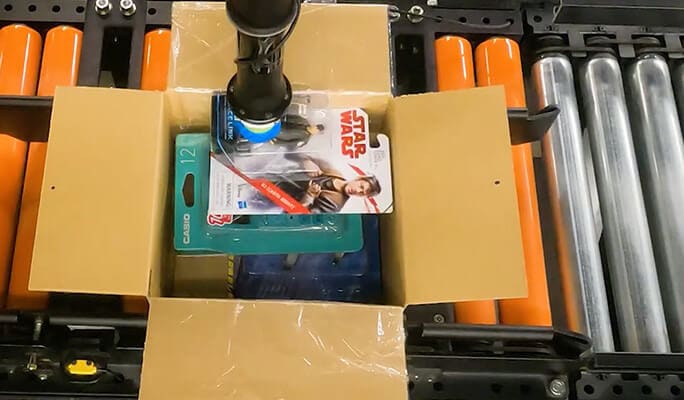 Offering pick and pack services can make it easier to offer a variety of different products to customers from online stores. Companies often sell more when they offer more, and customers enjoy having a wider variety of items to choose from, making it a win-win solution.
When a pick and pack fulfillment center gets an order, workers or robotic systems pick the requested items from a master carton or warehouse aisles, then place the product into a package and appropriately label the items for shipment. There are a number of different strategies for each of these steps. For example, picking can be done in a multitude of different ways, such as batch picking, zone picking, or wave picking. Each of these strategies has its advantages and disadvantages, and choosing the right strategy will depend on every facility's individual requirements.
Picking and packing is one of the most vital functions of any distribution warehouse or fulfillment center, so building an efficient, reliable process here is crucial for the success of any business.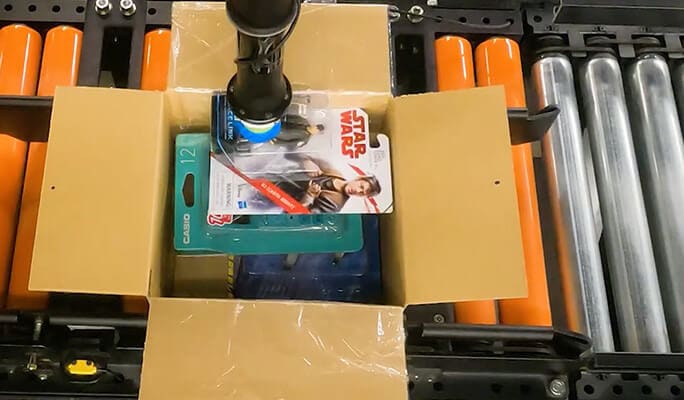 The Berkshire Grey Solution
When clients partner with Berkshire Grey they can optimize their warehouse fulfillment strategies by leveraging AI-enabled robotic systems. As the leader in enterprise robotic solutions, Berkshire Grey's suite of products can help increase facility throughput, optimize labor, and improve the customer experience.
Improve your upstream batch inventory picking by up to 33% and sort customer orders up to 3X faster than traditional approaches with Berkshire Grey's Robotic Put Walls (BG RPW). You don't have to replace your entire facility, as BG RPW can integrate seamlessly with your existing fulfillment processes.
Berkshire Grey's Robotic Pick & Pack (BG RPP) stations are the ideal solution to rising shipping costs and labor scarcity. BG RPP stations decouple picking from other micro fulfillment and ASRS solutions, pick and packing products directly into shipping packages. Automating this step of the fulfillment process helps reduce human touchpoints, lowers shipping costs, and allows for optimal package sizes – which are all valuable points of interest to a growing enterprise.
Fulfillment operations rely heavily on the efficiency of picking and packing. Berkshire Grey's Robotic Pick Cells (BG RPC) can pick and place individual items from both divided and homogeneous totes directly into order stations.
Streamlining Supply Chains with Pick and Pack Fulfillment
Berkshire Grey's automated pick and pack fulfillment solutions help clients improve the customer experience, boost margins, and more. In fact, there are several benefits to incorporating your existing technologies with enterprise-scale robotic solutions.
One of the most important aspects of successful fulfillment operations is order processing – including the returns processing aspect. Berkshire Grey's solutions can operate at high speeds no in any stage of the retail supply chain. Use Berkshire Grey's software suite to track everything in your facility with greater accuracy and depth than before.
When you automate repetitive tasks, you can increase your labor utilization and reduce labor costs by simply eliminating some of the inefficient touches within the supply chain. No company must suffer through labor scarcity challenges when there's robotic automation as a solution.
Finally, increase your facility's throughput by between 25% and 50% with a combination of Berkshire Grey's custom-tailored picking, packing, sorting, and other retail logistics solutions.
Why Choose Berkshire Grey?
Work with a world-class team of experts
From installation to optimization, Berkshire Grey's team of AI, robotics, and supply chain experts can support every stage of your business operations. You'll work with a team that's dedicated to designing, testing, implementing, and updating your personalized suite of intelligent robotic enterprise solutions.
Tailored solutions unique to your company
Berkshire Grey's comprehensive solutions portfolio was intentionally curated to be modular, and capable of fitting any demand or business. You can incrementally add or modify your enterprise's suite of solutions to scale as your business grows.
Industry-leading, cutting-edge technology
Berkshire Grey stands out as the leader in intelligent enterprise robotics, equipped to handle a variety of unique needs and with real-world systems that already handle tens of millions of items around the world each month.
Get Started
with Berkshire Grey
Contact the BG Fulfillment Automation Sales Engineering Team to Learn How to:
Reduce operations expense by up to 70%.
Lessen your dependency on labor.
Bolster facility throughput by up to 25% to 50% with automation.
Get a customized ROI analysis of your specific environment and business.