What are Retail Logistics?
Supply chain frameworks are critical in delivering high-quality retail experiences. And when it comes to retail logistics, every step has critical importance. Like a perfectly choreographed dance, each element of operations needs to be executed to a high degree of accuracy and with careful precision.
The retail logistics process includes steps like pick and pack warehousing, inventory management, order management, and shipping/transporting. Sometimes, reverse logistics can be confused with retail logistics. They're related but different. While retail logistics are about getting inventory into the customers' hands, reverse logistics tackles the process of returning goods to sellers or manufacturers.
For the customer to have a positive order experience, every step of the retail logistics process must run smoothly and seamlessly. Some companies use dedicated eCommerce fulfillment warehouses to help scale operations and streamline parts of the process to address online shopping. Warehouse robots are a tool to help automate elements of retail logistics, reducing the need for expensive manual labor while ensuring efficiency.
Why Retail Logistics Matter for Businesses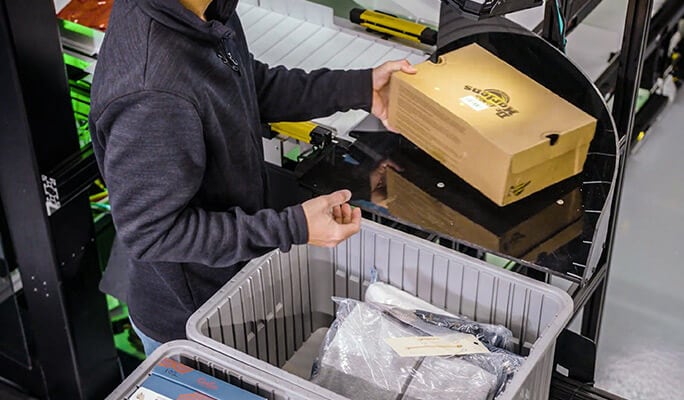 At the heart of retail logistics is the customer. For a business to succeed in today's current landscape, the consumer experience must be at the center of all decisions and processes.
With the convenience of online shopping, businesses can tap into potential audiences and new consumer bases with more ease than ever before. However, these customers have high expectations about their experience – and to compete in a saturated market, businesses must be ready to deliver their products quickly, accurately, and seamlessly.
Retail logistics are the key to successful order fulfillment. Clear inventory storage and management processes, order fulfillment operations, and returns processing workflows all must be in place if a business is to grow and thrive. With strong retail logistics, businesses are better positioned to make more sales, gain more repeat customers, and develop a loyal consumer base that supports marketing through word-of-mouth and social promotion. If companies want to boost profits and ensure longevity, they need a holistic and integrated approach to their retail logistics strategy.
However, while retail logistics are of pivotal importance, that doesn't mean they are easy to develop. In fact, creating and maintaining an effective order fulfillment system is a challenge for small and large businesses alike.
While smaller businesses may manage their order fulfillment independently at first, it doesn't allow a lot of room for scaling. Automating sortation and implementing an AI-enabled order picking system are some ways that growing companies can streamline elements of retail logistics. That's because this technology can replace manual, repetitive processes that are both time-consuming and expensive.
Amidst ongoing supply chain challenges, labor shortages, and increased costs all around, savvy online retailers will look to make processes more efficient while cutting costs. With a more efficient approach to retail logistics, companies can invest in other areas of their business with confidence, knowing that a critical part of their warehouse operations is being executed to a high standard with even higher profit margins.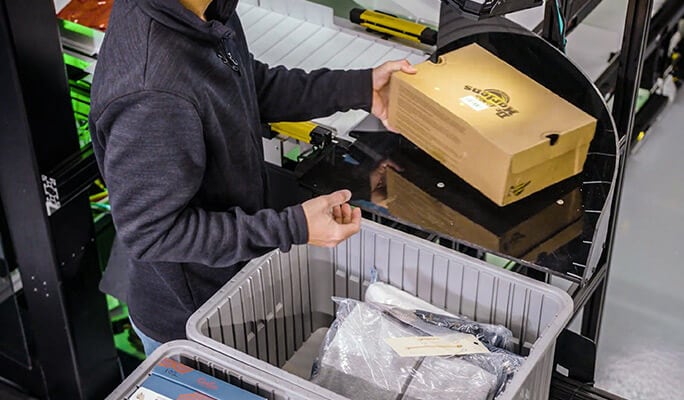 Berkshire Grey's Retail Logistics Solutions
If your business has ever struggled with retail logistics, Berkshire Grey's suite of AI-enabled robotic technology is the solution. Introduce new levels of operational efficiency thanks to robots that help increase throughput, optimize labor, and improve customer experiences.
Efficient warehouse operations
If you're looking for increased speed with a high degree of accuracy, Berkshire Grey can help. BG Robotic Product Sortation (BG RPS) systems currently pick tens of millions of items round-the-clock for major retailers, automating break pack store replenishment and large eCommerce order selection. BG RPS automatically picks and sorts items, eaches, inner packs, and less-than-case quantities from totes into designated containers for larger profile orders. BG Robotic Product Sortation with Identification (BG RPSi) systems sorts and consolidates small packages into bags and containers, enabling efficient network handling and zone skipping without adding labor.
Transformed order fulfillment processes
Welcome to the future. Upgrade your existing fulfillment processes with BG Robotic Put Walls (BG RPW). BG RSPW integrates with existing systems seamlessly, enabling businesses to sort customer orders 3X faster than manual approaches while improving upstream batch inventory picking throughput by up to 33%. BG RPW can handle nearly 100% of typical SKU assortments, order profiles, and packages autonomously, so you can be confident that your inventory will be handled safely and accurately. BG Robotic Induction Stations (BG RIS) picks and places items to traditional sortation systems, improving traditional sorter utilization and order throughput by between 25% and 50% without increasing labor.
Shipping doesn't have to be complex or expensive. BG Mobile Robotic Sortation (BG MRS) systems use orchestrated fleets of mobile robots to enable dynamic any-to-any induct to discharge sortation to deliver faster fulfillment that requires less labor. Reduce shipping costs by 20% by sorting parcels by zone to achieve freight savings from carriers. Intelligently automate the singulation, identification, and sortation of individual products and small parcels.
The Benefits of Using Berkshire Grey's for Improved Retail Logistics
Accelerated order processing
Time is money, and processing orders with increased speed–without sacrificing precision–can translate to significant savings. By converting goods-to-person packing stations to goods-to-robot, Berkshire Grey can eliminate inefficient touches and place picked items directly into shipping packages for order fulfillment, all with high speed and top-of-the-line precision.
Reduced dependency on human labor
Human capital is expensive, and good workers are hard to find in an increasingly tight labor market. Automated warehouse technology can help companies save money and time without compromising on output. AI-enabled solutions help to optimize existing labor and scale fulfillment. In fact, Berkshire Grey's automated systems are so intuitive that no training is required for robotic sortation.
Increased efficiencies and throughput
By leveraging scalable, AI-enabled automation solutions, Berkshire Grey is able to increase throughput by up to 25 to 50% to handle any volume of orders. Berkshire Grey achieves this through a combination of optimized and custom-tailored order picking, packing, sorting, and return logistics solutions.
Better customer experience
Investing in retail logistics is a no-brainer when you know the impact it will have on a positive customer experience. By optimizing return logistics through Berkshire Grey's robotic sorting, companies can impress consumers and make them more likely to buy again. 
Why Businesses Choose Berkshire Grey
Berkshire Grey is the worlds leading provider of Robotics as a Service (BG RaaS) solutions. Implementing automation systems can be costly, and BG's RaaS solutions make robotic automation systems available to more businesses by removing upfront capital costs.
Berkshire Grey's automation solutions have been tested and vetted in complex, real-world environments to ensure that they can perform 24/7/365 no matter what the situation demands.
We are here to work with you to find the best robotic automation solution for your needs. Berkshire Grey's team of technologists have decades of experience building, implementing, and optimizing automation solutions in collaboration with your business.
Get Started
with Berkshire Grey
Contact the BG Fulfillment Automation Sales Engineering Team to Learn How to:
Reduce operations expense by up to 70%.
Lessen your dependency on labor.
Bolster facility throughput by up to 25% to 50% with automation.
Get a customized ROI analysis of your specific environment and business.