What are Fulfillment Systems?
Fulfillment systems help manage the order fulfillment process from the moment a customer clicks 'check out' and places their order to the moment they receive it, and the returns processing window has passed. The precise structure of an order fulfillment system will vary depending on the company or the products they provide. As eCommerce continues to grow along with consumer expectations, the importance of efficient and scalable fulfillment systems has only increased.
In recent years, fulfillment systems have become more advanced, with many enterprises turning to increased automation through robotic systems to help them handle increased volume—especially during peak season. Although fulfillment systems can vary significantly between different businesses, there are still a number of best practices and streamlining operations that can be implemented to build better fulfillment practices. In fact, an effective fulfillment system can result in greater throughput, lower overhead costs, and greater profits for businesses.
Fulfillment systems can help manage many steps of the order fulfillment process, including:
What are the Different Types of Order Fulfillment Systems?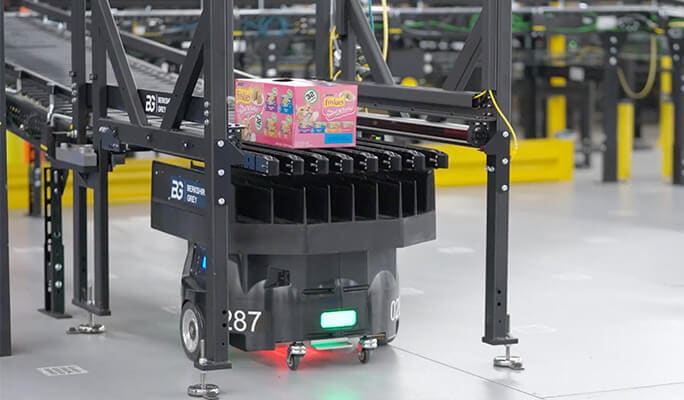 While fulfillment systems are all-encompassing in regard to each stage of the supply chain, these systems can also be broken down into different segments.
Warehouse storage and sorting
Modern distribution or fulfillment warehouses handle an incredible volume of different SKUs. Sorting and storing these products is a significant and strategic challenge. Improper sorting practices can bottleneck throughput for other parts of the fulfillment process. In this first step of fulfillment, incorporating automated technologies into your current infrastructure can optimize the rest of the fulfillment system.
Order processing and management
This step of the fulfillment process relies heavily on software to help manage orders. Modern fulfillment enterprises utilize advanced software to do real-time analysis and data reporting to automate their order processing better and help streamline downstream fulfillment practices.
Picking and packing
One of the essential steps in any fulfillment system is order picking and packing. Although these are two distinct actions, they are typically considered together since they are closely related. Product picking and packing is becoming increasingly automated as modern robotic automation systems can significantly increase the speed and efficiency of picking and packing. For example, rather than having orders picked manually by humans, fleets of mobile robots can independently navigate warehouse aisles to pick and deliver products to packing stations.
Shipping and delivery
Although fulfillment systems do not generally complete shipping directly, it's still an important consideration in the design of any fulfillment system. For instance, a fulfillment warehouse may work with several different shippers and carriers depending on the product, the location of the buyer, shipping demands, costs, etc. Optimizing these variables to increase profitability along with customer satisfaction is a key aspect of fulfillment systems.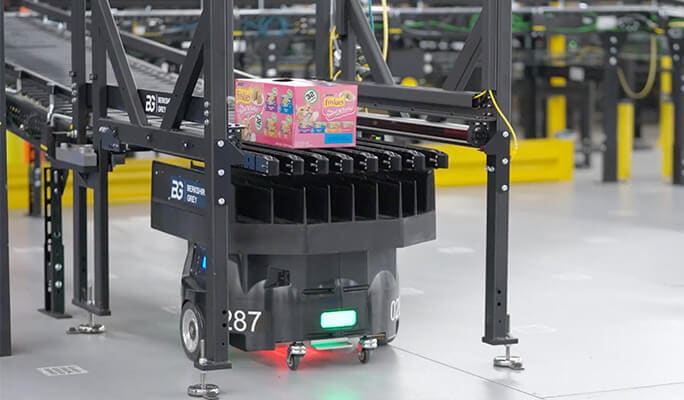 The Berkshire Grey Solution
Reimagine your current fulfillment strategies when you partner with Berkshire Grey, a leader in AI-enabled robotic systems. With a suite of solutions that support major eCommerce order fulfillment challenges, Berkshire Grey can help optimize labor needs, increase throughput, and improve customer service, as a result.
Integrate with existing processes
You don't have to replace your entire fulfillment system to start incorporating automation where it counts. Berkshire Grey's Robotic Put Wall (BG RPW) solutions can integrate with your existing fulfillment infrastructure to sort customer orders up to 3X faster than manual approaches, thereby increasing upstream batch inventory picking by up to 33%.
Berkshire Grey's Robotic Product Sortation (BG RPS) systems already pick tens of millions of items round-the-clock for major retailers. Designed to handle high volumes, BG RPS can pick, sort, and pack individual items into containers without the need for operator interaction. BG RPS also helps automate break pack store replenishment and large eCommerce order selection.
Benefits of Automated Fulfillment Systems
Building an automated fulfillment system can seem like a daunting challenge, especially when your existing fulfillment system may rely on more traditional, non-automated processes. This challenge is why Berkshire Grey's solution portfolio is built to be as flexible and bolt-on as possible. Whatever your existing fulfillment system looks like, our team of supply chain and robotics experts can help integrate automation into key stages of the process to increase efficiency and lower costs.
Clients that partner with Berkshire Grey see consistent increases in throughput and reduced picking costs by up to 70% in break pack warehouse and eCommerce operations.
Additionally, Berkshire Grey can provide you with a customized ROI analysis to map out how and where automation systems can give you the most significant return. Delivering mission-critical performance and seeing an impressive return on investment is Berkshire Grey's goal for every client—no matter how big or small.
For businesses or enterprises looking for pricing structure alternatives to CapEx, Berkshire Grey is proud to offer an innovative approach to Robotics as a Service (RaaS). Berkshire Grey's Robotics-as-a-Service offerings help businesses invest in cutting-edge AI-enabled automation that includes maintenance and support in one flat quarterly fee.
Solutions for every challenge
Berkshire Grey offers a vast array of automation solutions for a variety of industries, including eCommerce, retail, grocery, convenience, 3PL, and more.
With decades of experience automating complex supply chain and fulfillment processes for some of the world's largest companies, Berkshire Grey's world-class team can help your business scale, automate, and grow.
Get Started
with Berkshire Grey
Contact the BG Fulfillment Automation Sales Engineering Team to Learn How to:
Reduce operations expense by up to 70%.
Lessen your dependency on labor.
Bolster facility throughput by up to 25% to 50% with automation.
Get a customized ROI analysis of your specific environment and business.