The ABCs of eCommerce Order Fulfillment Automation
In today's fast-paced world, customers and clients demand greater speed and efficiency than ever before. Simply put, the order fulfillment systems of yesteryear aren't sufficient to rise to this challenge — especially as labor costs are on the rise. The only way to meet these demands is through the automation of eCommerce order fulfillment.
Ecommerce order fulfillment automation aims to reduce manual touches wherever possible. In the context of retail logistics, most inefficiencies result from the repetition of manual tasks. Robotic automation is key to ensuring fast, consistent, and accurate eCommerce order fulfillment. The benefits don't end there. By automating order fulfillment, businesses can decrease their fulfillment lead time and improve client satisfaction.
There's no one-size-fits-all solution to eCommerce order fulfillment automation, and any order fulfillment process should be carefully designed to integrate seamlessly into a greater supply chain strategy.
How Does Effective eCommerce Order Fulfillment Automation Work?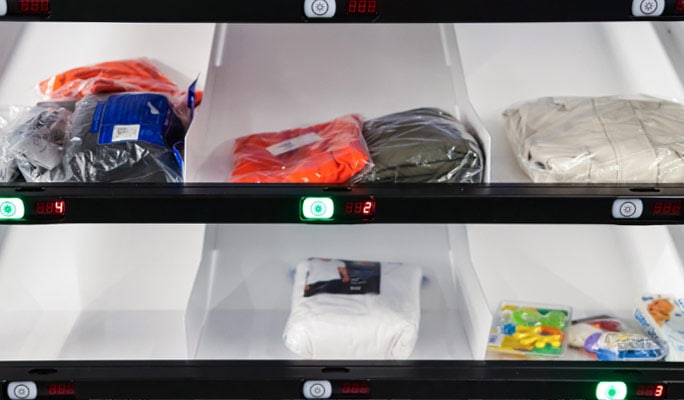 At its core, eCommerce order fulfillment automation is about streamlining all the workflows that stem from eCommerce orders. This includes everything from order processing to picking, sorting, packing and return logistics. The best way to do this is by automating processes wherever possible. For example, rather than having items picked by hand at goods-to-person stations, pick and place robots can automate this process. Not only does eliminating the human touchpoint reduce operational costs, but it also increases the volume of eCommerce orders your operation can handle.
During a traditional order fulfillment process, workers walk warehouse aisles to pick individual orders. More efficient operations batch pick products, then sort them at a manual put wall for online orders. The picked products are placed into multi-order totes before they are manually scanned, identified, and placed into a sort point on a put wall. Not only is this process time-consuming, but it requires many employees for picking, sorting, and packing. Additionally, bottlenecks can form between picking and sorting if both processes are not operating in sync, which is a challenge with manual human inputs.
In automation of eCommerce order fulfillment workflows, by contrast, a robotic put wall does the scanning and sorting of products into orders automatically, increasing throughput and significantly reducing the number of manual touches needed. Better yet, no bottlenecks form between picking and sorting since sorting is done as quickly as picking is possible.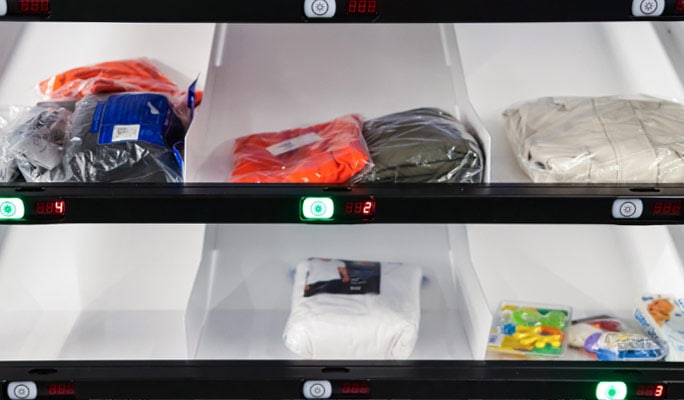 The Berkshire Grey Solution
Berkshire Grey's team of world-class robotics and supply chain experts understand how important eCommerce order fulfillment automation is for the success of any business. Our portfolio of solutions has been tested and proven in countless real-world applications and complex environments so that you can be confident in your investment.
Make bottlenecks a thing of the past by integrating existing eCommerce processes with Berkshire Grey's Robotic Put Walls (BG RPW) to sort orders 3x faster than manual approaches, while also improving upstream batch inventory picking.
Cut down on human touch points with Berkshire Grey's Robotic Pick & Pack (BG RPP). BG RPP can pick and pack eCommerce items directly into shipping packages to allow for optimal package sizes and lowered shipping costs. As a result, BG RPP simultaneously reduces fulfillment lead time while also lowering labor costs.
Improved sortation systems
Berkshire Grey's Robotic Induction Stations (BG RIS) can improve existing traditional sorter utilization and throughput up to 25% to 50%, all without increasing associated labor costs.
How Berkshire Grey Approaches eCommerce Order Automation
With Berkshire Grey's portfolio of AI-enabled robotic solutions, companies can easily automate eCommerce order fulfillment processes to streamline workflows, boost margins, and enhance customer satisfaction.
By utilizing AI-enabled robotic technology, Berkshire Grey can help companies implement eCommerce order fulfillment automation strategies that allow greater order processing throughput and improved accuracy compared to traditional eCommerce fulfillment solutions.
Rather than using manual labor to scan and sort items into cubbies in put walls, Berkshire Grey consolidates this process into Berkshire Grey's Robotic Put Wall solution. This solution can increase throughput without compromising order accuracy by reducing the complexity and number of failure points in your eCommerce order.
Painless integration into existing workflows
Berkshire Grey's robotic automation seamlessly integrates with existing warehouse management software and systems, enhancing their performance without requiring costly modifications or unreasonable downtime for installation.
Increased batch pick and order sortation rates allow for significantly improved throughput.
Why Clients Love Berkshire Grey
Modular solutions for every industry
Berkshire Grey serves a variety of industries including, eCommerce, retail, grocery, convenience, packaging operations, and 3PL with a broad range of solutions to fit multiple needs and scenarios.
Our team of industry-leading experts understands the realities of modern supply chains and has decades of experience providing revolutionary robotics solutions with proven performance. Berkshire Grey is here to support the growth of your business every step of the way.
Pioneering transformative, AI-enabled robotic solutions to help businesses succeed is what Berkshire Grey does best.
Get Started
with Berkshire Grey
Contact the BG Fulfillment Automation Sales Engineering Team to Learn How to:
Reduce operations expense by up to 70%.
Lessen your dependency on labor.
Bolster facility throughput by up to 25% to 50% with automation.
Get a customized ROI analysis of your specific environment and business.