Goods to Robot: The Future of Automation
Succinctly, goods-to-robot is a process in which a system delivers or brings items to an AI-enabled robot. In earlier stages of automation, robotic systems would utilize a goods-to-person process, which is when a system delivers or brings items to a person instead.
Now, goods-to-person takes a backseat in favor of better optimized goods-to-robot software and technology. Goods-to-robot stations can replace the goods-to-person stations, reducing human errors and increasing worker safety and productivity overall.
With the right goods to robot technology, warehouses, distribution centers, or manufacturing facilities can reach their maximum efficiency level. Picking, sorting, and other operational solutions can combine flawless accuracy with secure, high-density storage thanks to AI and robotics.
Robotic warehouse automation can benefit supply chain operations from several angles. Not only does this technology operate in a smaller footprint than manual alternatives, but it can also work with greater speed and accuracy than its human counterparts. Plus, being able to run a machine smoothly 24/7/365 without any delays or downtime from shift changes and other pauses means increased throughput.
How Does Goods to Robot Tech Work?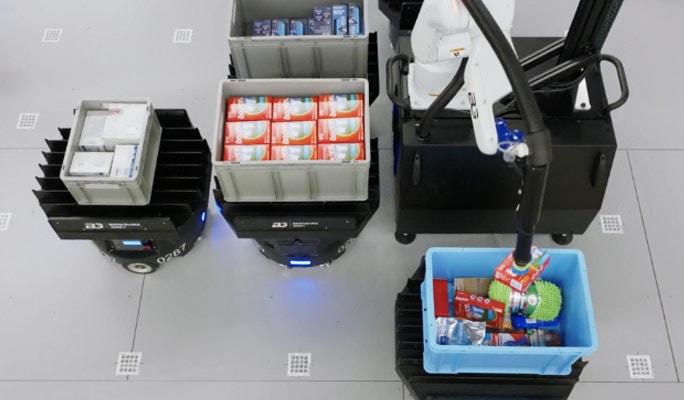 Robotic warehouse systems mean a company can eliminate inefficient human touchpoints by converting goods-to-person packing stations to goods-to-robot stations. Acting with precision and speed, your warehouse or now automated distribution center can cut down on human error, time-consuming training and onboarding, and time wasted trying to backfill warehouse roles.
In fact, some automated systems are intuitive enough that they require very little oversight by humans while they carry out the necessary task. Without requiring additional labor, AI-enabled
robotic systems can scale fulfillment and optimize existing work simultaneously.
A problem that many growing businesses run into is the sheer cost of integrating robotic automation into an operation. The idea of an artificially intelligent robotic system performing tasks in place of your human employees feels like just a dream for some companies.
However, costs for the initial investment in automation have decreased drastically in recent years. Thanks to Robots as a Service and other technological innovations, companies can lease automation technology through the right robotic warehouse automation company. These developments allow for accessible solutions to supply chain scaling. The result is that automation and reliable robotics are made accessible to more organizations.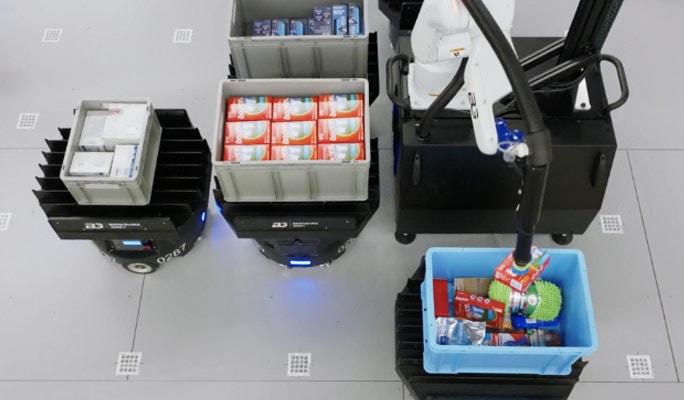 The Berkshire Grey Solution
Robotic automation system experts, like Berkshire Grey, are the long-sought-after solution to inefficient warehouse operations and logistics. With access to goods-to-robot (GTP) technology, companies can position themselves to lay a foundation for repeat orders, fewer returns, and greater customer loyalty.
Enhance existing processes
You don't have to replace your entire warehouse to implement automation into your supply chain infrastructure. On the contrary, you can optimize pre-existing processes with a variety of Berkshire Grey's solutions. For example, BG Robotic Put Walls (BG RPW) integrates with existing processes to sort customer orders 3X faster than manual approaches. Simultaneously, BG RPW handles nearly 100% of typical SKU assortments, packages, and order profiles autonomously, improving the upstream batch inventory picking throughput by up to 33%.
Automate your sortation system
Berkshire Grey's Robotic Induction Stations (BG RIS) pick and place items in their traditional sortation systems. While still incorporating conventional methods, BG RIS also improves standard order throughput and sorter utilization by up to 25% and 50% – all without requiring additional labor. In addition, BG Robotic Product Sortation (BG RPS) systems already pick millions of items round-the-clock for major retailers.
Berkshire Grey's solution portfolio offers an approach to automation to reap the benefits without breaking the bank. BG Robotic Pick & Pack (BG RPP) decouples picking from micro-fulfillment and ASRS solutions instead of picking and packing eCommerce items directly into their respective shipping packages.
Goods to Robot Picking – In More Detail
Removes human intervention
A fully automated aspect, BG RPP lowers shipping costs, allows for more optimal package sizes, and reduces human touchpoints. BG RPP also improves accuracy, productivity, and throughput by eliminating process touches. The picking and packing process is being trimmed down, optimized, and made more efficient.
Goods to robot technology allow for all the benefits of automation without the nasty upfront investment. Whether a growing company or a proudly standing enterprise, automation is a critical element for scaling production.
Why Choose Berkshire Grey for Goods to Robot Solutions?
Personalized answers for your business
Robotic warehouse automation companies like Berkshire Grey understand how different every business is. No solution should be generic, so Berkshire Grey creates customized, modular solutions for every enterprise.
Your business deserves a unique solution that will allow you to grow, scaling up alongside you. Incrementally modify or add from Berkshire Grey's comprehensive solution portfolio to fit any demand or business need.
Better accessible, cutting-edge technology
Berkshire Grey offers state-of-the-art AI-enabled automation through a suite of products that would otherwise be cost-prohibitive to build independently. By partnering together, an enterprise doesn't have to worry about the heavy initial investment that's so often a barrier to automation integration.
Verifiable, proven, and industry-leading performance
As the leader in AI-enabled robotics, Berkshire Grey is proud to deliver real-world performance consistently and routinely. Your supply chain is likely mission-critical for your operation, and Berkshire Grey offers automation solutions with proven results across countless enterprise-level applications.
Get Started
with Berkshire Grey
Contact the BG Fulfillment Automation Sales Engineering Team to Learn How to:
Reduce operations expense by up to 70%.
Lessen your dependency on labor.
Bolster facility throughput by up to 25% to 50% with automation.
Get a customized ROI analysis of your specific environment and business.