What are Automated Guided Vehicles Used for?
AGVs – autonomous guided vehicles – are systems that can travel autonomously throughout a distribution center, warehouse, or manufacturing facility – without the need for an onboard driver or operator.
Sometimes referred to as self-guided vehicles, AGVs found their way onto the market back in the 1980s. Since then, the market for automated guided vehicles has only continued to blossom, skyrocketing as new applications for AGVs are utilized every day.
These automated vehicles are used for a countless array of tasks that traditionally were handled by separate machines or equipment. For example, tasks that might have been handled by manual carts, conveyor systems, or forklifts may be moved to automation through AGVs.
Understanding Different Types of Automated Guided Vehicles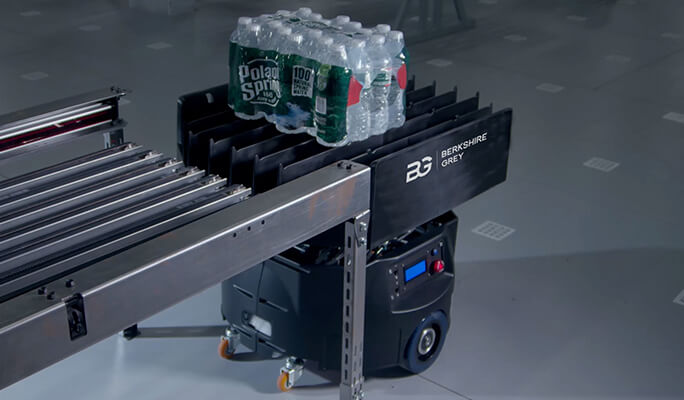 The tasks an AMR, or autonomous mobile robot, can complete depends on the type of automated vehicle.
Moving large volumes of material and any other repetitive motions can typically be automated easily. It's why AGVs are seeing heavy use to transport materials, either directly to production lines or a warehouse. Self-guided vehicles can deliver materials without human intervention consistently and reliably, which ensures production lines never see an interruption.
In addition, automated guided vehicles are often used in both finished goods and work-in-process applications, supporting manufacturing and production lines from end to end. Without these automated vehicles, the manufacturing process halts any time the line runs out of materials.
Likewise, AGVs play a role in outbound and inbound handling for robotic picking, robotic sorting, and store replenishment. As collaborative mobile robots provide solutions to the growing labor shortages and supply chain challenges, moving, managing, and maintaining inventory has been made easier than ever thanks to automation. Does your enterprise have the appropriate digital infrastructure in place to make such a necessary change?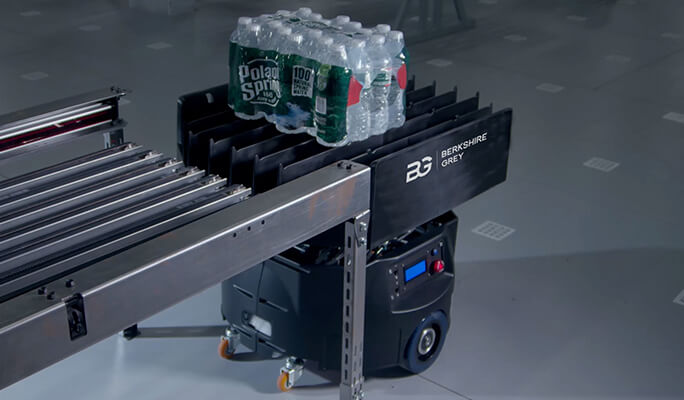 The Berkshire Grey Solution
Berkshire Grey is a trusted partner to businesses and forward-thinking companies that want to get or stay ahead in efficiency and innovation. In a time where digitalization takes precedence and digital transformation initiatives are transforming supply chains across the globe, automation is the key to continuing business growth.
Convert existing operations
Berkshire Grey's mobile robots can optimize labor and improve accuracy across all aspects of operations. In fact, tech like Berkshire Grey's Robotic Pick Cells (BG RPC) can directly interface with already pre-existing ASRS, conveyor-based, and micro fulfillment solutions, further reducing costs and initial investment.
Berkshire Grey's Robotic Pick & Pack stations (BG RPP) can pick and pack items directly into shipping packages while simultaneously ensuring optimal package sizes. This process removes traditional intermediate steps and lowers shipping costs – a win-win for business.
Mobile sortation automation
Manual order picking and sortation is often slow, costly, and even dangerous. Enterprises can instead use Berkshire Grey's Mobile Robotic Sortation (BG FLEX™) systems. Using orchestrated fleets of mobile robots, BG FLEX™ can deliver faster fulfillment that requires less labor by enabling dynamic any-to-any induct to discharge sortation.
Advantages of Automated Guided Vehicles
Across package handling and logistics, convenience, 3PL, grocery, retail, and eCommerce industries, the massive benefits of utilizing AGVs are clear and measurable.
Counter the progressively growing challenges of labor availability among the workforce by integrating automated systems into your operation's infrastructure. In fact, Berkshire Grey's Robotic Shuttle Put Walls (BG RSPW) can help reduce sorting labor by up to 70%.
Reducing operational expenses is a priority for all businesses. In addition to a complete portfolio of automation solutions, Berkshire Grey also offers Robotics as a Service (RaaS) pricing structures to cut down on initial costs. Making the switch to partial or full automation can reduce operations expenses by up to 70%.
Vastly improve throughput
Lastly, facility throughput can surge by up to 50% with the implementation of accurate, efficient robotic automation. Businesses can expect faster restocking, reduced sorting labor, and the potential for up to 3x improvement in individual item sorting throughput.
Accessible automation through RaaS and AGVs
Berkshire Grey's solution portfolio is intentionally curated to be as customizable and modular as possible, as every business is unique and defined. Maybe your enterprise doesn't need a fleet of automated guided vehicles but will instead benefit drastically from a RaaS model to implement other automation solutions. Whatever solutions fit your company is at the forefront of Berkshire Grey's vision.
Industry-leading technology
Berkshire Grey's automation solutions currently handle millions of items for some of the world's largest retailers. With a team of supply chain experts that develop and test every unique business system, Berkshire Grey can handle complex, variable environments with the most challenging of workloads.
Scalable models for your business needs
No matter how big or how quickly your enterprise grows, Berkshire Grey is a partner that can scale alongside you. Gain access to industry-leading supply chain automation solutions not accessible anywhere else that automate expensive and otherwise time-consuming fulfillment operations. Berkshire Grey can meet the business needs of today – and tomorrow – by offering clients customizable, modular solutions that can even integrate with existing technologies.
Get Started
with Berkshire Grey
Contact the BG Fulfillment Automation Sales Engineering Team to Learn How to:
Reduce operations expense by up to 70%.
Lessen your dependency on labor.
Bolster facility throughput by up to 25% to 50% with automation.
Get a customized ROI analysis of your specific environment and business.