At the core of every warehouse or distribution center is the action of picking products to fulfill orders. Whether it's picking products from storage aisles for consumer eCommerce orders, picking cases and items for store replenishment orders, or picking items from automated storage and retrieval (ASRS) systems —picking is an essential function within any distribution operation.
Historically, the picking process involved significant manual labor that was time-consuming and costly. However, as eCommerce and a globalized economy have connected industries and consumers across the world, the demands on fulfillment warehouses and distribution centers have hit a breaking point. Complicating matters, the challenge of labor shortages has forced supply chains to adapt to serve their customers in an increasingly competitive global environment. The solution? Automation and robotic picking. Robotic picking is quickly transforming the way warehouses operate and allowing businesses to automate their most labor-intensive processes.
Benefits of Robotic Picking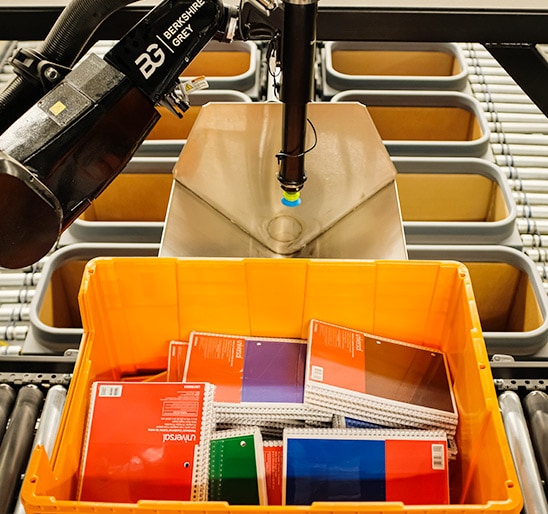 Automating the picking processes with robotics has many notable benefits.
Reduced reliance on labor. Robotic picking allows warehouses and distribution centers to automate their order picking, turning goods-to-human touch-points into goods-to-robot. Robotic automation can help businesses operate 24/7/365 with minimal human oversight and a dramatic reduction in overhead costs.
Increased throughput. As automation solutions become more advanced, material handling robots can work faster and more accurately than ever. Robots are purpose-built to pick items as quickly as possible and leverage a variety of technologies ranging from artificial intelligence to special end effectors to massively increase throughput.
Streamlined operations. Unlike traditional picking methods, robotic picking can be done in much smaller and varied warehouse footprints. Some fulfillment processes can even be streamlined or consolidated, such as picking products directly into packages for shipping to reduce process touches.
Faster scalability. If your product or item picking demands surpass your capabilities, adding additional robotic systems can be quicker and more cost-effective than finding, hiring, and training traditional labor.
Data collection for optimization. Most enterprise-level pick and place robots are integrated into a comprehensive suite of reporting and analytics tools that make it possible for businesses to optimize and fine-tune their operations like never before.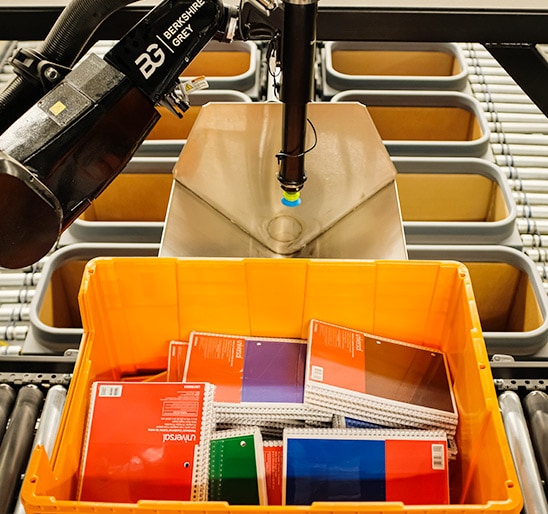 The Berkshire Grey Solution
Industry-leading robotic picking technology
Berkshire Grey leads the enterprise robotics industry in configurable and proven robotic picking solutions. Berkshire Grey's Robotic Pick Cells (BG RPC) can seamlessly integrate with both traditional conveyor-based solutions and advanced mobile robots while decreasing operational footprints. For eCommerce-specific applications, Berkshire Grey's Robotic Pick & Pack (BG RPP) decouples picking from ASRS and micro-fulfillment solutions by combining item picking and packing into one processing station, reducing process touches and better optimizing for package sizes.
Berkshire Grey gripping systems can effectively pick millions of different items with SpectrumGripper™ technology. While other end effectors may not have the flexibility to pick poly bags, rigid boxes, and porous cloth in one gripper, Berkshire Grey's proprietary technology can handle these challenges with ease. In addition to the gripper itself, Berkshire Grey's array of AI-enabled sensors enable SKU-specific grip force to ensure maximum handling safety and speed.
Complex order sorting made easy
Consolidating small packages into bags and containers for efficient network handling has never been faster with Berkshire Grey's Robotic Product Sortation with Identification (BG RPSi). While traditional package sortation processes can struggle with the position of package labels for scanning, BG RPSi utilizes Berkshire Grey's patented HyperScanner™ optical identification modules to scan barcodes from any angle in milliseconds.
Berkshire Grey's Robotic Picking Technology
AI-enabled software for continuous improvement
Through the power of artificial intelligence and machine learning, Berkshire Grey's robotic picking systems can progressively learn and apply SKU-specific identification and handling. By tracking and gathering data from a variety of sensors, our robotic picking systems can adjust grip force, motion profiles, swing velocities, placement tolerances, and more.
Enterprise-grade reliability
Berkshire Grey helps to automate some of the largest eCommerce and logistics companies in the world. Every BG picking solution is rigorously tested under the harshest conditions possible to ensure reliability for mission-critical work.
Picking solutions of any size
No matter what the footprint of your warehouse is, Berkshire Grey's robotic picking solutions are built to integrate with your current processes and technologies. Incrementally adding or changing your automation solutions is possible every step of the way.
Why Choose Berkshire Grey?
CapEx and RaaS implementation models
Choose the implementation model that works for your business with both capital expenditure (CapEx) and robots as a service (RaaS) models offered from Berkshire Grey.
Industry-leading technology
Berkshire Grey's patented technology is reliably automating tasks in commercial settings that have never been automated before. By combining AI software, advanced motion and path planning, computer vision, holistic sensing, and seamless IT integration, Berkshire Grey's automation solutions are ready to supercharge the productivity of warehouses and distribution centers.
Get Started
with Berkshire Grey
Contact the BG Fulfillment Automation Sales Engineering Team to Learn How to:
Reduce operations expense by up to 70%.
Lessen your dependency on labor.
Bolster facility throughput by up to 25% to 50% with automation.
Get a customized ROI analysis of your specific environment and business.