What is an Order Fulfillment System?
Consumer buying habits, labor scarcity, and recovery from the pandemic have radically shifted how fulfillment centers need to function to thrive. The world is more connected digitally than ever before, and automation comes with that digitalization.
As the next stage in industrial progression, automation and robotics aim to cut down on costs while serving as an answer to labor shortage challenges. Plus, more customers are turning to online shopping for most of their purchases, including groceries. As a result, consumers have high expectations about their order experience – and not meeting their standards risks losing that customer.
Fulfillment centers are feeling the pressure to process more orders faster than ever with the existing resources and labor available. Fortunately, an automated, intelligent order fulfillment system is the solution to speeding up your fulfillment operations.
Optimizing order fulfillment to get an edge over the competition is critical for grocery, convenience, retail, 3PL, and eCommerce businesses. A practical fulfillment approach is paramount to ensuring a company thrives in today's modern climate. The focus should be on optimizing every step of the supply chain because any stage can help determine if consumers become repeat customers.
In short, a smart order fulfillment system considers every step in the order process. For example, receiving the order, picking, packing, and sorting the product or products, sending goods to the customer, and optimizing reverse logistics are all steps in the overall procedure of an order fulfillment system.
How the Order Fulfillment System Optimizes Business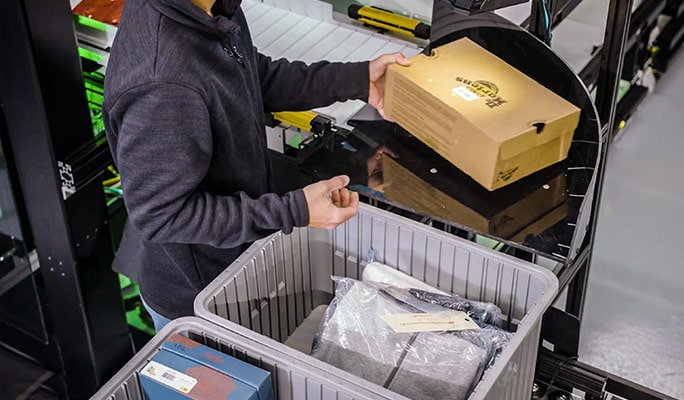 With hybrid eCommerce shopping models like click and collect and curbside express gaining popularity, enterprises are urged to further optimize their order fulfillment system. Enhancing operations is vital for companies to meet the surging consumer demand and achieve customer satisfaction.
One of the most crucial steps for this optimization to take place is in securing timely, accurate fulfillment systems. Enterprises can make more sales, gain repeat customers, and reduce shipping costs through an effective automated solution.
There are several benefits to incorporating automation into your infrastructure. However, these two points are key focus areas to help demonstrate how AI-enabled robotics can cultivate business growth and support profitability targets.
Happier customer experience
The customer having a positive experience is critical to an enterprise's success. In fact, every thriving business understands the value of the customer experience.
After all, happy customers are more likely to become repeat customers, develop brand loyalty, and promote the brand through one of the most effective advertising tools in history – AKA word of mouth.
Improve operations efficiency
Furthermore, optimizing your order fulfillment system is necessary for improving your operational progress. Through various AI-enabled solutions, for example, businesses can decrease costs and bolster their efficiency.
In addition, automating eCommerce order fulfillment helps reduce a company's reliance on human touchpoints, further reducing costs and allowing operators to focus on other areas of the business.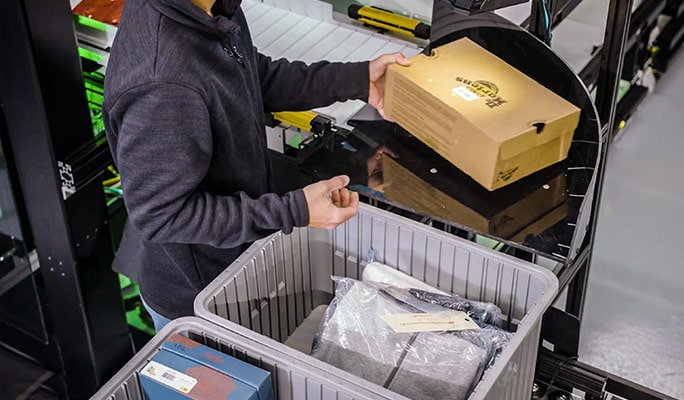 The Berkshire Grey Solution
Berkshire Grey's suite of solutions was intentionally curated to be as modular and customizable as possible. The comprehensive solution portfolio can handle a business of any size, actively improving customer service and labor, and increasing throughput worldwide.
Speed up your order fulfillment system
Integrate Berkshire Grey's Robotic Put Walls (BG RPW) seamlessly into your pre-existing systems to upgrade your current fulfillment processes without breaking the budget. Through AI-enabled tech, clients are able to sort customer orders up to 3X faster than traditional, manual approaches. In addition, BG RPW handles nearly 100% of SKU assortments autonomously, improving upstream batch inventory picking throughput by up to 33%.
Robotically pick and place
Next, Berkshire Grey's Robotic Pick & Pack (BG RPP) stations can more optimally pick and pack items directly into shipping packages by separating picking from ASRS and micro fulfillment solutions. The process removes intermediate steps from the supply chain and various human process points, which ultimately allows for more optimal package sizes and lower shipping costs.
Transform existing fulfillment strategies
Berkshire Grey's Robotic Pick Cells (BG RPC) directly interface with pre-existing micro fulfillment, ASRS, and conveyor-based solutions, reducing the initial investment often associated with implementing automation. With Berkshire Grey's tech, clients can optimize labor and improve accuracy across multiple stages of operations.
The AI-Enabled Order Fulfillment System
With robotic automation systems, enterprises can speed up fulfillment operations. In fact, some of the benefits of working with Berkshire Grey include increasing throughput and automating processes that boost pick rates.
With solutions that integrate with existing warehouse management systems, forward-thinking enterprises can make the smart choice of automating part or all of their order fulfillment system.
AI-enabled strategies help improve fulfillment throughput by up to 4X for store replenishment – just with robotic automation. Many enterprises agree it's a better way to fulfill eCommerce orders, using less labor to get multiple times more throughput.
Berkshire Grey's AI-enabled robotics were designed for fulfillment and distribution centers worldwide. Whether you operate eCommerce fulfillment, micro fulfillment operations, store replenishment, parcel sortation, or a different facility, clients can reduce labor dependency by up to 70%. Meanwhile, clients improve throughput and utilization of existing operations by up to 50%.
Why Choose Berkshire Grey?
You deserve to be in the loop on data analysis and patterns that are present within your operation. When partnering with Berkshire Grey, clients enjoy a customized ROI analysis to be aware of real-time data and the analysis that data provides for future outcomes. The analysis caters to your specific environment and business, so it's never the same twice.
Operating a warehouse, distribution center, or manufacturing facility comes with many costs, from production to shipping, to operator salaries. Through AI-enabled robotics from Berkshire Grey, clients can reduce operations expenses by up to 70%. Lessening the dependency you may have on current labor also comes with its own benefits.
Finally, companies across a multitude of industries need to keep their shelves stocked to fulfill in store, pickup, and online orders. Without adding any labor, Berkshire Grey's solutions help clients increase order fulfillment by 2X compared to traditional methods.
Get Started
with Berkshire Grey
Contact the BG Fulfillment Automation Sales Engineering Team to Learn How to:
Reduce operations expense by up to 70%.
Lessen your dependency on labor.
Bolster facility throughput by up to 25% to 50% with automation.
Get a customized ROI analysis of your specific environment and business.