What is Click and Collect?
Click and collect refers to the process where a customer places an order online and then picks it up either in-store or curbside at a designated location and pick-up time. Click and collect is also referred to as curbside pick-up, buy online pick up in-store (BOPIS), curbside delivery, and other terms.
The service is especially popular amongst customers for its convenience. Click and collect can be a preferred shopping experience for items that are expensive or inconvenient to ship.
Click and collect serves as a positive solution at a time where consumer demand is skyrocketing, shipping costs are astronomical, and expectations are at an all-time high. Click and collect is particularly relevant as an intersection between eCommerce and brick-and-mortar retailers. Hybrid eCommerce models like click and collect can generate incremental sales by bringing customers to physical locations while also reducing the burden on employees due to in-person shopping. In addition, businesses can improve their eCommerce fulfillment process by combining click and collect fulfillment strategies with AI-enabled robotic automation solutions.
How Does Click and Collect Work?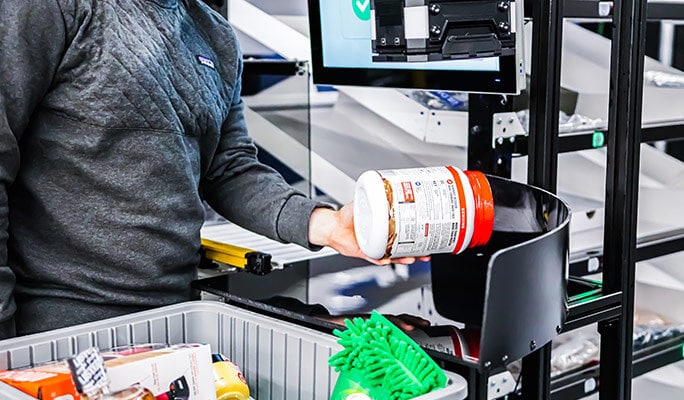 Click and collect allows consumers to 'click' on items and buy them online, then 'collect' them later at the store of their choice. Using this option, customers choose to pick the item up themselves rather than have it delivered.
It's the perfect hybrid shopping option for consumers to move more toward online shopping while still enjoying the in-store experience. It also helps businesses cut down on shipping costs while keeping their physical locations relevant in an increasingly digital world.
Click and collect serves as a reliable eCommerce option where customers don't have to wait at home for a delivery and can still feel somewhat proactive about picking up the order – at their convenience.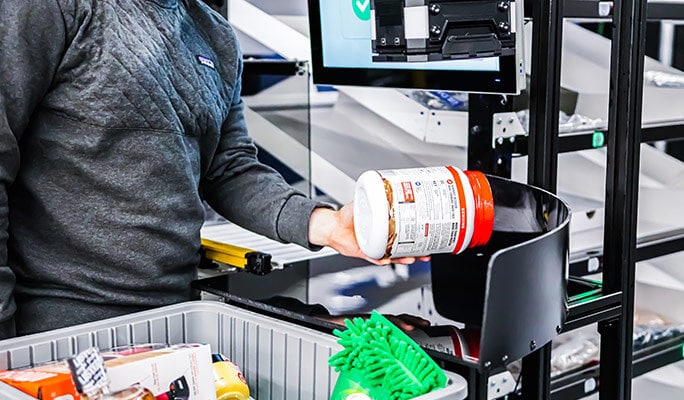 The Berkshire Grey Solution
Berkshire Grey partners with clients to provide powerful eCommerce order automation solutions. Businesses can build upon current strategies and existing infrastructure to automate tasks across all fulfillment operations without rebuilding their entire process from the ground up. That means AI-enabled robotics are more accessible to enterprises that formerly couldn't pursue such a cost-prohibitive option.
Upgraded pick and pack solutions
Decouple picking from the rest of your micro fulfillment and ASRS solutions through Berkshire Grey's Robotic Pick & Pack (BG RPP) solution stations. BG RPP can pick and pack items directly into shipping packages, reducing time-consuming human touchpoints. Likewise, BG RPP lowers shipping costs by allowing for more optimal package sizes than traditional, manual methods.
Upgrade your sorting system
Berkshire Grey's Robotic Induction Stations (BG RIS) solutions can improve traditional sorter utilization and order throughput by up to 25% and 50% – without increasing labor – by using robotics to pick and place items into their traditional sortation systems.
Advantages of Click and Collect Fulfillment
One particularly fast-growing area for click and collect or BOPIS orders is within the grocery industry. The growth of the fulfillment strategy was accelerated by the pandemic where the number of consumers that could be in-store for shopping was limited. Since then, however, consumers have continued to demand click and collect options for their grocery needs. According to the USDA, nearly half of all US consumers are expected to buy groceries online or via apps by 2023.
By utilizing robotic automation systems, it's possible to scale the efficiency and throughput of click and collect fulfillment, rather than depending on humans to manually picky items within the store, or in stock replenishment areas.
In fact, Berkshire Grey's automated storage and retrieval systems (ASRS) can seamlessly connect with other goods-to-robot packing systems to fully automate click and collect systems. Automation also allows companies to achieve closer to 24/7 support for their customers, increasing brand awareness, improving customer loyalty, and so much more.
Why Clients Choose Berkshire Grey
Proven knowledge and experience
No matter what challenges your enterprise faces, Berkshire Grey's team of supply chain experts can support you. Berkshire Grey's team combines decades of experience in robotic automation with unmatched supply chain knowledge in enterprise robotics.
Intelligent solutions for every industry
Berkshire Grey is the leading provider of AI-enabled, enterprise-scale robotic warehouse solutions. Our automation solutions span the entire supply chain to deliver industry-leading performance at every stage of the fulfillment journey. As a result, clients can see results where they matter, in complex, real-world environments.
Clients that partner with Berkshire Grey see a decrease in operations expenses by up to 70%. At the same time, facility throughput improves by up to 50%.
Get Started
with Berkshire Grey
Contact the BG Fulfillment Automation Sales Engineering Team to Learn How to:
Reduce operations expense by up to 70%.
Lessen your dependency on labor.
Bolster facility throughput by up to 25% to 50% with automation.
Get a customized ROI analysis of your specific environment and business.