Scaling Your Business with Warehouse Robotics
Have you considered how automating your warehouse could help you expand your business? Growing companies are looking for opportunities to create new efficiencies and improve warehouse operations in support of better customer service and profitability. Automating with warehouse robotics can increase speed, accuracy, and ease of operation. In addition, AI-enabled robotic technology can reduce the need for tedious, expensive, and hard-to-find manual labor.
As an ever-increasing number of consumers turn to online shopping for their day-to-day needs, effective warehouse solutions are even more critical to a business's success.
Creating and maintaining an effective order fulfillment system that can keep up with today's consumer expectations is a challenge for small and large businesses alike, and requires the synchronization of all warehouse operations. Warehouse robotics can streamline these processes. For instance, mobile robotics, pick and place robots, and material handling robots can all work together to move inventory, speed up order processing, and ultimately deliver products to customers quickly and accurately.
Why Businesses Rely on Warehouse Robotics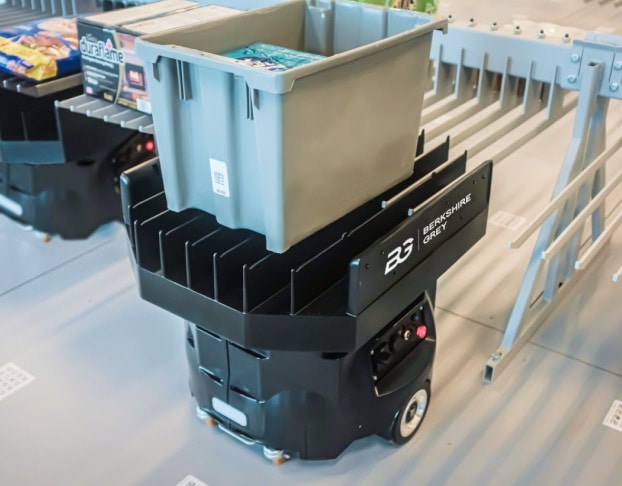 Warehouse robotics are necessary for companies looking to increase fulfillment throughput, reduce order processing times, and increase customer satisfaction while cutting overall costs. With warehouse robotics, companies are poised to create better results for customers and lay the foundation for increased repeat orders and revenue.
Companies need to stand out to succeed in an increasingly saturated and competitive market. For a company to deliver a high-quality experience, they must have fast and accurate shipping, transparency around order status, and a seamless experience for users ordering and returning products. And frankly, they can't afford to waste precious time or resources on slow, suboptimal processes.
With warehouse robotics, businesses can dramatically reduce human error, time-consuming training, and onboarding, and hours spent trying to backfill warehouse roles. Robots can act with speed and precision to pick and pack orders, identify and sort products, and accelerate sales by reducing processing time.
In a rapidly-evolving economic landscape, warehouse robotics are the way of the future. There are many different types of warehouse robotics, and whole companies are dedicated to robots as a service. Warehouse robotics help execute critical business processes to a high standard improving the profitability of retail businesses.
This peak season, eCommerce orders are expected to boom – right as labor scarcity challenges hit an all-time high. Luckily, companies don't have to sacrifice productivity. Forward-thinking retailers are preparing to automate elements of their operations so that they are well-positioned to make the most of peak season. Even year-round, warehouse robotics can help businesses improve efficiencies and decrease labor costs.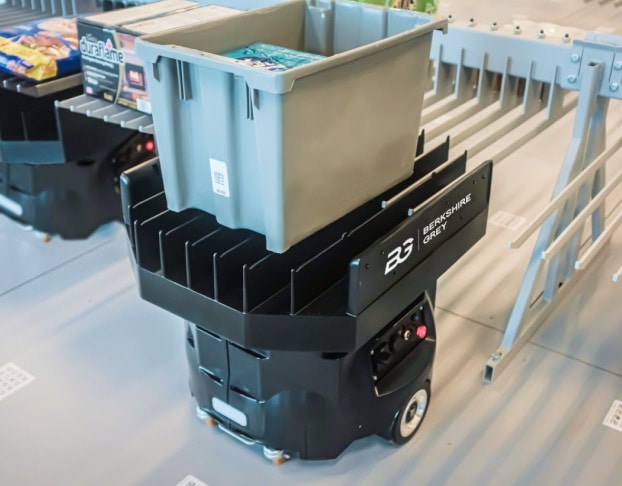 The Berkshire Grey Solution
Berkshire Grey provides intelligent solutions that enable robotic automated warehouses to increase throughput, improve customer service, and optimize labor. Berkshire Grey's AI-enabled technology can deliver the speed and scalability needed for businesses to thrive in a competitive, fast-paced world. Berkshire Grey has a suite of products that autonomously pick, pack, sort, and ship products and orders that help companies overcome processing limitations and inefficient warehouse operations.
Increase throughput and processing speed
BG Robotic Put Walls (BG RPW) can integrate with existing warehouse processes to sort customer eCommerce orders 3X faster than manual approaches while improving upstream batch inventory picking throughput by up to 33%, and handles nearly 100% of typical SKU assortments, order profiles, and packages autonomously.
Automate warehouse sortation processes
Berkshire Grey has multiple systems for warehouse robotics that are designed for efficiency and success. BG Robotic Induct Stations (BG RIS) pick and place items autonomously to traditional sortation systems, improving traditional sorter utilization and order throughput by between 25% and 50% without increasing labor. BG Robotic Product Sortation (BG RPS) systems currently pick tens of millions of items round-the-clock for major retailers, automating break pack store replenishment and large eCommerce order selection. BG RPS systems automatically pick and sort items, eaches, inner packs, and less-than-case quantities from totes into designated containers for larger profile orders. BG Robotic Product Sortation with Identification (BG RPSi) systems sort and consolidate small packages into bags and containers, enabling efficient network handling and zone skipping without adding labor. BG Mobile Robotic Platform (BG FLEX™) systems use orchestrated fleets of mobile robots to enable dynamic any-to-any induct to discharge sortation to deliver faster fulfillment that requires less labor.
Warehouse robotics is an investment in your company's growth. Berkshire Grey allows you to focus on scaling your company with confidence. Berkshire Grey offers multiple automated solutions that improve order fulfillment without adding labor. For instance, BG Robotic Pick & Pack (BG RPP) stations decouple picking from ASRS and micro-fulfillment solutions to pick and pack eCommerce items directly into shipping packages reducing process touches, allowing for optimal package sizes, and lowering shipping costs. BG RPP improves productivity, accuracy, and throughput while eliminating processing "touches" by robotically picking and packing items directly to customer packages. With BG RPP, eCommerce fulfillment becomes agile, precise, and accurate, all with reduced labor costs.
The Benefits of Using Berkshire Grey for Warehouse Robotics
Warehouse robotics can use precision and speed to outpace goods-to-person packing stations, cutting down on workflow inefficiencies. Robots can also place picked items directly into packages to ensure faster processing times.
Handle any volume of orders with ease with Berkshire Grey's tailored picking, packing, sorting, and shipping solutions.
Flexible automation solutions
Berkshire Grey offers industry-leading flexibility with its modular and configurable solutions that can integrate with existing workflows.
Working With Berkshire Grey
With Berkshire Grey's enterprise-grade AI-powered automation solutions, businesses can be confident that they will receive industry-leading performance in complex, real-world environments.
Comprehensive industry support
Berkshire Grey's automation solutions serve a variety of industries, including eCommerce, retail, grocery and convenience, package and logistics handling, and 3PL. Whatever your business needs, Berkshire Grey is ready to offer a modular and configurable automation solution.
Trusted business partners
Berkshire Grey has decades of experience in implementing AI-enabled robotics and automation technologies. Our experts will collaboratively guide you to the right solution for your needs and work with you every step of the way to ensure you're satisfied.
Get Started
with Berkshire Grey
Contact the BG Fulfillment Automation Sales Engineering Team to Learn How to:
Reduce operations expense by up to 70%.
Lessen your dependency on labor.
Bolster facility throughput by up to 25% to 50% with automation.
Get a customized ROI analysis of your specific environment and business.