At the core of every supply chain and fulfillment operation is the need to pick, pack, sort, and process a variety of different goods. The efficient movement of these goods is crucial to the success of nearly any business. In most operations, manual labor is required to complete this work—walking through warehouses, picking items off conveyor belts, and sorting customer orders. Although automation solutions have started to take over this work, current estimates indicate that over 90% of material handling operations, such as picking, are still done manually.
Interest in material handling robots has been high for several years, but early attempts at robotic picking systems could not handle all the variations in item weight, size, shape, and texture in industries such as eCommerce. Today, however, robotic material handling has progressed to the point where the same robot can handle everything from boxes of eggs to polybag packages.
Modern material handling robots are poised to revolutionize many supply chain operations that were once thought too complex for robots to handle, allowing warehouses to streamline their processes, reduce overhead, and operate more safely than before.
Automation with Material Handling Robots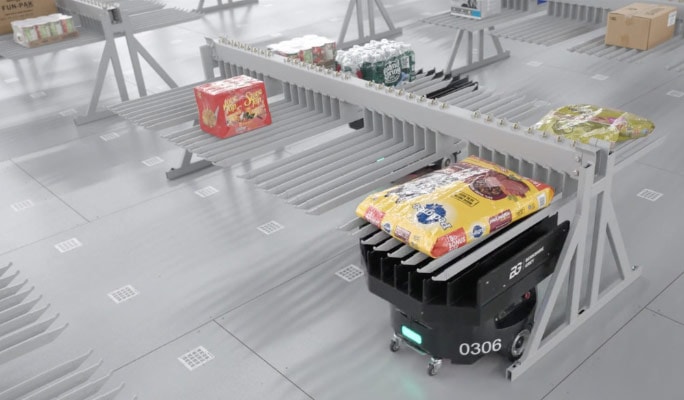 More and more consumers turn to online shopping as their primary choice for shopping, and fulfillment warehouses have struggled to meet the steep increase in demand while contending with labor shortages. The only long-term solution? Robotic automation. Automated warehouses can process more orders faster, in a smaller footprint, and do it more efficiently than traditional warehouses. One big piece of the automation puzzle is the growth and development of material handling robots to aid in processes such as product picking.
Fulfillment operations today have access to robots that are designed to take advantage of computer vision, complex environmental sensors, and advanced motion planning systems. These technologies allow material handling robots to accurately pick from a diverse SKU mix that was previously impossible.
The result of these advancements in material handling is that rather than humans picking and placing items, pick and place robots can efficiently handle materials to complete these tasks themselves. For example, manual sorting stations can be converted to robotic sorting stations.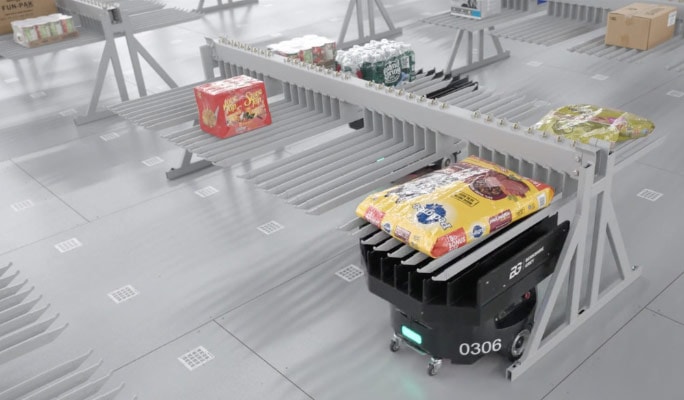 The Berkshire Grey Solution
Berkshire Grey's Pick Cells (BG RPC) convert goods-to-person operations into goods-to-robot, all in a modular and customizable footprint. BG RPC can be easily integrated into existing conveyor-based or micro-fulfillment solutions, allowing you to invest in an automation solution at the level your business can support. For companies looking to streamline their fulfillment operations even further, Berkshire Grey's Robotic Pick & Pack stations (BG RPP) can pick and pack eCommerce items directly into shipping packages, reducing touch points and allowing for more precise management of package sizes, increasing efficiency.
Mobile, material handling robots
Manual order picking is costly, slow, and physically demanding. Berkshire Grey's Mobile Robotic Platform (BG FLEX™) systems enable dynamic any-to-any induct to discharge sortation to deliver faster fulfillment that requires less labor. BG FLEX offers greater SKU coverage than traditional sorting methods through gentle, vertical pickup and placement. While other mobile robotic systems may struggle with heavy items, shrink-wrapped packages, or glass items, BG FLEX can handle these with ease.
Product and package sortation simplified
Identify, sort, and consolidate small packages into bags and containers for zone shipping without expensive labor through Berkshire Grey's Robotic Product Sortation with Identification systems (BG RPSi).
Advantages of Berkshire Grey's Material Handling Robots
Reliable accuracy in complex environments
In a perfect world, environments are structured to be as organized as possible, but the realities of supply chains are often more complex. Whether it's returns processing or down-line sortation, Berkshire Grey's material handling robots use artificial intelligence to apply SKU-specific adjustments to grip force, robot motion profiles, swing velocities, accelerations, and placement tolerances.
Revolutionary commercial end effectors
One of the greatest challenges to material handling robots is their ability to grip a large variety of products. Although there's no robotic gripper that can handle everything, Berkshire Grey's SpectrumGripper™ technology can grip the largest range of products of any commercial end effector available. If your needs require a specific type of end effector, Berkshire Grey's flexible automation solutions can be outfitted with those as well.
Modular and configurable material handling
Berkshire Grey offers a variety of automation solutions that can be scaled to fit your needs. Whether you need BG's Mobile Robotic Platform system or BG's Robotic Pick Cells, our solution portfolio is carefully designed to scale and integrate into existing systems to make automation as seamless as possible.
Why Work with Berkshire Grey?
Accessible automation through Robotics as a Service (RaaS)
Automating complex supply chain and fulfillment operations can require significant upfront capital. By working within a RaaS model, Berkshire Grey is able to offer industry-leading automation solutions without the upfront cost associated with conventional equipment purchase models.
Solutions tailored to your needs
Berkshire Grey's solution portfolio is intentionally curated to be as modular and configurable as possible. As a result, incrementally adding or changing warehouse automation systems has never been easier. Many of Berkshire Grey's systems can even bolt-on to existing automation solutions or integrate outside technology as necessary.
Enterprise-level reliability
Supply chain operations are mission-critical to the success of any business. Berkshire Grey's automation solutions work round-the-clock for some of the world's largest retailers, handling tens of millions of items. Our team of supply chain experts develops and tests every system to handle the most challenging workloads in complex, variable environments.
Get Started
with Berkshire Grey
Contact the BG Fulfillment Automation Sales Engineering Team to Learn How to:
Reduce operations expense by up to 70%.
Lessen your dependency on labor.
Bolster facility throughput by up to 25% to 50% with automation.
Get a customized ROI analysis of your specific environment and business.