What are Pick and Place Robots?
One of the most common applications for robotic automation is picking and placing. After all, the need to move and sort products, parts, or materials is a constant in countless distribution operations. As automation technology has continued to develop, pick and place robotic systems have become one of the common focus areas for robot applications in supply chain automation efforts. These robots are most commonly mounted in a station where inventory containers of products and order containers for shipping orders are moved into and out of the station.
Pick and place robots are used in countless industrial and commercial settings but are particularly important for industries such as eCommerce, 3PL, retail, and logistics. These industries are responsible for processing and moving a high volume of diverse goods every day and present a critical use case for pick and place robots.
Benefits of Pick and Place Robots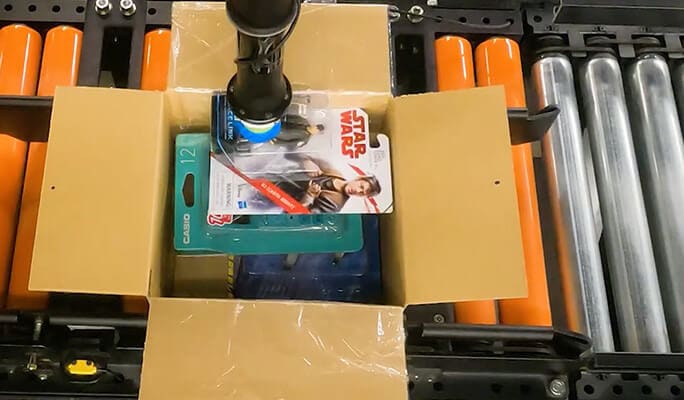 The most significant benefits of pick and place robots are the speed, consistency, and efficiency they operate with. Rather than relying on manual labor to perform tedious tasks such as picking items off a conveyor or manually moving items through a warehouse, robots can complete this work and free up humans to do more strategic tasks.
In terms of throughput, pick and place robots can handle significantly greater volumes than manual methods. Additionally, material handling robots can be configured with specific end effectors to handle certain products or offer great flexibility.
Safety is also a significant benefit provided by pick and place robots. Picking and placing heavy objects can be a safety hazard, while repetitive motions, such as picking off a conveyor belt, can also result in overuse injuries. Pick and pack warehouses can reduce workplace accidents by turning to supply chain automation.
Finally, pick and place robots offer fantastic ROI for fulfillment centers looking to streamline their operations. Robots can work 24/7/365 with minimal maintenance downtime while working much faster than traditional methods. Although some might think pick and place robots are financially out of reach for their business, subscription-based models such as Robots as a Service (RaaS) can help avoid the downsides of outright ownership and the upfront capital required for implementation.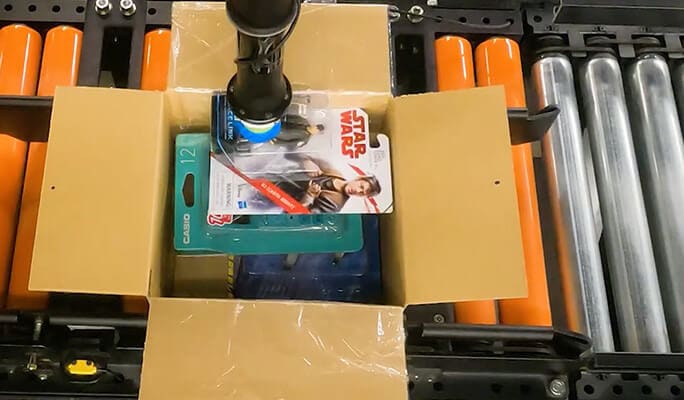 Berkshire Grey offers multiple automation solutions for picking and packing operations. Berkshire Grey's Robotic Pick Cells (BG RPC) convert goods-to-person picking to goods-to-robot for improved accuracy and better use of expensive labor. Streamline the eCommerce fulfillment process with Berkshire Grey's Robotic Pick & Pack stations (BG RPP) which are capable of picking and packing items directly into shipping packages, removing intermediate steps, and allowing for optimal package sizes for lowered shipping costs.
Automated Induction Stations
Built to quickly deploy and immediately begin delivering value, Berkshire Grey's Robotic Induction Stations (BG RIS) pick and place items onto traditional unit sorters increasing throughput by 25-50% without incurring additional labor costs. BG RIS achieves this through fast, reliable autonomous picking and placing to traditional sortation systems, improving sorter utilization.
Streamlining Supply Chains with Berkshire Grey's Pick and Place Robots
Reduced labor costs through automation
Businesses across the world are struggling with labor shortages. Automating simple, repetitive tasks such as picking and placing can help reduce dependency on labor while also increasing throughput and profitability.
Compatibility with traditional systems
Automating an entire warehouse at once is not feasible in the majority of cases. That's why Berkshire Grey prioritizes modular, configurable automation solutions designed to integrate with and improve the efficiency of more traditional systems.
Modular and configurable material handling
Berkshire Grey offers a variety of automation solutions that can be scaled to fit your needs. Whether you need BG's Mobile Robotic Platform system or BG's Robotic Pick Cells, our solution portfolio is carefully designed to scale and integrate into existing systems to make automation as seamless as possible.
Why Work with Berkshire Grey?
Flexible financial options
With Robotics as a Service (RaaS) from Berkshire Grey, your business can leverage the system, software, and management services of a team of experts without the upfront capital required to build and manage your own automation solution from the ground up.
Industry-leading technology
Berkshire Grey's patented technology is reliably automating tasks in commercial settings that have never been automated before. By combining AI software, advanced motion and path planning, computer vision, holistic sensing, and seamless IT integration, Berkshire Grey's automation solutions are ready to supercharge the productivity of warehouses and distribution centers.
Get Started
with Berkshire Grey
Contact the BG Fulfillment Automation Sales Engineering Team to Learn How to:
Reduce operations expense by up to 70%.
Lessen your dependency on labor.
Bolster facility throughput by up to 25% to 50% with automation.
Get a customized ROI analysis of your specific environment and business.