What is Robotic Material Handling?
The need to pick, pack, sort, and process a variety of goods is at the core of every fulfillment and supply chain operation. For the success of virtually any business, the efficient and consistent movement of these goods is crucial. And while manual labor was required to complete this work in the past, times are changing for the better with more efficient methods now available.
Despite developments in robotic material handling, common material handling operations like picking items off conveyor belts and sorting customer orders are still largely done manually. In fact, over 90% of material handling operations are still performed by hand.
Robotic tending and material handling systems are more commonplace in the industrial sector. Before now, though, robotic material handling was reserved for more tedious or dangerous tasks, limited from tasks that required human dexterity. Earlier attempts at robotic picking systems couldn't handle the variation in item size, weight, texture, and shape in industries like eCommerce.
Today, material handling robotic systems are set to revolutionize supply chain operations that were once thought too complex for AI-enabled robots to tackle.
How Does Robotic Material Handling Work?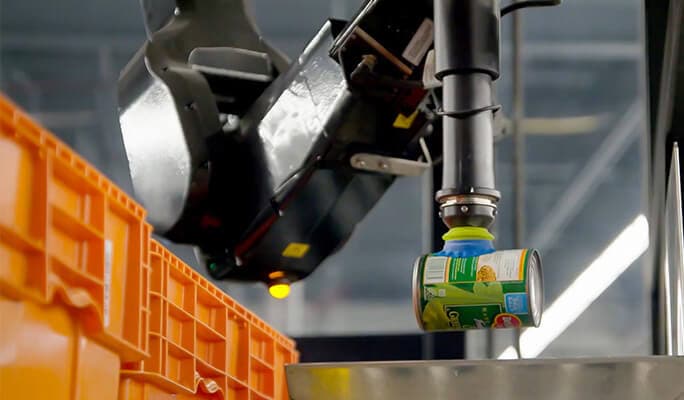 In short, material handling is a term that refers to any robotic components that move production parts or goods. Typically, these material handling robots are used to retrieve products or to move an item on or off a conveyor belt. Material handling robots can also work in pick and pack operations to move products to boxes for fulfillment operations.
There are some general considerations in robot material handling, such as the facility layout and floor space, what type of equipment will be most appropriate for your facility, as well as the type of material being handled. Likewise, payload and speed requirements are often considered, along with any additional potential production problems.
Increased automation through robotic material handling can help manage the record increases in consumer demand when labor shortages are also abundant. With a smaller, more cost-effective footprint, automated warehouse systems can process more orders in a fraction of the time.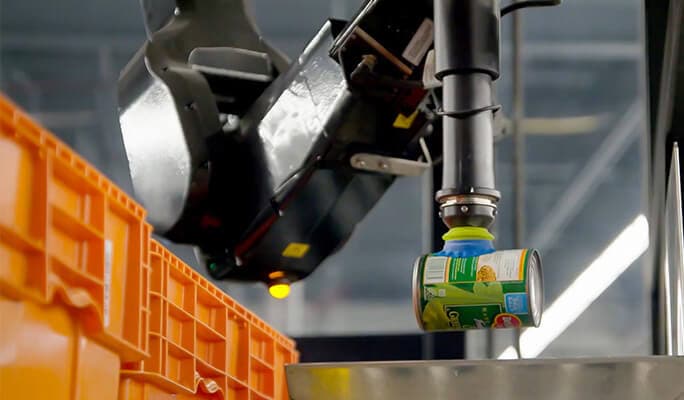 The Berkshire Grey Solution
Customized automation systems
Berkshire Grey's Mobile Robotic Platform (BG FLEX™) solution and Berkshire Grey's Robotic Pick Cells (BG RPC) are carefully designed to integrate into existing systems and scale up with your business, making automation as seamless as possible. Berkshire Grey also offers a host of other robotic automation solutions that can be tailored to fit individual needs.
Material handling, mobile robotics
Your business can complete fulfillment operations faster with less labor with Berkshire Grey's Mobile Robotic Platform (BG FLEX™) solution, which offers greater SKU coverage than traditional sorting methods. Gentle, virtual pickup and placement are the keys. Not every mobile robot system is made equal, which is why some may struggle with shrink-wrapped packages, heavier items, or glass items, while BG FLEX can handle these tasks with ease.
Streamlined sortation systems
Berkshire Grey's Robotic Product Sortation with Identification Systems (BG RPSi) allows warehouses a break from steep production costs and labor scarcity. Without the need for expensive labor, BG RPSi can identify, sort, and consolidate small packages into containers and appropriately-sized bags for zone shipping.
Berkshire Grey's Approach to Robotic Material Handling
Berkshire Grey's flexible automation solutions are outfitted and scaled to fit any problem or need. While no automated robot can handle everything (yet!), Berkshire Grey's SpectrumGripper™ technology can grip the most extensive range of products, making it the most effective commercial end effector available.
In a perfect world, a supply chain or warehouse environment would be designed in an organized manner, but the reality is often far more complex. Many warehouses have suboptimal footprints or unavoidable obstacles. Using robotic artificial intelligence, Berkshire Grey's robotic material handling systems can apply SKU-specific adjustments to robot motion profiles, grip force, accelerations, swing velocities, placement tolerances, and more.
Enterprise-level reliability
The success of many businesses often rests on their supply chain operations. Berkshire Grey's automation solutions currently handle tens of millions of products for some of the world's largest retailers. Even the most challenging workloads in variable and complex environments can thrive with a team of supply chain experts that actively develop and test every system.
Flexible, customizable solutions
Every enterprise is unique, so Berkshire Grey ensures every business is given a customized, tailored plan fit for their needs. Modular, customizable automation solutions can easily be integrated into existing warehouse models. And the potential to expand and scale is always there.
Get Started
with Berkshire Grey
Contact the BG Fulfillment Automation Sales Engineering Team to Learn How to:
Reduce operations expense by up to 70%.
Lessen your dependency on labor.
Bolster facility throughput by up to 25% to 50% with automation.
Get a customized ROI analysis of your specific environment and business.