Understanding Supply Chain Automation
You may have heard about, or likely encountered, recent supply chain issues or product delays. But what is supply chain automation, and why is it so important for businesses, consumers, and the economy, especially in today's world?
Let's back up for a minute to understand the supply chain. The retail supply chain is the process by which products can reach consumers. That includes every step from the very beginning – manufacturing products out of raw materials – to inventory management and pick and pack fulfillment, to shipping and delivery.
Supply chain automation looks at this process and finds opportunities to streamline it through technology. After all, why have a worker doing tedious manual labor – at a high cost to the employer – when you could have a robot doing it faster, more efficiently, and for less money?
Why Supply Chain Automation Matters for Businesses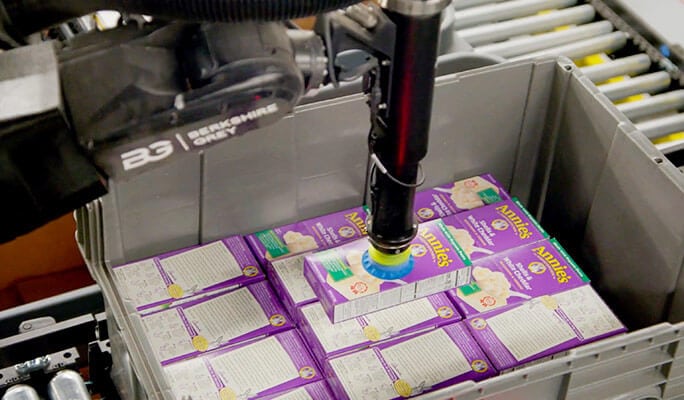 Supply chains rely on every piece of the puzzle to operate perfectly. It's like a highly-technical relay race, and the baton must be passed correctly for every subsequent step to operate as expected. Timing and accuracy are absolutely critical. After all, any disruption to the retail supply chain can cause delays, which is not only a costly inconvenience but can create a negative experience for the end consumer.
That's where supply chain automation comes into play–and why it's so important for growing businesses. Supply chain automation eliminates inefficiencies and risks. For instance, robots can automate warehouse processes like parcel sortation, enabling companies to manage higher volumes of packages and meet customer delivery expectations. Or imagine a warehouse with automated guided vehicles that can autonomously move and transport items across the floor. With robotic automation technology in play, warehouses can operate more efficiently and accurately while decreasing the likelihood of costly human error.
Particularly in today's economy, where labor is scarce and more expensive than ever before, supply chain automation can reduce costs and ensure that production never slows regardless of what happens in the broader talent marketplace. That's why companies are investing in top-of-the-line technology to automate their supply chains, optimize processes, and avoid common mistakes. It's a strategic act of future-proofing and mitigating the risks of labor shortages, unexpected delays, lack of inventory, and negative customer experiences.
For companies looking to succeed in a challenging economic landscape, supply chain automation is a key element of consistent order fulfillment and continued growth.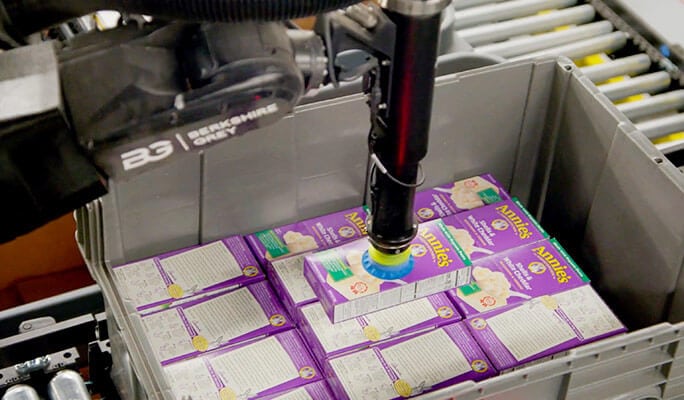 The Berkshire Grey Solution
With supply chain automation through Berkshire Grey, companies can mitigate risk and ensure supply chain resilience even in the most challenging circumstances. Berkshire Grey helps companies automate their supply chain logistics to deliver consistency, efficiency, and scalability. With BG's suite of robotic material handling solutions, companies can increase throughput, improve customer service, and optimize labor to deliver great results for their consumers.
Future-proof your warehouse operations
Achieve great results with less time and labor costs. Protect your retail supply chain by investing in technology that will ensure consistent productivity. BG Robotic Induction Stations (BG RIS) pick and place items to traditional sortation systems, improving traditional sorter utilization and order throughput by up to 25% and 50% without increasing labor. BG Robotic Product Sortation (BG RPS) systems currently pick tens of millions of items round-the-clock for major retailers, automating break pack store replenishment and large eCommerce order selection. BG RPS automatically picks and sorts items, eaches, inner packs, and less-than-case quantities from totes into designated containers for larger profile orders. BG Robotic Product Sortation with Identification (BG RPSi) systems sorts and consolidates small packages into bags and containers, enabling efficient network handling and zone skipping without adding labor.
Pick and pack faster than ever before
Work smarter, not harder. BG Robotic Pick & Pack (BG RPP) stations decouple picking from ASRS and micro-fulfillment solutions to pick and pack eCommerce items directly into shipping packages reducing process touches, allowing for optimal package sizes, and lowering shipping costs. BG RPP improves productivity, accuracy, and throughput while eliminating processing "touches" by robotically picking and packing items directly to customer packages. With BG RPP, eCommerce fulfillment becomes agile, precise, and accurate, all with reduced labor costs.
Create effortless, optimized delivery processes
Reduce shipping costs by up to 20% by sorting parcels by zone to achieve freight savings from carriers. BG Mobile Robotic Platform (BG FLEX™) systems use orchestrated fleets of mobile robots to enable dynamic any-to-any induct to discharge sortation to deliver faster fulfillment that requires less labor. With BG technology, you can easily and intelligently automate the singulation, identification, and sortation of individual products and small parcels.
Berkshire Grey's Approach to Supply Chain Automation
Cut costs without cutting corners
When it comes to the retail supply chain, time is money. Supply chain automation allows companies to process orders faster than their manual counterparts without sacrificing precision–and that means big savings over time. By converting goods-to-person packing stations to goods-to-robot, Berkshire Grey can eliminate inefficient touches and place picked items directly into shipping packages for order fulfillment, all with high speed and accuracy.
Consistent output – no matter what
Supply chain automation will protect against future labor shortages that can have detrimental impacts on your bottom line. With automated warehouse technology, companies can save money and time without compromising on output. AI-enabled solutions help to optimize existing labor and scale fulfillment. Bonus: Berkshire Grey's automated systems are so intuitive that no training is required for robotic sortation.
Happier customers for long-term growth
The real reason to invest in supply chain automation? Commitment to a positive customer experience. As business owners know, the customer is king – and high customer satisfaction can often be more valuable than any marketing campaign. Berkshire Grey leverages scalable, AI-enabled automation solutions to increase throughput by up to 25 to 50% and optimize order picking, packing, sorting, and return logistics solutions. The result? Companies can impress consumers, make them more likely to buy again, and create a culture of brand loyalty and authentic promotion. That's some serious ROI.
Berkshire Grey's approach to Robotics as a Service allows businesses to access cutting-edge AI-enabled automation solutions without the prohibitively expensive startup costs associated with automating their operations independently.
Intelligent solutions for the entire supply chain
Automate supply chain processes in eCommerce, retail, grocery, 3PL, and more with Berkshire Grey's team supporting you every step of the way.
Berkshire Grey has a lengthy track record of supporting enterprise-level clients with automation solutions. No matter how much your business grows, Berkshire Grey can scale with you to provide industry-leading performance.
Get Started
with Berkshire Grey
Contact the BG Fulfillment Automation Sales Engineering Team to Learn How to:
Reduce operations expense by up to 70%.
Lessen your dependency on labor.
Bolster facility throughput by up to 25% to 50% with automation.
Get a customized ROI analysis of your specific environment and business.