Robotic Warehouse Automation Systems
Warehouse automation systems have seen explosive development with heavy adoption and growth across many industries and businesses over recent decades. This growth has been particularly strong within warehousing and fulfillment sectors. Automation brings solutions to supply chain challenges and labor shortages that have stretched traditional fulfillment practices to their breaking point.
In simple terms, automated warehouse systems take formerly manual tasks and optimize them by automating them. By converting some traditionally manual processes – like order picking – into automatic processes performed by robotic systems, companies can experience higher ROIs from a safer, more efficient facility.
These automated systems can utilize artificial intelligence and robotic automation to cut down on human touchpoints and oversight, removing many warehouse bottlenecks. Automating various fulfillment systems allows warehouse companies and entire industries to see an improvement in their bottom line, motivating more sectors to start the transition toward automation.
How Do Automated Warehouse Systems Work?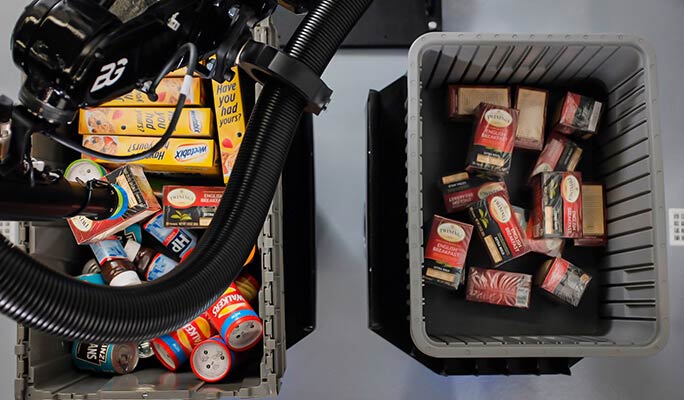 Robotic warehouse automation doesn't come with a one-size-fits-all template or generic solution. Instead, warehouse automation companies utilize arrays of interconnected systems to improve each individual enterprise's current warehousing operations. Tailored and personalized, automated warehouse systems can look vastly different depending on demands and settings.
For example, some businesses may opt to incorporate advanced AI software that helps track the movement of goods and services to find more optimal workflows. By adding this small but valuable tech, companies can optimize efficiency and save on production costs in one fell swoop.
Meanwhile, other enterprises will leave specific processes manual while automating other, more labor-intensive processes. Many tasks in fulfillment warehouses, such as order picking, are prime candidates for automation.
Other companies will opt to transition over to a fully automated system, understanding the long-term gain that such a system will provide. Warehouse operations are becoming increasingly autonomous, and savvy businesses are jumping on the opportunity to get ahead of competitors by automating their processes to gain an edge.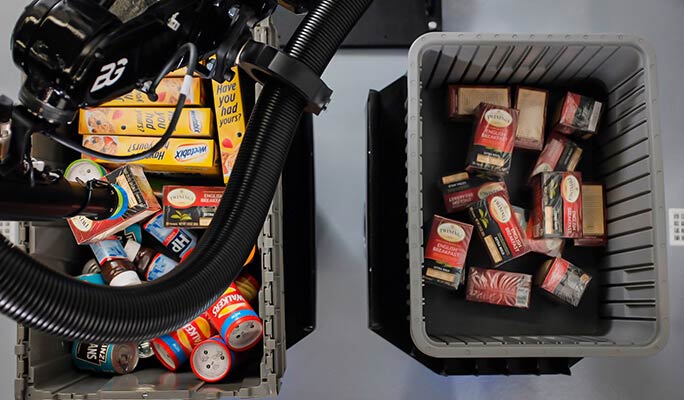 The Berkshire Grey Solution
Optimize warehouse sortation systems
Berkshire Grey's Robotic Induction Stations (BG RIS) pick and place items in traditional sortation systems, improving order throughput from up to 25% up to 50% compared to the alternative manual systems. In addition to BG RIS, BG Robotic Product Sortation (BG RPS) can automate break pack warehouse processes and optimize large eCommerce order selection as well as store replenishment operations.
BG RPS has already picked millions of items around the clock for major retailers worldwide.
Mobile sortation at scale
The reality of the automated distribution center is on the horizon, and Berkshire Grey's solutions can help an enterprise reach that future even sooner. For example, Berkshire Grey's Mobile Robotic Sortation (BG FLEX™) systems use orchestrated fleets of mobile robots to enable dynamic any-to-any induct to discharge sortation to deliver faster fulfillment while requiring less labor.
Berkshire Grey's automation technology means you can intelligently and easily automate the identification and sortation of individual products and small parcels, which helps to reduce shipping costs by up to 20%.
Berkshire Grey's Robotic Warehouse Automation Systems
Happier customers for long-term growth
A positive customer experience should be the aim of each enterprise, and Berkshire Grey's solutions always take this into account. More valuable than any marketing campaign is a customer's high satisfaction level. Berkshire Grey optimizes operations by improving return logistics solutions, order picking, packing, sorting, and more, using scalable, AI-enabled automation solutions to increase throughput up to 25% to 50%.
Efficiency like that impresses consumers, which makes them more likely to keep buying, ultimately providing a more authentic promotion than any marketing campaign could provide and creating a culture of brand loyalty. Talk about some serious ROI.
Consistent, reliable output
Automated fulfillment in warehousing can protect against future labor shortages and other supply chain interruptions that cause detrimental impacts to the supply chain (and your bottom line). Berkshire Grey's automated warehouse systems are intuitive, so no training is even required for robotic sortation.
Effective, proven performance
Berkshire Grey has a decades-long reputation for supporting enterprise-level companies' transition further into digitalization through automation solutions. By scaling with you, Berkshire Grey provides industry-leading performance with automated warehouse systems no matter how much your business grows.
Berkshire Grey is proud to offer Robotics as a Service (RaaS), an affordable and scalable pricing structure for businesses looking to expand into automation. Through this approach, businesses can access cutting-edge, AI-powered automation technology without the otherwise expensive startup costs of automating operations independently.
Get Started
with Berkshire Grey
Contact the BG Fulfillment Automation Sales Engineering Team to Learn How to:
Reduce operations expense by up to 70%.
Lessen your dependency on labor.
Bolster facility throughput by up to 25% to 50% with automation.
Get a customized ROI analysis of your specific environment and business.