What do Warehouse Robots Do?
If you've ever wondered what warehouse robots do or how they work, you're not alone. More companies these days are looking for ways to create new efficiencies and improve warehouse logistics. After all, if you could manage your order fulfillment processes with increased speed, accuracy, and ease, why wouldn't you?
The secret to many companies' success: warehouse robots. This AI-enabled technology replaces the need for tedious, expensive manual labor with robotic automation.
With warehouse robots, picking, sorting, packing, and shipping is easier and faster than ever. Warehouse robots can speed up order processing, increase throughput, and add precious resources even amidst a scarce labor market. There are many different types of warehouse robot solutions – and whole companies are dedicated to Robots-as-a-Service – so whatever challenges your company may be facing, you can rest assured that there is a warehouse robot solution to support.
Why Warehouse Robots are Crucial for Businesses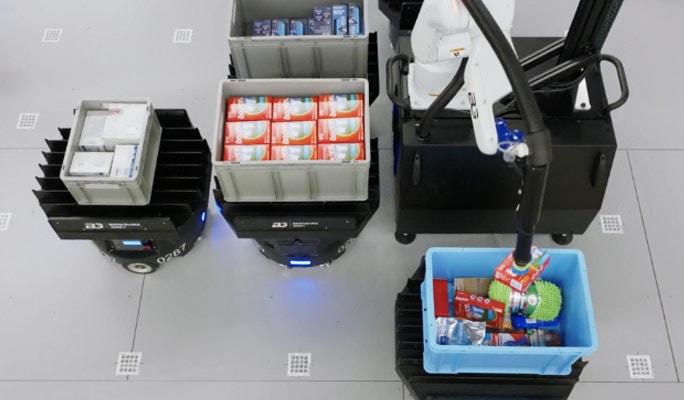 For companies looking to succeed in an increasingly saturated and competitive market, they need to stand out–and it comes down to exceeding customer expectations in the right places. Customers have high expectations for online retailers. For a company to deliver a high-quality experience, it must have fast and accurate shipping, transparency around order status, and a seamless experience for users ordering and returning products. Timely, accurate eCommerce fulfillment is just as important as sales–and in fact, can grow sales and bottom-line growth.
But how can growing companies manage the competing priorities of costs, efficiencies, and timing? It's not easy–unless you have warehouse robots to help. With a robot warehouse, companies are poised to create better results for customers and lay the foundation for increased repeat orders and revenue.
Warehouse robots are a critical tool for businesses to improve efficiencies and decrease costs. Robots can act with speed and precision to pick and pack orders, identify and sort products, and accelerate the resale of returned goods by reducing processing time. Say goodbye to human error, time-consuming training and onboarding, and hours spent trying to backfill warehouse roles. Without manual error or inefficiencies in the mix, companies can confidently invest in other areas of their business. Warehouse robots execute critical business processes to a high standard, and business leaders can trust in their efficiency and enjoy even higher profit margins.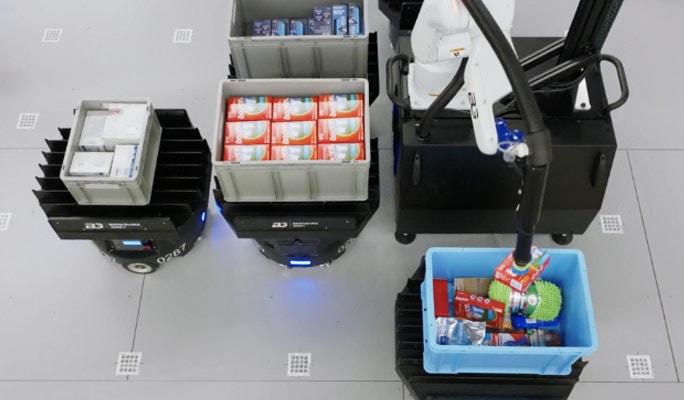 The Berkshire Grey Solution
Warehouse automation companies, like Berkshire Grey, are the solution to inefficient warehouse logistics and operations. Harnessing the power of AI and robotics, Berkshire Grey has a suite of products that can support any company through processing limitations.
Berkshire Grey helps companies reimagine their order fulfillment strategies in warehouses, distribution centers, and other industrial environments. With warehouse robots, companies can increase throughput, improve customer service, and optimize labor. Berkshire Grey's AI-enabled warehouse robots can deliver the speed and scalability needed to boost margins and drive customer success.
Warehouse robots are an investment in your company's growth, and with Berkshire Grey, you can rest assured that this technology will pay off in spades. Berkshire Grey offers multiple automated solutions for traditional sortation that improve outcomes without adding labor. For instance, BG Robotic Pick & Pack (BG RPP) stations decouple picking from ASRS and micro-fulfillment solutions to pick and pack eCommerce items directly into shipping packages reducing process touches, allowing for optimal package sizes, and lowering shipping costs. BG RPP improves productivity, accuracy, and throughput while eliminating processing "touches" by robotically picking and packing items directly into customer packages. With BG RPP, eCommerce fulfillment becomes agile, precise, and accurate, all with reduced labor costs.
Increase throughput and processing speed
BG Robotic Put Walls (BG RPW) integrates with existing warehouse processes to sort customer orders 3X faster than manual approaches while improving upstream batch inventory picking throughput by up to 33%, and handling nearly 100% of typical SKU assortments, order profiles, and packages autonomously.
Automate warehouse sortation systems
Berkshire Grey has multiple warehouse robot systems that can improve sortation processes to save time and money. BG Robotic Induction Stations (BG RIS) picks and places items to traditional sortation systems, improving traditional sorter utilization and order throughput by between 25% and 50% without increasing labor. BG Robotic Product Sortation (BG RPS) systems currently pick tens of millions of items round-the-clock for major retailers, automating break pack store replenishment and large eCommerce order selection. BG RPS automatically picks and sorts items, eaches, inner packs, and less-than-case quantities from totes into designated containers for larger profile orders. BG Robotic Product Sortation with Identification (BG RPSi) systems sorts and consolidates small packages into bags and containers, enabling efficient network handling and zone skipping without adding labor. BG Mobile Robotic Platform (BG FLEX™) systems use orchestrated fleets of mobile robots to enable dynamic any-to-any induct to discharge sortation to deliver faster fulfillment that requires less labor.
The Benefits of Using Berkshire Grey's Warehouse Robot Solutions
Accelerated order processing
With warehouse robots, goods-to-person packing stations can be converted to goods-to-robot– eliminating inefficient touches. Warehouse robots can act with precision and speed, placing picked items directly into shipping packages for order fulfillment.
Increased efficiencies and throughput
By leveraging scalable, AI-enabled warehouse robots, Berkshire Grey is able to increase throughput by up to 25 to 50% to handle any volume of online orders. Berkshire Grey achieves this through a combination of optimized and custom-tailored picking, packing, sorting, and return logistics solutions.
Reduced dependence on labor
Automated warehouse robot solutions reduce dependency on human labor, saving money and time. While many companies are facing labor scarcity challenges, AI-enabled robotic solutions can optimize existing labor and scale fulfillment without requiring additional labor. In fact, Berkshire Grey's automated systems are so intuitive that no training is required for robotic product sortation systems.
Improve the experience of your customers by optimizing return logistics through Berkshire Grey's touchless returns receipts, autonomously pre-sorted returned packages, and ultra-fast restocking system.
Why Choose Berkshire Grey?
Berkshire Grey has decades of experience automating complex supply chain and fulfillment operations with the power of robotics. Berkshire Grey's clients have seen operations expenses reduced by up to 70% while improving facility throughput by up to 50%.
No matter what challenges your business faces, Berkshire Grey's team of technologists is ready to support you with over 1000 years of combined robotic automation experience.
Intelligent solutions for every industry
Berkshire Grey is the leading provider of enterprise-grade AI-enabled warehouse robot solutions that span the entire supply chain and deliver industry-leading performance in complex, real-world environments.
Get Started
with Berkshire Grey
Contact the BG Fulfillment Automation Sales Engineering Team to Learn How to:
Reduce operations expense by up to 70%.
Lessen your dependency on labor.
Bolster facility throughput by up to 25% to 50% with automation.
Get a customized ROI analysis of your specific environment and business.