What is an Automated Distribution Center?
Automation is the next step forward in digitalization and computerization. With it, warehouses, distribution centers, and manufacturing facilities will experience significant changes.
As automated distribution centers take center stage, we look at the overall effect it will have on the world, including the benefits.
What does a distribution center look like when it's automated, though? Firstly, there are some significant advantages. They're reliable, more cost-effective, process secure, resource-efficient, flexible, and space-saving.
Overall, automated distribution centers can increase distribution efficiency for micro fulfillment, omnichannel fulfillment, and any other order fulfillment center. Leveraging automation solutions can help distribution centers and fulfillment facilities improve accuracy, increase productivity, reduce labor costs, and enhance worker safety while driving higher profits.
Why Enterprises Need Automated Distribution Centers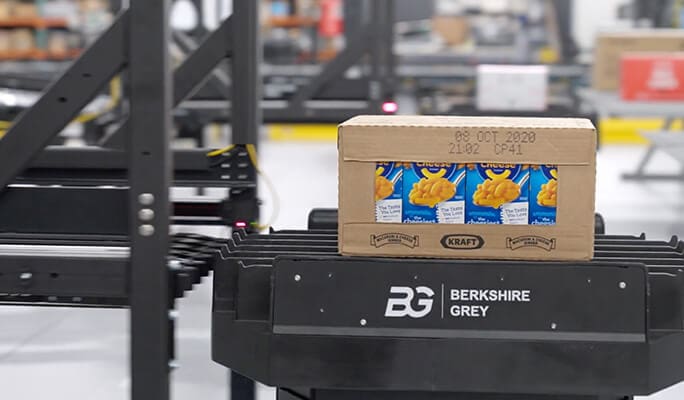 The past decade has seen an explosion in the growth of eCommerce alongside supply chain challenges, labor shortages, and increasing overhead costs. This strain on the retail supply chain has pushed distribution centers to find ways to increase speed and inefficiency, often through automation.
From who's involved with processing orders to the size and location of each component, every step of the fulfillment process can impact your enterprise's overall profitability and customer experience – especially because the two go hand-in-hand.
Companies need automated distribution centers to ensure safer, more efficient operations. Increased productivity without additional operator risk means a business can secure more sales, cultivate customer loyalty, get more repeat customers, and drive up revenue overall.
Secure, organized processes
Having the right automated distribution center logistics is paramount for companies to ensure accurate orders and faster shipping times. With efficient steps in place, an enterprise is set up for greater longevity and a higher likelihood of success.
Think about it from an eCommerce perspective. When an online order is placed, the following steps must occur: receiving and recording the order, checking inventory, product picking, packing, and shipping. Finally, the product is delivered to the customer.
With automation, each step can be done with greater accuracy and speed while minimizing manual intervention, increasing the overall throughput and growing revenue.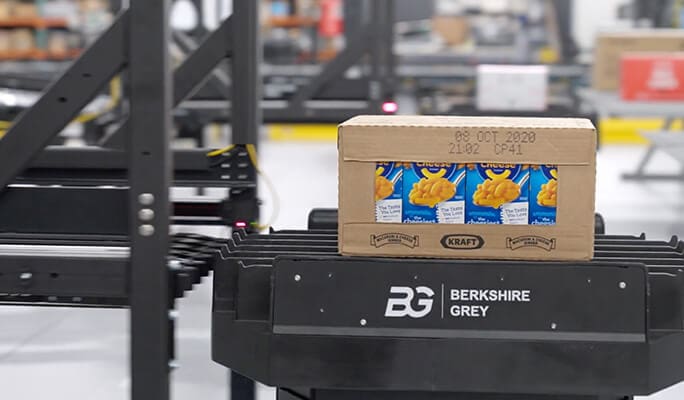 The Berkshire Grey Solution
With a suite of products that make automated distribution centers possible, Berkshire Grey can help fulfillment facilities operate far more efficiently. By integrating Berkshire Grey's advanced robotic automation systems into their existing processes, clients see an increase in throughput-optimized labor efficiencies. Berkshire Grey's AI-enabled robotic automation solutions help simplify and streamline workflows, scaling up fulfillment without compromising quality.
Advanced sortation systems
Berkshire Grey's solution portfolio offers a variety of products that address the needs of warehousing and supply chain enterprises. For instance, Berkshire Grey's Robotic Induction Stations (BG RIS) can increase order throughput and sorter utilization by up to 50% compared to traditional sortation systems – all without increasing labor. AI-powered robotic systems can revolutionize otherwise standard processes like sorting into efficient, sleek workflows that reduce labor costs and improve outcomes.
Utilizing Berkshire Grey's Automated Distribution Center
Whether you're fully converting a traditional warehouse to an automated distribution center or just a partial transition, Berkshire Grey's solutions can be there when you need them.
Better customer experience
Automation helps create a more efficient, faster journey to the customer. Automation is also key to turning around negative experiences. For example, efficient reverse logistics through automation can help ensure that customers receive refunds or replacement products faster than traditional processing methods.
Increased order throughput
Berkshire Grey configures every automation solution to your business's needs. By creating a unique picking, packing, and sorting strategy for every individual situation, Berkshire Grey can improve order throughput up to 25% and 50%, while still processing any volume of eCommerce orders accurately.
When machines are doing more work (especially the repetitive, mundane tasks), there's less need for human interaction. Without that human interaction, a company doesn't have to pay nearly as much for labor. Not only do Berkshire Grey's AI-enabled sorting systems cut down on labor costs, but they simultaneously increase overall operational efficiency.
Working with Berkshire Grey
Berkshire Grey's solution portfolio is equipped to service a variety of industries, with a broad range of solutions to fit every scenario and any need within the 3PL, convenience, grocery, retail, and eCommerce sectors.
Proven, reliable expertise
As a leading provider in AI-enabled robotics systems, Berkshire Grey provides results that span the entire supply chain. Each result delivers exceptional performance, even in complex, real-world environments.
When you partner with Berkshire Grey, you're getting access to a world-class team of supply chain and robotics experts. As leaders in tech, you can develop your business confidently while Berkshire Grey's team installs, tests, optimizes, and maintains key supply chain solutions.
Get Started
with Berkshire Grey
Contact the BG Fulfillment Automation Sales Engineering Team to Learn How to:
Reduce operations expense by up to 70%.
Lessen your dependency on labor.
Bolster facility throughput by up to 25% to 50% with automation.
Get a customized ROI analysis of your specific environment and business.