Automated Warehouses: The Future of Supply Chains
Recent years have seen supply chains and fulfillment operations face more challenges than ever before. Warehouses must process a larger volume of orders faster and more accurately while also managing labor shortages and supply chain issues across the world. To navigate this array of obstacles, many are turning to automation to streamline warehouse operations.
Automated warehouses take tasks or operations that were previously performed manually and use robots or other automated processes to cut down on inefficiencies and human touchpoints. For example, goods-to-robot stations can replace goods-to-person stations to increase order picking productivity and reduce human errors.
Automating warehouses can benefit operations from several different angles. Automated systems can:
Work 24/7.

Deliver up to 3X the throughput without additional labor.
Operate in a small footprint so they can increase capacity within existing facilities.
Provide greater speed and accuracy than manual approaches.
How does an Automated Warehouse Work?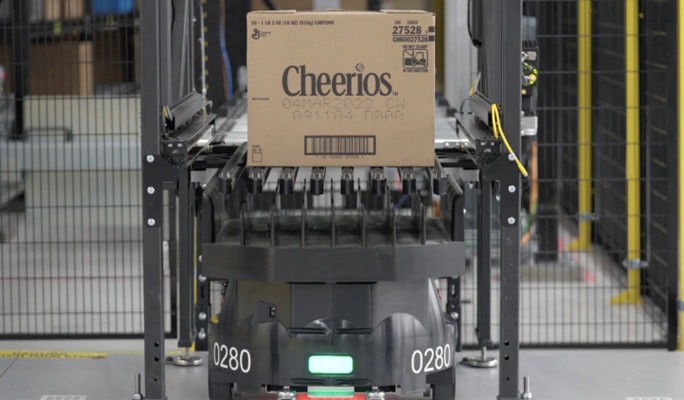 There's no one-size-fits-all solution or template for an automated warehouse. For some businesses, it may make sense to automate some of the more labor-intensive processes, such as order picking, while leaving others as manual.
Although automated warehouses systems commonly make use of warehouse robots, warehouse automation can look as simple as software that helps to track the movement of goods automatically. On the other end of the spectrum, some more revolutionary automated warehouses do away with most human inputs entirely and are capable of running almost completely autonomously, improving speed, accuracy, and safety.
Why automate? Man actions and processes performed in most fulfillment warehouses are repetitive and consistent, making them a prime candidate for automation. In conjunction with this, labor shortages continue to mount and challenge businesses to address growing consumer demand and expectations even as their costs rise.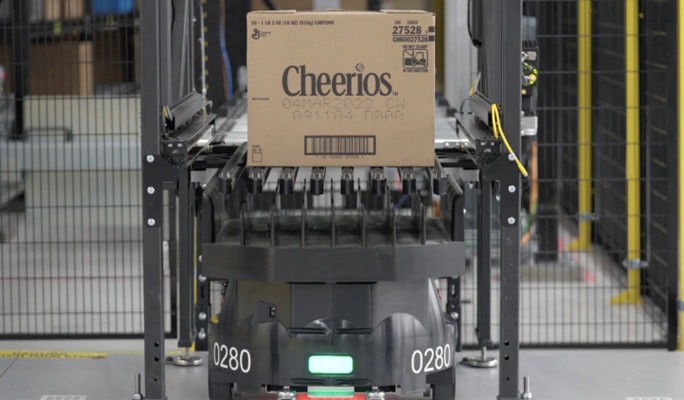 Automated Warehouses with Berkshire Grey
As a leader in AI-enabled robotic automation, Berkshire Grey is well-positioned to support a variety of industries in automating warehouses.
Automated eCommerce Fulfillment
As shoppers increasingly move online, eCommerce businesses are under more pressure than ever to optimize their fulfillment operations. Berkshire Grey's material handling robots can pick, pack, and sort any volume of eCommerce orders across almost all SKU types with very little worker intervention.
Automation for any application
Automation doesn't have to be all or nothing. Berkshire Grey offers a variety of modular, customizable, and adaptable automation solutions to fit the demands of modern supply chains. For example, Berkshire Grey's Robotic Product Sortation with Identification (BR RPSi) automates the sortation process of packages at regional carrier hubs. The system fits into a smaller footprint than other sortation systems to autonomously identify and sort packages into consolidated containers. Berkshire Grey's Mobile Robotic Platform (BG FLEX™️) allows any-to-any induct to discharge sortation with faster performance and flexibility than other mobile systems.
Next-gen tech meets reliability
Berkshire Grey uses machine learning and artificial intelligence to scale and adapt to tasks that have never been performed by machines in commercial settings. By leveraging a proven AI software platform, Berkshire Grey's automation solutions continuously improve and intelligently adjust operations based on real-time data collected from the activity of each system. BG's motion and path planning technology ensures that robots can work in dynamic warehouse conditions without the requirement of ultra-accurate environment descriptions or robot training by humans.
Berkshire Grey's Warehouse Automation Capabilities
Accessible automation through Robotics as a Service (RaaS)
Automation solutions have never been more accessible. By utilizing a RaaS model, Berkshire Grey can offer automation solutions with dramatically lower upfront costs compared to conventional automation models requiring large capital expenditures.
Reduced warehouse bottlenecks
Traditional warehouse operations frequently encounter operation bottlenecks in complex or labor-heavy processes such as sorting. Berkshire Grey's scalable, AI-enabled technology automates these processes to increase sortation rates by up to 300% while handling nearly 100% of typical SKU assortments.
Processing returns without automation is costly and slow, cutting into profitability and reducing customer satisfaction. Berkshire Grey's reverse logistics solutions accelerate processing times by 25% while improving labor handling efficiency by up to 35%. Returned packages can be identified and presorted 3x faster than manual approaches without operator intervention.
Industry-leading technology
Berkshire Grey leads the industry in intelligent enterprise robotics that are equipped to handle a variety of unique needs in complex, real-world settings.
Unique solutions for every business
Incrementally add or modify from Berkshire Grey's solution portfolio to fit any business or process flow.
A team of experts behind you
Work with Berkshire Grey's world-class team of robotics, AI, and supply chain experts who fully support your business during all stages of the process — from installation to optimization.
Get Started
with Berkshire Grey
Contact the BG Fulfillment Automation Sales Engineering Team to Learn How to:
Reduce operations expense by up to 70%.
Lessen your dependency on labor.
Bolster facility throughput by up to 25% to 50% with automation.
Get a customized ROI analysis of your specific environment and business.