Order picking is when products included in an order are retrieved from their inventory locations. It's the first step toward fulfilling an order and gaining a happy customer. For that reason, order picking needs to be done with a high degree of accuracy.
Order picking is the initial step in the overall order fulfillment process, and it needs to run flawlessly so that the next steps in the process–sorting, packing, and shipping – can all run as expected. If the wrong item is selected, the order will not be fulfilled as expected, and the customer will have a negative experience that could result in a returned item.
However, speed is also of the essence. That's why there are different order picking systems that companies can implement to cut down on time and fulfill more orders each day. For instance, an automated picking system can automatically pick products from inventory in the most efficient and optimized way. The result? Higher volumes of packages are processed each day with minimal manual intervention.
Why Order Picking Matters for Businesses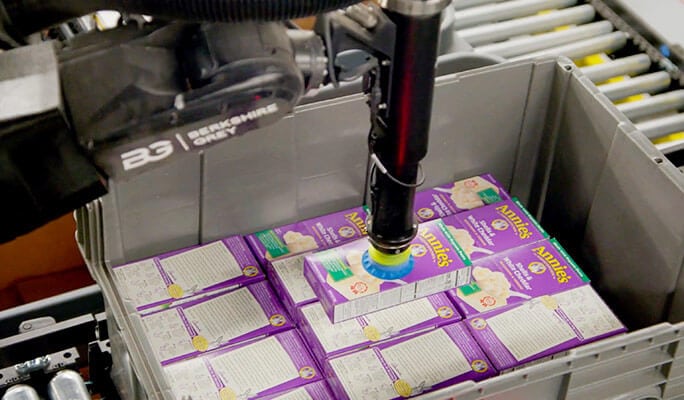 Order picking is the first step in the order fulfillment process. To put it simply, if a business isn't able to fulfill its orders quickly and accurately, it will have a hard time growing and succeeding in today's competitive landscape. Therefore, having a strong order fulfillment process, which includes optimized order picking, is essential for any retail or eCommerce business.
The most common type of order picking is manual pick-to-order, where a worker travels through a warehouse picking individual cases or items for each order. The second most common method is batch picking inventory for multiple orders to the same container and then sorting those containers of mixed goods into individual orders as a second step. Another method is to serve inventory from a storage area to a pick module staffed with people. These workers pick from inventory stored on shelves into order containers as they move through the pick module. This process can also be switched so that inventory moves in totes through the pick module, and workers pick from those totes into order containers stored on the edge of the module. Regardless of which order picking method is used, they are all labor-intensive, with pick-to-individual-order being the most labor-intensive.
But what if you could have accurate order picking and save time while relying on less labor, resulting in increased order fulfillment throughout the day? Automated order fulfillment, powered by intelligent robotic picking, is the solution for many businesses trying to maximize resources.
Order picking is a high-impact area where it's fairly simple to automate operations and see big results. In fact, automated order picking is an integral part of a future-proof retail automation strategy. That's because this technology allows companies to streamline manual, repetitive processes that are both time-consuming and expensive. Robots can operate more efficiently with a high degree of accuracy and precision. Particularly in today's landscape, where many warehouses and distribution centers are facing labor scarcity challenges, automated warehouse logistics can be the difference between surviving and thriving. Automating order fulfillment processes, like order picking, can save time and money while increasing throughput – and what business wouldn't want that?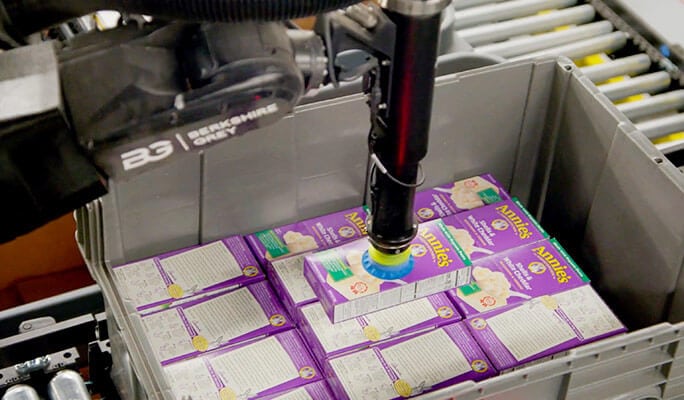 Berkshire Grey's Automated Order Picking Solutions
Are you interested in automating elements of your order fulfillment processes or warehouse logistics? Berkshire Grey has you covered. With a suite of products enabled by AI, Berkshire Grey can help companies automate order picking and parcel sortation, increasing throughput and optimizing labor.
BG Robotic Pick & Pack (BG RPP) stations can help warehouses fulfill orders more accurately. BG RPP increases throughput while eliminating processing "touches" by robotically picking and packing items directly to customer packages. BG RPP transforms traditional warehouse processes into agile, precise, and accurate workflows, all with reduced labor costs.
Every step of the order fulfillment process matters, including sortation. With BG's AI-enabled technology, you can easily replace outdated manual processes. BG Robotic Product Sortation (BG RPS) systems currently pick tens of millions of items round-the-clock for major retailers, automating break pack store replenishment and large eCommerce order selection. BG RPS automatically picks and sorts items, eaches, inner packs, and less-than-case quantities from totes into designated containers for larger profile orders. BG Robotic Product Sortation with Identification (BG RPSi) systems sort and consolidate small packages into bags and containers, enabling efficient network handling and zone skipping without adding labor.
BG Mobile Robotic Sortation (BG MRS) systems use orchestrated fleets of mobile robots to enable dynamic any-to-any induct to discharge sortation to deliver faster fulfillment that requires less labor. Reduce shipping costs by 20% by sorting parcels by zone to achieve freight savings from carriers. With BG, you can intelligently automate the singulation, identification, and sortation of individual products and small parcels.
The Advantages of Using Berkshire Grey for Order Picking
Increased efficiencies and throughput
By leveraging scalable, AI-enabled automation solutions, Berkshire Grey can increase throughput by 25 to 50% to handle any volume of orders. Berkshire Grey achieves this through a combination of optimized and configurable order picking, packing, sorting, and return logistics solutions.
Do you know how much time is spent using human labor to travel throughout warehouses to locate and pull inventory? Automated warehouse technology reduces dependency on human labor, saving money and time. Many companies are facing labor scarcity challenges, so AI-enabled solutions help to optimize existing labor and scale fulfillment without requiring additional labor. Let robots do the hard work of order picking.
Technology has the power to make life easier–so why shouldn't we use it? By converting goods-to-person packing stations to goods-to-robot, Berkshire Grey is able to eliminate inefficient touches and place picked items directly into shipping packages for order fulfillment, all with high speed and top-of-the-line precision.
At the end of the day, the most important thing is creating a delightful, seamless experience for customers. Berkshire Grey's technology helps you improve the customer experience from tip to tail, including optimized reverse logistics, which can autonomously pre-sort returned packages and get goods back on the "shelf" quickly for resale.
Why Businesses Choose Berkshire Grey
Leading provider in RaaS solutions
Berkshire Grey's Robotics as a Service offerings help businesses invest in cutting-edge AI-enabled automation solutions while cutting down on CapEx.
Solutions for every challenge
Berkshire Grey offers a vast array of automation solutions for a variety of industries including eCommerce, retail, grocery, convenience, Packaging handling and logistics, 3PL, and more.
With decades of experience automating complex supply chain and fulfillment processes, Berkshire Grey's world-class team can help your business scale, automate, and grow.
Get Started
with Berkshire Grey
Contact the BG Fulfillment Automation Sales Engineering Team to Learn How to:
Reduce operations expense by up to 70%.
Lessen your dependency on labor.
Bolster facility throughput by up to 25% to 50% with automation.
Get a customized ROI analysis of your specific environment and business.