eCommerce Fulfillment Warehouse Logistics 101
Effective eCommerce fulfillment is critical for a business to succeed in today's current landscape. After all, great products also need a great picking, packing, shipping, and delivery process for customers to have the best experience possible. The secret to achieving this process? A strong workflow for eCommerce fulfillment warehouse logistics.
Warehouses safely and securely store products in an organized manner to be quickly and efficiently shipped to customers. The size of the warehouse typically depends on the size of the business. However, space to store products is arguably one of the easiest challenges for a business to solve. The more important factor is the eCommerce fulfillment warehouse logistics–all the nuts and bolts about how processing operates. This covers inventory storage and management, product picking, packing, shipping, delivery, and returns processing.
These details are crucial for the customer experience to be positive. However, small inefficiencies or mistakes can quickly add up and cost businesses valuable time and money. Many businesses, small and large alike, struggle to develop, execute, and maintain an effective eCommerce fulfillment warehouse logistics strategy. Many turn to external partners, like Berkshire Grey, to streamline the process rather than handle it in-house. Effective warehouse management can boost profitability and reduce overhead costs like labor. Finding ways to automate day-to-day eCommerce fulfillment warehouse operations can help ensure fast and accurate operations that satisfy customers and support business growth.
Why eCommerce Fulfillment Warehouses Matter for Businesses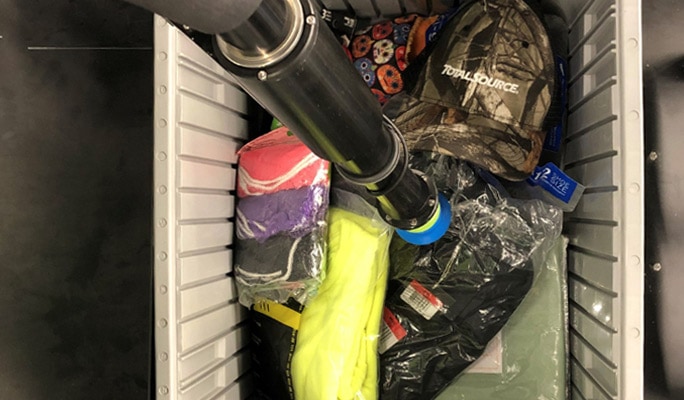 Ecommerce fulfillment warehouses are a critical element of an overall eCommerce fulfillment strategy. Each piece, from the size and location to the systems and personnel involved with processing orders, can make an impact on your business's overall customer experience and profitability. Efficient and safe warehouse operations can help companies make more sales, gain more repeat customers, cultivate a loyal customer base, and drive overall revenue. No matter your size, an eCommerce fulfillment warehouse should be a key part of a holistic business strategy.
There are two areas in which eCommerce fulfillment warehouses can make an impact on your company's continued growth and support growing businesses and profitability targets.
Secure, organized storage
Ecommerce fulfillment warehouses are important for inventory storage. Products must be stored safely and securely so that nothing is damaged or affected if long-term storage is required. They must also be organized in a methodical, straightforward manner to meet customer expectations around shipping. If products are hard to locate, the customer may experience unexpected delays, which can result in a poor customer experience and a potential detractor. Therefore, the main goal of an eCommerce fulfillment warehouse is to enable short-term storage that leads to efficient processing and shipping of products.
Efficient processes
Strong eCommerce fulfillment warehouse logistics are paramount for businesses to ensure fast shipping and accurate orders. If companies have efficient processes in place, they are set up for greater success and longevity. Each time an online order is received, orders must be recorded, inventories queried, and products picked, packed, and shipped. If each step is done swiftly and accurately, overall throughput can be increased, and contribute to driving up revenue. Some companies use automated solutions to improve eCommerce fulfillment processing, using advanced technology to ensure greater precision and less required labor.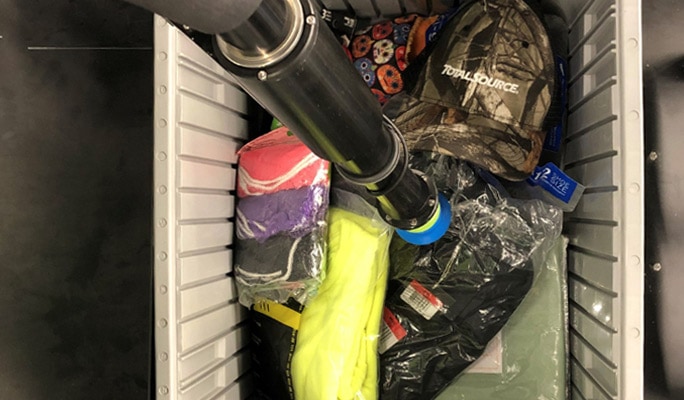 The Berkshire Grey Solution
Berkshire Grey offers a suite of robotic solutions to help eCommerce fulfillment warehouses operate more efficiently. With Berkshire Grey, companies can increase throughput, improve customer service, and optimize labor with robotic automation. While eCommerce fulfillment warehouse logistics have many moving parts–order assembly to picking, packing, sortation, shipping, and delivery–Berkshire Grey's AI-enabled robotic automation streamlines and simplifies workflows to scale fulfillment without compromising time or quality.
Streamlined packing processes
Berkshire Grey's Robotic Pick & Pack (BG RPP) stations can help eCommerce fulfillment warehouses turn over inventory more accurately. BG RPP increases throughput while eliminating processing "touches" by robotically picking and packing items directly to customer packages. BG RPP transforms traditional eCommerce fulfillment warehouse processes into agile, precise, and accurate workflows, all with reduced labor costs.
Technology-enabled sortation
Without the right systems in place, eCommerce fulfillment warehouses can stagnate and prevent inventory from moving through the purchasing funnel effectively. Luckily, AI-enabled robotic solutions from Berkshire Grey can revolutionize traditional processes like sortation into sleek, efficient workflows that improve outcomes and reduce labor costs. For instance, traditional unit sorters can be improved with Berkshire Grey's Robotic Induct Stations (BG RIS), which increase sorter utilization and order throughput by up to 50% without increasing labor. And, BG Robotic Product Sortation (BG RPS) systems are autonomous systems for sorting inventory from totes into outbound order containers.
Faster delivery, happier customers
Making sure your eCommerce fulfillment warehouse runs efficiently is key to faster delivery and happier customers, resulting in repeat customers and authentic word-of-mouth promotion. Upgrade your existing warehouse processes with Berkshire Grey's Robotic Put Walls (BG RPW). By seamlessly integrating with existing systems and processes, BG RPW enables 3x faster order sorting than manual approaches and increases upstream batch inventory picking by up to 33%. Nearly 100% of typical SKU assortments are safely and accurately handled by Berkshire Grey RPW systems.
The Berkshire Grey Advantage for eCommerce Fulfillment Warehouse Logistics
With Berkshire Grey's portfolio of AI-enabled robotic solutions, companies can boost margins, improve customer experience, and more.
By creating a unique picking, packing, and sorting approach for every situation, Berkshire Grey can improve throughput drop by between 25% and 50% while accurately processing any volume of eCommerce orders.
Increasing labor costs pose an existential threat to countless businesses. What's the solution? Automated warehouse systems. Berkshire Grey's AI-enabled robotic sorting systems cut down on labor costs while simultaneously increasing efficiency.
Berkshire Grey combats inefficiencies in your eCommerce fulfillment warehouse by converting goods-to-person stations to goods-to-robot. By shifting to automated solutions, order fulfillment systems can operate faster than ever without sacrificing precision or accuracy.
Increased client satisfaction
With clients and customers demanding greater speed and accuracy more than ever before, eCommerce fulfillment warehouses must rise to the challenge of providing superior service 24/7/365. By utilizing Berkshire Grey's touchless returns, an automated picking system, and speedy restocking, you can increase your customer satisfaction while protecting your bottom line.
Why Choose Berkshire Grey?
Industry-leading expertise
Berkshire Grey is a top provider of enterprise-grade AI-enabled robotic solutions that span the entire supply chain and deliver exceptional performance in complex, real-world environments.
Berkshire Grey services a variety of industries, including eCommerce, retail, grocery and convenience, parcel and package handling, and 3PL with a broad range of solutions to fit every need and scenario.
Develop your business by partnering with Berkshire Grey's world-class team of robotics and supply chain experts that install, test, optimize, and maintain your supply chain solutions.
Get Started
with Berkshire Grey
Contact the BG Fulfillment Automation Sales Engineering Team to Learn How to:
Reduce operations expense by up to 70%.
Lessen your dependency on labor.
Bolster facility throughput by up to 25% to 50% with automation.
Get a customized ROI analysis of your specific environment and business.