What is a Micro Fulfillment Center?
In our incredibly fast-paced, on-demand world, businesses feel more pressure than ever to fulfill orders quicker, more efficiently, and more accurately. Likewise, consumers today have high expectations when it comes to delivery times. With those higher standards comes the need for enterprises to design effective solutions. One such solution that has rapidly gained traction is the micro fulfillment center.
An MFC, or micro fulfillment center, is a small-scale storage facility often associated with the eCommerce and retail industries but can service other sectors such as grocery as well. This smaller type of fulfillment operation is meant to store a smaller amount of inventory for short-term fulfillment.
The micro fulfillment center can compete with, or exist alongside, click and collect, curbside express, and other hybrid eCommerce shopping models that are also growing in popularity.
As a whole, micro fulfillment centers fit into a strategy that allows businesses to place smaller storage facilities closer to their end consumer. Typically, these centers are located in densely populated, urban, or otherwise strategic places to improve delivery times to the customer on a mass scale.
While an MFC benefits customers, the goal is also to reduce transit times and cut costs, thereby optimizing last-mile fulfillment. The value of micro fulfillment centers is already evident, with thousands of active micro fulfillment centers in operation worldwide and countless more anticipated to open over the next decade.
Automation with the Micro Fulfillment Center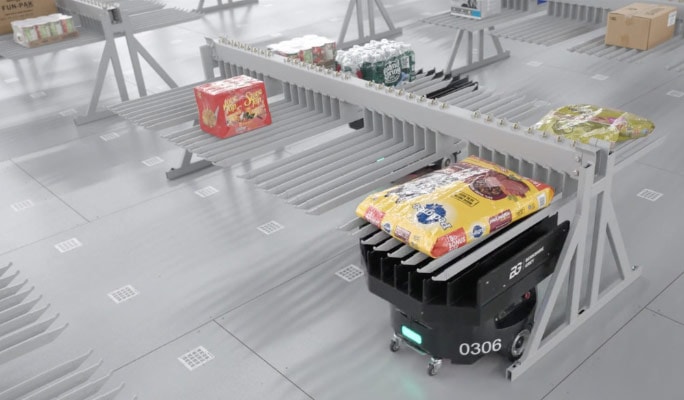 Inventory can be closer to the end consumer than ever before when companies utilize the micro fulfillment center. Robotic automation, in general, is poised to help propel industries like grocery, convenience, eCommerce, retail, and 3PL forward.
AI-enabled fulfillment options are the future of eCommerce and various other sectors. Consumers in these markets have come to expect free, fast shipping. Even small businesses have started to feel the pressure to offer customers online and digitally-forward options. These businesses are prime candidates for micro fulfillment centers through 3PL partners.
The pressure to provide faster fulfillment makes outsourcing to third-party micro fulfillment warehouses a valuable option. With inventory close to the customer, companies can significantly accelerate transit times and optimize deliveries compared to larger fulfillment warehouses that are further away. In addition, automation within micro fulfillment centers can bolster operations, improve throughput, and maximize efficiency even further.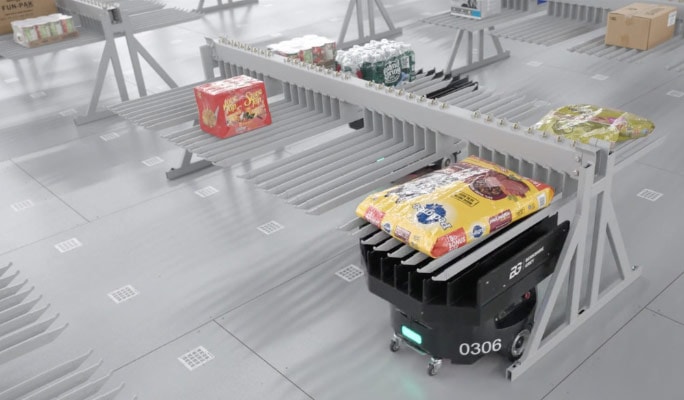 The Berkshire Grey Solution
Berkshire Grey aims to provide robotic automation solutions that cost-effectively improve micro fulfillment systems and consistently exceed customer expectations. As a leader in micro fulfillment center solutions, Berkshire Grey understands the power of AI-enabled robotic automation systems to optimize every step of the fulfillment process.
Mobile robotic sorting systems
Enable dynamic any-to-any induct to discharge into your sortation system to improve your enterprise operation's performance. Using Berkshire Grey's Mobile Robotic Platform (BG FLEX™), clients can achieve greater throughput than other mobile systems with easy scalability.
Maximize sorting efficiency
Berkshire Grey's Robotic Product Sortation (BG RPS) helps micro fulfillment centers automatically pick and sort items, eaches, inner packs, and less-than-case quantities from totes directly into designated containers. While helpful for many operations, BG RPS proves especially useful for larger profile orders, even in micro warehouse applications.
Pick and place with speed
Berkshire Grey's Robotic Pick & Place (BG RPP) is designed to help clients convert goods-to-person stations into goods-to-robot stations, optimizing various steps in the supply chain. BG RPP enhances these segments by autonomously picking and placing individual items from various containers served from an ASRS into order destinations directly.
Advantages of the Micro Fulfillment Center
Replacing your current warehouse infrastructure with automation solutions is a costly, time-consuming endeavor – but it doesn't have to be. Giant fulfillment warehouses aren't cheap to set up, nor are they affordable to operate and maintain for smaller enterprises.
One solution is multiple, smaller fulfillment centers that offer faster, more tactical fulfillment operations. Even micro fulfillment centers can be scaled with an automated robotics expert like Berkshire Grey – without having to invest in as much capital upfront.
Increased salesSlow delivery times and pricey shipping costs are two of the most common barriers that stop consumers from purchasing products. Affordable, quick shipping from a micro warehouse is part of the answer, removing both of these barriers from the customer.
Another reason micro fulfillment is a growing trend throughout various industries is the fact that the strategy is so versatile. No matter the smaller-scale location, it can serve the needs of local markets with greater efficiency than traditional fulfillment practices. Plus, being so close to the end customer means companies can offer faster, more affordable delivery options.
Sort and transport easier
With robotic automation, enterprises can efficiently transport orders to customers or pick up locations, increasing throughput. Berkshire Grey's entire solution portfolio is built from the ground up for convenience, customizability, and real-world performance at an enterprise scale.
Berkshire Grey's mobile robotic systems allow clients to quickly process large volumes of direct-to-consumer orders, even in a micro fulfillment center. Ideal for high volumes of small orders, warehouses can enable faster order processing than picking from an ASRS directly.
Transform your micro fulfillment center
AI-enabled robotic systems can optimize your fulfillment operations with solutions capable of converting goods-to-person stations to goods-to-robot stations. Converting these stations can reduce the overall labor requirements while simultaneously speeding up order processing by allowing your facility to pick and pack customer orders directly into containers robotically.
Get Started
with Berkshire Grey
Contact the BG Fulfillment Automation Sales Engineering Team to Learn How to:
Reduce operations expense by up to 70%.
Lessen your dependency on labor.
Bolster facility throughput by up to 25% to 50% with automation.
Get a customized ROI analysis of your specific environment and business.