Understanding Automated Fulfillment
In today's digital and rapidly evolving world, enterprises and their customers demand greater efficiency and speed. Automated fulfillment is the next step forward, with past order fulfillment systems not sufficient to meet the needs of modern supply chains.
Automated fulfillment aims to mitigate or eliminate human touchpoints wherever possible during the order fulfillment process. After all, most inefficiencies in a distribution warehouse or fulfillment center stem from the limitations of manual labor. Mitigating human input through automation helps ensure accurate, consistent, and streamlined order fulfillment that can scale to meet demand.
The advantages of automation in the fulfillment sector don't stop there. By automating fulfillment facilities, enterprises can improve customer satisfaction by decreasing lead times and overhead expenses while increasing throughput.
Of course, there's no one-size-fits-all solution for implementing automation into a business. Every business is unique, so every order fulfillment strategy should be adjusted to fit individual requirements. With the right suite of products, automated fulfillment practices can integrate seamlessly into a more efficient supply chain.
Benefits of Automated Fulfillment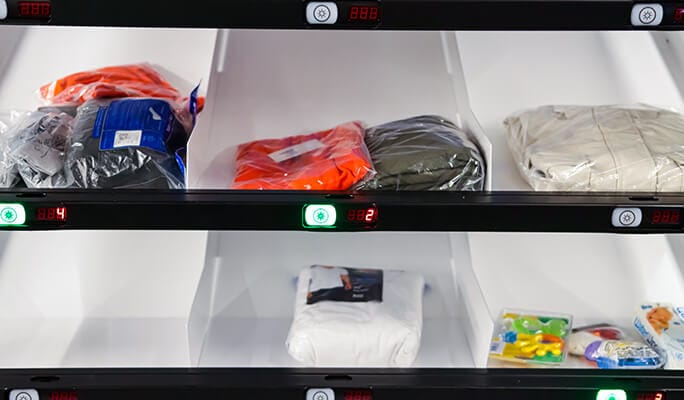 There are many benefits to automating fulfillment operations. At their core, the benefits all contribute to increase the efficiency of fulfillment operations by completing tasks such as product picking more quickly and with fewer human touchpoints. The result of this is a fulfillment process with fewer overhead expenses and greater throughput.
Optimized warehousing
Automation is a key strategy for managing fulfillment practices as demand for eCommerce fulfillment grows. Retailers and eCommerce businesses can achieve greater throughput with less space by maximizing productivity through automation. This reduces the need for larger facilities, ultimately reducing the costs for businesses and fulfillment operations.
Faster order processing
The faster your operation processes an order, the faster it gets delivered. Fulfilling and delivering orders as fast as possible is a key to keeping customers happy, so it's a main focal point for automated fulfillment opportunities.
Streamlined returns management
Returns processing can be much more efficient using automation. Despite returns costing US retailers an estimated $500 billion in 2020, reverse logistics is an often overlooked aspect of operations. Automated fulfillment addresses the returns portion of order fulfillment just as much as any other step in the supply chain.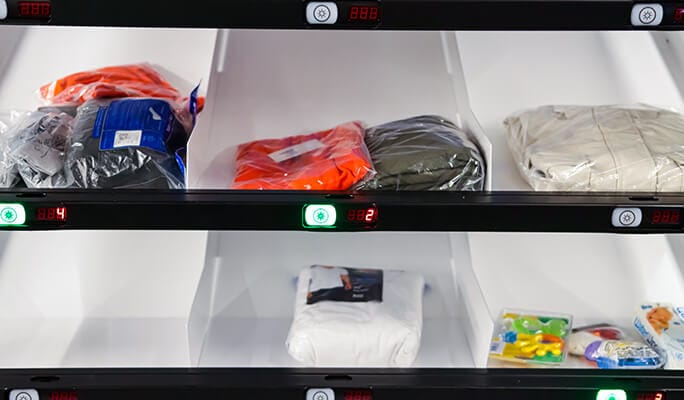 The Berkshire Grey Solution
There are several benefits to partnering with Berkshire Grey for AI-powered robotic solutions. Berkshire Grey's solution portfolio is designed to be as customizable and modular as possible. No matter how much of your operation you want to automate, Berkshire Grey aims to provide solutions that match your needs.
Streamline pick and pack processes
Berkshire Grey's Robotic Pick & Pack (BG RPP) stations are a go-to solution for logistics enterprises looking to reduce process touches and package eCommerce items more efficiently for fulfillment. These stations can pick and pack items directly into shipping packages while simultaneously ensuring optimal package sizes. As a result, BG RPP can lower shipping costs and remove various traditional intermediate steps in the supply chain.
Automated mobile sortation
Berkshire Grey's Mobile Robotic Platform (BG FLEX™) systems aim to be the solution to the slow, costly, and even dangerous method of manual order picking and sortation. BG FLEX systems use orchestrated fleets of mobile robotics to deliver faster fulfillment with less labor by enabling more efficient product picking and sortation without the need for additional labor.
Berkshire Grey's warehouse robotic systems can improve accuracy and optimize labor across all aspects of the supply chain. In fact, technology like Berkshire Grey's Robotic Pick Cells (BG RPC) can be incorporated into already existing conveyor-based, micro fulfillment, and ASRS solutions – not only reducing production costs but also the initial investment required to automate a facility.
Berkshire Grey's Automated Fulfillment Approach
As the leader in intelligent enterprise robotics, Berkshire Grey helps accelerate business growth through AI-enabled automated fulfillment, store replenishment, and package handling for major retailers and enterprise-scale companies across the globe.
Berkshire Grey's automated fulfillment approach starts with a tailored strategy for your business. That means making or designing, installing, testing, and commissioning all the solutions necessary to make your enterprise thrive in this digitally automated climate.
Then, through AI and machine learning technology, your logistics operation can continuously optimize and improve.
Berkshire Grey's goal is to partner with your business as a trusted supply chain expert. You can always incrementally change or add solutions and even incorporate outside technologies with Berkshire Grey's product models.
Finally, with Robotics as a Service (RaaS), you can minimize your upfront capital, especially compared to conventional automation equipment purchase models. Scalable and modular, you don't have to replace your entire warehouse or infrastructure to start incorporating automation into your system today.
Why Clients Choose Berkshire Grey
Accessible fulfillment automation
Berkshire Grey's solution portfolio was intentionally curated to be as modular and customizable for each enterprise as possible. Every business is unique, so understanding what automated fulfillment strategies to implement first is paramount to continued success. Whatever options fit best for your company, Berkshire Grey is ready to help you find it.
As a leader in AI-enabled automation solutions, Berkshire Grey presently handles tens of millions of items for some of the world's largest retailers. Every unique business system is developed and tested by a team of supply chain experts, allowing Berkshire Grey to handle even the most complex, variable environments with challenging workloads.
Scalable, customizable business solutions
Most importantly, Berkshire Grey is poised to be a partner that provides you with modular, customizable robotics solutions today – and tomorrow. By providing modular automation solutions, Berkshire Grey can scale with you as your business grows.
Get Started
with Berkshire Grey
Contact the BG Fulfillment Automation Sales Engineering Team to Learn How to:
Reduce operations expense by up to 70%.
Lessen your dependency on labor.
Bolster facility throughput by up to 25% to 50% with automation.
Get a customized ROI analysis of your specific environment and business.